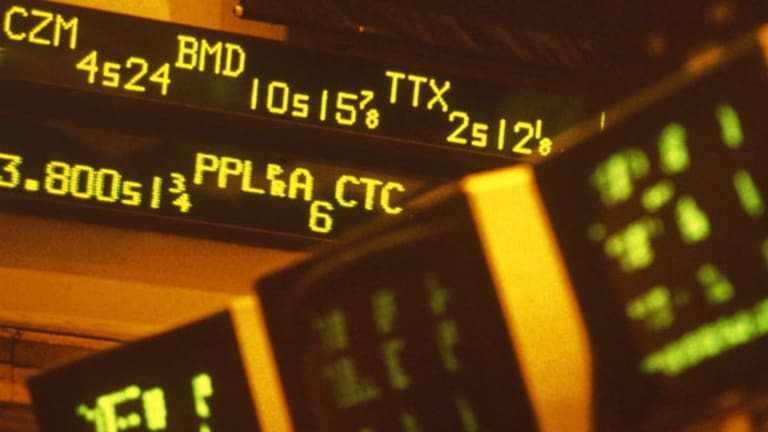 4 Stocks to Benefit From Warmer Weather
These stocks are poised to perk up along with the weather this summer.
MILLBURN, N.J. (Stockpickr) -- The U.S. has endured some very lousy weather recently. The winter of 2011 was one of the snowiest on record, and spring has brought us rains of near-Biblical proportions and tornadoes wreaking havoc in the Midwest.
Now, as we embark on the three-day Memorial Day weekend, nicer weather appears to be breaking out across the country, which will allow us, after a long, miserable winter, to leave the shelter of our homes, participate in outdoor activities and pile our families into the car for a long weekend away. Luckily, the price of gasoline appears to have peaked at about $4 per gallon and is headed lower, just in time for the holiday weekend.
With this in mind, let's take a look at several
stocks poised to benefit from the warmer weather ahead
.
Seven & I Holdings
Road trips mean pit stops, and is there a more-ubiquitous convenience store in the U.S. than 7-Eleven? 7-Eleven stores, loved by children and adults for their popular ice-cold Slurpee and Big Gulp beverage products, are located across the country along major highways and roads. There are over 39,000 global locations, surpassing
McDonald's
(MCD) - Get Free Report
and
Subway
as the world's largest operator or franchisor of convenience/quick-service foods stores.
As it turns out, 7-Eleven is owned by a Japanese company,
Seven & I Holdings'
(SVNDY: Pink Sheets), which primarily trades in the home market but can also be acquired by investors in the U.S. markets on the Pink Sheets in American depository receipt form under the symbol SVNDY. Seven & I Holdings not only operates 7-Eleven globally but also owns one of the largest Japanese department store chains, Ito-Yokado, which is rapidly growing its operations in China.
Related:
In the home market, shares of Seven & I Holdings trade in Japanese yen, and the ADRs trade in U.S. dollars. The ordinary shares earned 129.21 JPY for the fiscal year ended Feb. 21. Most recently, those ordinary shares closed at around 2,100 JPY. Net income for Seven & I rose nearly 150% in 2011 after dropping by nearly 50% in 2010. The P/E ratio on ordinary shares on a trailing basis is a reasonable 16. Each American Depository shares represents 2 ordinary shares.
With a resurgent American economy and growth in China, Seven & I should be considered for investment. As always, we have to be aware that there is a foreign exchange component to investing in American Depository receipts. Furthermore, post-earthquake domestic weakness in Japan could negatively impact Japan-based earnings.
West Marine
Boats owners have unwrapped, cleaned and launched their watercraft in the past few weeks. Others will be towing their boats to lakes and waterways across the country this Memorial Day weekend. The go-to store and Web site for boat owners stocking up on supplies to clean and repair their boats is
West Marine
(WMAR)
.
Here is the bad news for West Marine shareholders: The company has missed earnings estimates for three consecutive quarters and met estimates in the prior quarter. Offsetting that is some good earnings news: Consensus estimates for the June 2011 quarter have increased from $1.33 90 days ago to $1.61 60 days ago to $1.71 a week ago. Just last month, the company upped its guidance for EPS to a range of 68 cents to 77 cents for full year 2011, from a prior range of 65 cents to 73 cents. This implies 19% to 35% earnings growth from the prior year.
Preliminarily, analysts expect West Marine to increase earning in 2012 by 21%. The stock is selling at 15 times the lower end of the current year's EPS guidance. The company is carrying a tiny amount of debt, which should be paid off from seasonal cash flows over the balance of the year. Good weather over the Memorial Day Weekend will give West Marine a good kickstart to the boating season.
Marriott
With Americans set to hit the roads, they will be staying at hotels and other lodging facilities across our great county.
Marriott International
(MAR) - Get Free Report
is the largest domestic hotel operator, controlling not only its namesake brand but also Courtyard, Fairfield and the luxury Ritz-Carlton chain.
For what is essentially a real estate company, Marriott carries very little debt of about $2.7 billion, which one could offset by just over $100 million in cash and $1.5 billion in long-term investments. Strong cash flow has allowed Marriott to whittle away that debt. Wall Street consensus estimates call for earnings per share growth of about 22% in 2011 and 26% in 2012. As a result, Marriot sells at a hefty 26 times 2011 estimates.
This cuts both ways. If as I expect, we have a strong start to the summer vacation season, then earnings may surprise on the upside and the premium multiple will result in a nice rise in the stock price. Any shortfalls in earnings will not only cut the EPS but also contract the multiple.
Marriott was featured earlier this month in "
5 Dividend Stocks Rewarding Shareholders
."
Priceline
As more and more Americans gain access to the Internet and become more Web-savvy, they are increasingly utilizing travel sites such as
Priceline.com
undefined
and
Travelzoo
(TZOO) - Get Free Report
to seek out hotel rooms at the cheapest available prices.
Of those two companies, Priceline.com is more reasonably priced at 24 times the current year's consensus estimates, vs. 44 times earnings estimates for Travelzoo. Even though Priceline.com is expected to grow earnings by 28% in 2012 while Travelzoo is expected to grow by 40% in 2012, the PEG ratio for Priceline.com is less than 1, while that of Travelzoo is over 1, implying more risk relative to return for Travelzoo. Both companies have stellar balance sheets that carry solid cash balances with no debt, giving no edge to either firm but a positive for the group as a whole.
I featured Priceline recently in "
Stocks for After a Commodity Collapse
."
To see these stocks in action, check out the
portfolio.
-- Written by Scott Rothbort in Millburn, N.J.
RELATED LINKS:
>>5 Stocks With Big Insider Buying
>>5 Technical Trades to Tackle for Gains
Follow Stockpickr on
and become a fan on
Facebook.
At the time of publication, Rothbort had no positions in stocks mentioned, although positions can change at any time.
Scott Rothbort has over 25 years of experience in the financial services industry. He is the Founder and President of
, a registered investment advisor specializing in customized separate account management for high net worth individuals. In addition, he is the founder of
, an educational social networking site; and, publisher of
The LakeView Restaurant & Food Chain Report
. Rothbort is also a Term Professor of Finance at Seton Hall University's Stillman School of Business, where he teaches courses in finance and economics. He is the Chief Market Strategist for The Stillman School of Business and the co-supervisor of the Center for Securities Trading and Analysis.
Mr. Rothbort is a regular contributor to
TheStreet.com's RealMoney Silver
website and has frequently appeared as a professional guest on
Bloomberg Radio
,
Bloomberg Television
,
Fox Business Network
,
CNBC Television
,
TheStreet.com TV
and local television. As an expert in the field of derivatives and exchange-traded funds (ETFs), he frequently speaks at industry conferences. He is an ETF advisory board member for the Information Management Network, a global organizer of institutional finance and investment conferences. In addition, he is widely quoted in interviews in the printed press and on the internet.
Mr. Rothbort founded LakeView Asset Management in 2002. Prior to that, since 1991, he worked at Merrill Lynch, where he held a wide variety of senior-level management positions, including Business Director for the Global Equity Derivative Department, Global Director for Equity Swaps Trading and Risk Management, and Director for secured funding and collateral management for the Global Capital Markets Group and Corporate Treasury. Prior to working at Merrill Lynch, within the financial services industry, he worked for County Nat West Securities and Morgan Stanley, where he had international assignments in Tokyo, Hong Kong and London. He began his career working at Price Waterhouse from 1982 to 1984.
Mr. Rothbort received an M.B.A., majoring in Finance and International Business from the Stern School of Business, New York University, in 1992, and a B.Sc. in Economics, majoring in Accounting, from the Wharton School of Business, University of Pennsylvania, in 1982. He is also a graduate of the prestigious Stuyvesant High School in New York City. Mr. Rothbort is married to Layni Horowitz Rothbort, a real estate attorney, and together they have five children.