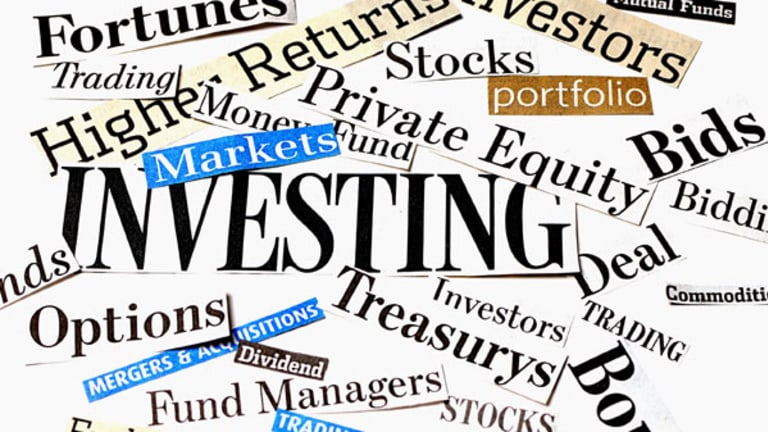 Publish date:
4 Stocks That Could Get a Lift From a Rising Yuan
These stocks, including Wal-Mart and Nike, could benefit from China's decision to allow more flexible movement of the yuan.
These stocks, including Wal-Mart and Nike, could benefit from China's decision to allow more flexible movement of the yuan.
BALTIMORE (Stockpickr) -- The announcement that China would allow more flexible movement of the renminbi -- better known by its denomination, the yuan -- came as a shock to scores of investors. After all, with Tim Geithner back home here in the U.S. and the G20 summit still a week away, the pressure was off the People's Bank of China, at least in the interim. But the announcement became very real on Monday when the yuan made its largest single-day gain since 2005.
The yuan's valuation has been a hot-button issue in 2010 for the rest of the world, who saw China's decision to hold its currency artificially low as a meager attempt to keep the country's exports pumping. Now that the PBOC has come through with allowing more flexible exchange rates, there are serious implications for investors.
Here's a look at
four stocks that could benefit from a rising yuan
.
When a currency, such as the yuan, rises, there are a number of implications for its citizens and for the rest of the world. First, buying power for citizens increases. That's a big deal in China, which has a burgeoning middle class that's already 250 million strong. Additional buying power could mean serious sales bumps for retailers. The other side of that coin, however, is rising export prices, a potentially bad thing for an export-centric country such as China.
With the threat of rising export prices, you wouldn't expect to see a company such as
Wal-Mart
(WMT) - Get Report
make this list. With a substantial number of China-made SKUs in stores, the Bentonville, Ark.-based retail behemoth should be one of the most vulnerable to increasing Chinese currency. In fact, investors have already been registering their concerns over the potential increase in cost of goods sold. But for the most part, I believe that the risks of increasing prices are overblown. Instead, Wal-Mart stands to benefit from increased consumer spending in its growing Chinese stores.
As the world's biggest retailer, Wal-Mart benefits from enormous cost control over its suppliers. In the past, the company has combated rising input costs by demanding better efficiency at the factory level. There's little chance of the company sitting pat while the yuan hikes its costs. Similarly, currency costs are highly controllable through hedging.
And while investors focus on the lost buying power of the dollar in China caused by the rising yuan, they're completely ignoring the atrocious inflation that U.S. importers of Chinese goods already had to contend with -- inflation that was largely thanks to the stifled yuan.
While investors incorrectly focus on the added costs at Wal-Mart, they're completely ignoring the potentially huge growth at the company's 290 stores in key Chinese cities. Foreign currency gains could make that growth even more valuable to the company in 2010.
There's a similar situation unfolding with
Nike
(NKE) - Get Report
right now. The athletic apparel giant has been increasingly betting on growth in emerging markets to fuel its sales numbers. With an increasing luxury market in China, it should come as no surprise that Nike stands to be one of the biggest beneficiaries of better buying power for Chinese consumers.
As with Wal-Mart, investors are nervous that the rising yuan will hurt profitability for Nike, but their fears are equally misplaced. While Nike does have production facilities in China, it also has significant factories elsewhere, diversifying the risks of a single state's currency spikes. Manufacturing also contributes a minimal portion of the cost of Nike's products. A $100 pair of shoes might cost $5 to produce in China, for example, making the company's higher margin apparel business easily able to absorb increased currency costs.
With more than $1 billion in annual sales, China is already Nike's biggest market after the U.S. But the People's Republic offers significantly more growth potential -- and a rising currency. This is a stock to watch right now.
Another firm that's taking advantage of China's newly affluent classes is
LVMH Moet Hennessy Louis Vuitton
(LVMUY), the French luxury goods giant that owns storied names such as Louis Vuitton, Moet, and TAG Heuer. The idea of selling ultra-lux brands in China was once thought of as a nonstarter, but with more than 300,000 millionaires and an estimated RMB40 billion in middle class luxury spending each year, the market has become a profitable one for companies such as LVMH.
In fact, according to a recent New York Times article, Chinese consumers have become the biggest buyers of Louis Vuitton and a handful of LVMH's other brands.
With a devalued euro and rising yuan, China provides this luxury conglomerate with an opportunity to take advantage of a newly attractive trade balance. That's something that should have investors excited this year.
One of the few trends in China that's been more impressive than the Chinese penchant for luxury products has been the country's appetite for gold. With concerns of financial and real estate bubbles forming in the Chinese economy, hard commodities like gold and silver have become an attractive alternative to traditional investments. The Chinese government has been joining in the action too, selling off U.S. treasuries to fund its gold spree.
But while Chinese gold fever has already been impressive, it could increase materially thanks to the rising value of the yuan. One of the best ways to play that potential is though the
SPDR Gold Trust
(GLD) - Get Report
, an ETF that buys up physical gold for its subterranean London vaults.
Gold already presents a good diversification tactic for investors -- if China keeps up its buying, this precious metal could see even bigger benefits in the short-term.
To see these plays in action, check out the
on Stockpickr.
RELATED LINKS:
>>10 Stocks to Benefit From Stronger Yuan
>>Fast Money's Yuan Winners & Losers
Follow Stockpickr on
and become a fan on
Facebook.
Jonas Elmerraji is the editor and portfolio manager of the
Rhino Stock Report
, a free investment advisory that returned 15% in 2008. He is a contributor to numerous financial outlets, including
Forbes
and
Investopedia
, and has been featured in
Investor's Business Daily
, in
Consumer's Digest
and on
MSNBC.com
.