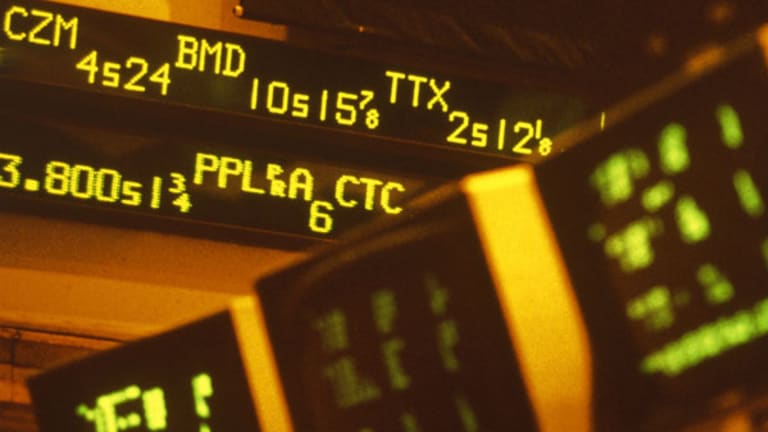 4 Stocks T. Rowe Price's New Era Fund Loves
Here are four stocks that T. Rowe Price's New Era Fund has been betting on this year.
BALTIMORE (Stockpickr) -- Baltimore-based T. Rowe Price has distinguished itself as one of the most resilient asset managers in recent year. At the same time, the firm's New Era Fund (PRNEX) has distinguished itself as one of the most-viewed mutual funds on Stockpickr.
Here's a look at why investors are eyeing this fund -- and at
four stocks that stand out in New Era's portfolio
.
>>Also:
Stocks Bill Ackman Is Betting On
The T. Rowe Price New Era Fund is a resource fund that invests around 66% of its assets in energy stocks and the balance in other natural resource plays (such as miners). It should come as little surprise that investors are paying attention to New Era. While stocks' underperformance in the last decade has become a well-known black eye for most equity investors, this fund has managed to deliver significantly outsized returns by investing in resource stocks as commodities rallied.
Now, with a new manager at New Era's helm, this fund is getting a fresh take on its open positions.
>>Also:
How to Invest Like Warren Buffett
An energy analyst at T. Rowe since 2001, Timothy Parker took over as New Era's portfolio manager on June 30. While the transition has been minimally disruptive (Parker worked closely with outgoing manager Charlie Ober prior to the switch), it has provided an opportunity for some turnover in the fund with a manger who's not married to any of the plays.
For that reason, now's the perfect time to take a look at
some of the stocks in New Era's portfolio
.
Let's start at the top. Making up 5.06% of PRNEX's portfolio,
Schlumberger
(SLB) - Get Schlumberger NV Report
is the biggest position in the fund by far. Parker and company held 3.9 million shares of the company as of their last quarterly filing, a $267 million stake at current levels.
This oil service giant has performed well this year, delivering returns that are more or less in line with the broad market after dividends are factored in. That said, if the company's latest quarter is any indication, investors could be looking at stronger performance in 2011.
>>Also:
Simply put, Schlumberger's job is to assist oil producers get to the black gold. The company specializes in seismic studies and project management services, helping producers get to harder-to-extract oil more efficiently. That's a service that's been highly in demand in recent years, especially back in 2008 as oil prices skyrocketed and wells that once weren't viable became economically feasible options for oil companies. Even though those financials have changed lately, Schlumberger's still going strong.
One of the biggest growth catalysts for Schlumberger is the firm's market share internationally. With leading oil service positions in Russia and Latin America, Schlumberger has managed to carve out substantive relationships in countries where its brand of expertise needs to be imported. With oil prices at a strong level (that supports many more wells than the lows of 2009), this firm should find that its top-line growth is sustainable.
>>Who Owns Schlumberger?:
Though oil major
Chevron
(CVX) - Get Chevron Corporation Report
isn't among New Era's biggest positions, Chevron was the fund's only common stock addition in the last quarter. New Era added 397,600 shares to its position, a change that brings the fund's total stake in the company to 1.2 million shares, a $101 million investment at current levels.
As with supermajor competitors such as
Exxon Mobil
(XOM) - Get Exxon Mobil Corporation Report
and
Royal Dutch Shell
(RDS.A)
(both of which also are PRNEX holdings), Chevron is working hard at diversifying its business by cultivating other commodities such as natural gas. Where Exxon hiked its interests in natural gas by undergoing a major acquisition, Chevron is growing its gas base organically, realizing increasing volumes of the commodity in areas where it already operates.
>>Also:
Investors should take note of Chevron right now for its ability to grow in a difficult environment. The firm outpaced its peers last year, eking out more production and helping to restore a share price that had tumbled double-digits between January and July.
With a 3.4% dividend yield right now, Chevron also pays out a bigger chunk of its profits to shareholders than most alternatives. That combination of growth and income should continue to lure new investors in 2011.
>>Who Owns Chevron?:
Taking up the No. 2 position in New Era's portfolio is
Cameron International
(CAM)
, a $10.5 billion energy equipment manufacturer that specializes in flow equipment designed to transport and process oil and natural gas.
One of Cameron's most lucrative revenue streams comes from supplying parts for new oil rigs, an area that's enjoyed increased spending in the last few years as oil drillers invested in their aging production fleet. But competition is fierce in this niche, with offerings from large rivals crowding the space.
>>Also:
20 Stocks With Huge Insider Selling
Although Cameron has impressive R&D-fuelled products in its pipeline, the company will need to leverage expensive recent acquisitions to upsize its revenues in the coming quarters. Once those technologies are commercialized, however, Cameron's shareholders should see a much-deserved hike in valuation.
>>Also:
Top-Rated Energy Equipment and Service Stocks
Shareholders of
Potash Corp. of Saskatchewan
(POT)
know a thing or two about that. With the 32% climb shares have seen since the first trading day of January, Potash is one of the biggest year-to-date gainers in New Era's portfolio. The fund owns a 756,356-share position in Potash that's currently worth just shy of $110 million.
The biggest catalyst for Potash's ascent come relatively recently following $39 billion hostile takeover attempts currently being made by
BHP Billiton
(BHP) - Get BHP Group Ltd. Report
. The bid for Potash sparked speculation that the company could be the beneficiary of a bidding war, following the sizable valuation placed on the firm by its unrequited potential acquirer.
>>Who Owns Potash?:
As news continues to unfold over the attempted corporate takeover, one of the few variables that seem set in stone is the premium Potash shareholders will receive over the firm's midsummer lows.
To see the rest of the fund's plays, check out the
on Stockpickr.
-- Written by Jonas Elmerraji in Baltimore.
At the time of publication, author had no positions in stocks mentioned. Jonas Elmerraji, based out of Baltimore, is the editor and portfolio manager of the Rhino Stock Report, a free investment advisory that returned 15% in 2008. He is a contributor to numerous financial outlets, including
Forbes
and
Investopedia
, and has been featured in
Investor's Business Daily
, in
Consumer's Digest
and on
MSNBC.com.
RELATED LINKS:
>>10 Worst-Managed Companies of 2010
>>6 Stocks Poised to Break Out
>>5 Stocks With Rising Analyst Expectations
Follow Stockpickr on
and become a fan on
Facebook.
Jonas Elmerraji is the editor and portfolio manager of the
Rhino Stock Report
, a free investment advisory that returned 15% in 2008. He is a contributor to numerous financial outlets, including
Forbes
and
Investopedia
, and has been featured in
Investor's Business Daily
, in
Consumer's Digest
and on
MSNBC.com
.