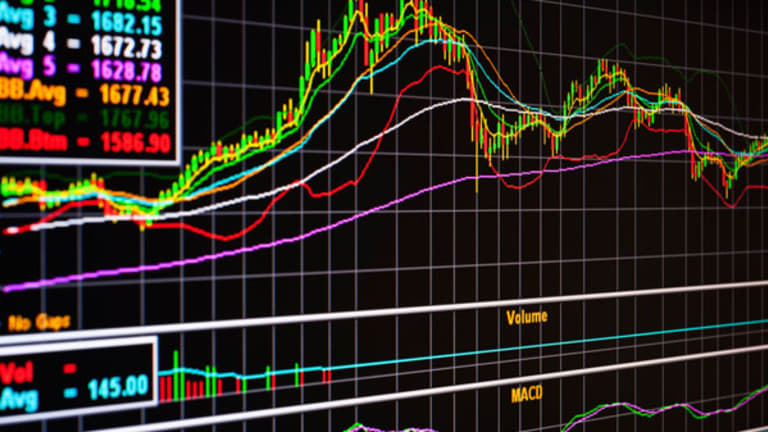 WINDERMERE, Florida (Stockpickr) -- I know traders who say they'll never trade breakout stock patterns. Every time I hear them say that, I shake my head and question why anyone would want to avoid such a successful technical trading pattern.
I understand why many traders are hesitant to trade breakouts: They think that if they buy a stock breaking out, they'll be paying too much and buying near the highs. The problem with this logic is that often when a stock is trending higher and breaking out, it's simply in the early stages of going much higher. Hence the trend trading adage of "buy high and sell higher," instead of "buy low and sell high."
The problem with buying low is you never know how low a stock is going to go before the buyers step in to support the price. Also, when you buy low, you're in essence fighting the trend and trying to pick a bottom. This is why buying breakouts is buying strength and trading with the trend instead of against it.
>>Also:
Must-See Charts: Ford, Regions, Cisco
This doesn't mean that identifying breakouts is a sure ticket to making the big money on Wall Street. It's a starting point from which market players should also take into account stock's price, volume and support and resistance before making a buying decision.
Sometimes the market will break a stock out and then proceed to sell it off and form a false breakout. Just like a stock will break a previous support level and then shoot much higher. A lot of this is done by the market makers to run traders out of their stops before a stock makes a big move. However, if you take a look at stocks that form successful breakouts, they often become market leaders. And market leaders are the stocks that have the most strength and tend to trend higher for a long time before giving back any significant amount of gains.
>>Also:
5 Market Leaders to Keep an Eye On
Trading breakouts is not a new game on Wall Street. This strategy has been pioneered by legendary traders such as William O'Neal, Stan Weinstein and Nicolas Darvas.
A breakout occurs when a stock makes a move through a significant level of support or resistance, which is usually followed by heavy volume and increased volatility. Wall Street players love to see an upside breakout because it demonstrates strength in the underlying asset as the price breaks above a level of previous resistance. An upside breakout can also take a stock to new highs, which will generate a lot of interest as the stock shows up on sophisticated software that scans for this type of action.
Here's a look at a number of solid
that could have big upside potential.
Netflix
(NFLX) - Get Netflix, Inc. (NFLX) Report
If you're looking for a market leader that is starting to breakout, then look no further than Netflix, a subscription service streaming moves and television episodes over the Internet and sending DVDs by mail to more than 12 million subscribers. This stock has been a go-to name for the past year, with shares up an unbelievable 236%. And it seems like every time I turn around, the news just keeps getting better for Netflix.
>>Also:
Just today, Netflix announced that it plans to adjust its subscription model to offer a
streaming-only plan
in the U.S. for $7.99 a month starting in January. The new plan will allow members to instantly watch unlimited moves and TV shows streamed from Netflix to TV sets and computers. This shows that Netflix is changing with the digital world and offering products and services that aren't fighting that trend, but embracing it.
If you take a look at the chart for Netflix, you'll see that stock is trading up sharply on the news by more than 6% and that shares are starting to break out above some previous overhead resistance at around $184.75 a share. This is a significant move because now the stock is trading near all-time highs, which printed this morning at $187.80 a share. When a stock makes an all-time high that means just about everyone who's ever bought it is making money. It also means that everyone who's shorted it is losing money. With Netflix, that's a lot of bears since around 22% of the tradable float is currently sold short as of Oct. 29.
>>Also:
What I want to see now from Netflix is for the stock to close above or near the breakout level of $184.75 on big volume. The type of volume that I am looking for should be above the three-month average trading volume of 5.2 million shares. With more than 8.1 million shares already traded, that looks highly probable to occur by the time the market closes.
The next reasonable target for Netflix if this trend higher continues should be $200 a share. This is not a stock I would want to short because it's a clear market leader that is defying the laws of gravity and trending higher.
>>Who Owns Netflix?:
Shuffle Master
(SHFL)
Another stock that has entered breakout territory is Shuffle Master, which is engaged in developing, manufacturing and marketing technology and entertainment-based products for the gaming industry for placement on the casino floor. So far in 2010, this stock has performed reasonably well, with shares up 31%. However, other stocks in the casino space have done much better, with
Wynn Resorts
(WYNN) - Get Wynn Resorts, Limited (WYNN) Report
up 79% year-to-date and
Las Vegas Sands
(LVS) - Get Las Vegas Sands Corp. (LVS) Report
up 237% year-to-date.
>>Also:
5 U.S. Stocks With Emerging-Markets Upside
I mention WYNN and LVS because I think Shuffle Master is about to play catch-up since the casino complex has become a market leading sector. If you take a look at the chart, you'll see that Shuffle Master has already started to break out above some previous overhead resistance at around $10.20 a share.
You can also see on the chart that the stock has been trading in a clearly defined pattern with longer term support at around $7.50 a share and resistance at $9 to $10.20 a share. This breakout is significant because the stock has now taken out that previous resistance on huge volume.
>>Also:
Stocks Rising on Unusual Volume
On last Thursday, the stock broke above $10.20 a share on 1.2 million shares traded, which is well above the three-month average trading volume of 307,885 shares. That large volume breakout was followed by news on last Friday that the company had received a new $200 million senior secured revolving credit facility with a term of five years. The volume last Friday was 745,600 shares, also well above the three-month average trading activity. This stock is now trading very close its
of $11.10, and if the uptrend continues I think it will be printing much higher 52-week highs in no time.
Keep in mind that the next levels of significant resistance won't be reached until the stock trades towards $13 to $16 a share. When you consider the current volume and trend in the stock, I see no reason that Shuffle Master can't trade toward those levels very soon -- and potentially take them out.
>>Also:
3 Sin Stock Short-Squeeze Opportunities
OmniVision Technologies
(OVTI)
If you're looking for a market leader that's breaking out in the semiconductor space, I suggest you take a look at OmniVision Technologies, which designs, develops and markets semiconductor image-sensor devices. This stock has been a monster in 2010 with shares up a whopping 100%. A lot of this company's success has been tied to
Apple's
(AAPL) - Get Apple Inc. (AAPL) Report
popular iPhone and other smartphone devices that deploy OmniVision's camera chip technology.
>>Also:
10 Best Black Friday Tech Deals
If you take a look at the chart, you'll see that shares of OmniVision are starting to break out above some previous overhead resistance at around $28.40 a share. Also, you can see on the chart that OmniVision has been trading in a clearly defined uptrend channel since Sept., where the stock has been making higher lows and higher highs. These are two very bullish patterns that usually mean higher prices are coming in the near future for a stock.
Another strong technical indicator that's about to signal for OmniVision is a bullish moving average convergence divergence (MACD) signal line crossover. The MACD indicator is often used to spot buying or selling momentum in a stock before it happens. Right now, the MACD on OmniVision looks ready to form a crossover into a bullish reading and at the same time the stock is breaking out. This bullish technical action shouldn't be ignored, because it could set the stock up for a test of its all-time highs near $34 a share.
>>Also:
Top-Rated Semiconductor Stocks
A move above $34 would be an even bigger breakout for this stock because the last time it traded anywhere near that level was back in 2006. It's also worth noting that as of Oct. 29, more than 12.7% of the tradable float of only 53 million shares is currently sold short on OmniVision. This small float and large short interest could set off a massive short squeeze that propels this stock towards $34 very soon.
FX Energy
(FXEN)
One final breakout candidate that you should put on your radar for a potential move higher is FX Energy, an independent oil and gas exploration and production company with principal production, reserves, and exploration activities in Poland and oil production and oilfield service activities in the U.S.
This stock has been another solid performer year-to-date with shares up a nice 107%. Don't let that big run scare you off, because with the way things are shaping up right now technically, this stock could head much higher in the near future.
>>Also:
If you look at the chart for FX Energy, you'll see that this stock is very close to a major breakout at around $5.96 a share. This potential breakout play has developed following a basing pattern on the stock where it held key support at around $5.36 a share. As long as the stock holds that support, then the probability for a breakout should remain high.
You can also see on the chart that the buying volume has been picking up dramatically since Oct. and into Nov. as the shares have run from around $4 toward its current price of around $5.90. This heavy buying volume in the past two months shows that the stock is in strong demand by institutional investors who matter most to the future of any stock price.
>>Also:
New Stocks the Gurus Are Buying
I would recommend that market players continue to monitor FXEN for a breakout above $5.96 on volume well above the three-month average daily volume of 150,782 shares. If we get that move, look for the stock trade up towards its next significant resistance level at around $8.50 a share.
To see more breakout action in stocks such as
Walter Energy
(WLT)
,
Salesforce.com
(CRM) - Get salesforce.com, inc. Report
and
NewStar Financial
(NEWS)
, check out the
portfolio on Stockpickr.
-- Written by Roberto Pedone in Winderemere, Fla.
RELATED LINKS:
>>How to Trade This Week's Earnings
>>Two Pair Trades for Absolute Returns
>>4 Defensive Stocks to Pad Your Portfolio
Follow Stockpickr on
and become a fan on
Facebook.
At the time of publication, author had no positions in stocks mentioned.
Roberto Pedone, based out of Windermere, Fla., is an independent trader who focuses on stocks, options, futures, commodities and currencies. He is also an outside contributor to Beconequity.com and maintains the website Maddmoney.net, which he sold to Blue Wave Advisors in 2008. Roberto studied International Business at The Milwaukee School of Engineering, and he spent a year overseas studying business in Lubeck, Germany.