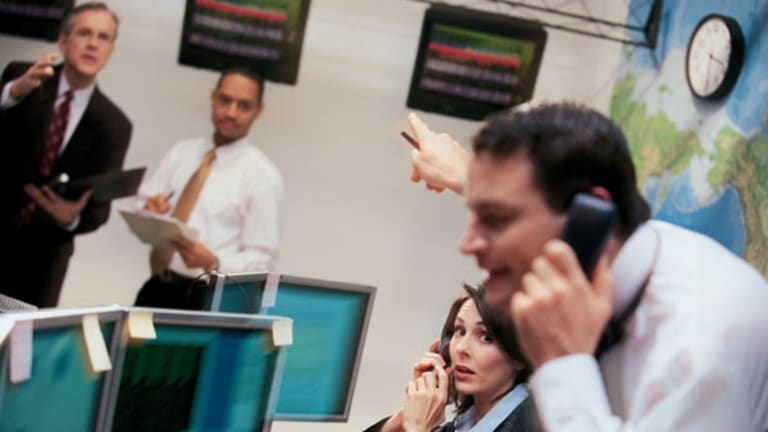 Publish date:
4 Stocks Ready for Big Dividend Hikes in 2013
A firming economy can prompt some companies to part with cash in the form of increased dividend payouts.
A firming economy can prompt some companies to part with cash in the form of increased dividend payouts.
NEW YORK (Stockpickr) -- Nearly half a decade after a deep recession, the U.S. economy may finally be poised for a sustained upturn. Economists are now looking for GDP growth in the second half of 2013 to approach 3% or even exceed that level.
A firming economy can have a profound impact on a company's capital allocation strategies. If the economy can finally gain altitude, companies will be increasingly willing to part with all of the cash that has been piling up on balance sheets.
>>5 Stocks Poised for Breakouts
Some of that cash will be spent on share buybacks and acquisitions, but a big chunk of the money will be earmarked for major dividend hikes. And it's pretty easy to spot the companies that are best-positioned for dividend increases: the firms that still maintain very low payout ratios. Companies that pay out less than 20% of their income can still manage to double their dividends and maintain a payout ratio in the reasonable 35% to 40% range.
Here are
four stocks that are likely on the cusp of big dividend hikes
.
>>5 Stocks With Big Insider Buying
Ford Motor
In the middle of the last decade,
Ford Motor
(F) - Get Report
paid out 40 cents a share in annual dividends. That dividend was eventually eliminated to conserve cash, but thanks to a recent doubling in the quarterly dividend to 10 cents a share, Ford is right back to that 40 cents a share annualized payout.
And this automaker is just getting started. Ford is now so much more profitable than before, and its cash-rich balance sheet is so much stronger, that the dividend might double again from here. A hike to an 80 cents a share annual payout would equate to a 6.1% dividend yield.
Considering that Ford is now quite profitable -- and poised to become even more profitable in coming years as the European and U.S. economies improve -- management will become less fixated on maintaining absurdly high levels of cash. The company had $23 billion in gross cash at the end of 2011 and $27 billion at the end of 2012, and it should have $35 billion in cash by the end of 2014, according to Merrill Lynch.
With such a comfortable cash balance, Ford could support a dividend of at least 80 cents a share, which would still leave the payout ratio below 50%.
Illinois Tool Works
Industrial conglomerate
Illinois Tool Works
(ITW) - Get Report
managed to hike its dividend at least 20% in 2006, 2007 and 2008, but in recent years has only boosted the payout at a single-digit clip. As cash flow has risen at a more robust pace, ITW's payout ratio has moved steadily lower. The current $1.52 annual dividend is less than 20% of the $8 a share in EBITDA the company generated in 2012.
ITW's management believes cash flow (and profits) will grow at a mid-teens pace in 2013, and when combined with a modest hike in the payout ratio, could set the stage for this company to return to its tradition of 20+% dividend increases. The current 2.4% yield may not be overly impressive, but a 20% dividend boost would push that yield above 3%.
Management is also rewarding shareholders in another fashion: The company allocated roughly $2.9 billion towards both share repurchases and dividends in 2012 "and expects to complete over $500 million in buybacks in 2013," according to analysts at Citigroup.
The company's ability to keep buying back stock -- and fatten the dividend -- should only strengthen in coming years. ITW is in the midst of a streamlining initiative that is projected to yield $600 million to $800 million in cost savings by 2017. That's money that will find its way towards even greater buybacks and higher dividends.
Apple
Apple's
(AAPL) - Get Report
growth is slowing. That's a notion now being digested by the market, as a company that once routinely boosted sales at a 20% or 30% pace may be hard-pressed to boost sales at even a 10% pace in coming years. Still, the company remains remarkably profitable, generating an eye-popping $39 billion in free cash flow in fiscal (September) 2012.
What do companies do when growth slows but cash flow remains prodigious? They start returning money to shareholders. Apple paid $2.65 a share in dividends in fiscal 2012 and is on track to pay that amount every quarter in the current fiscal year. But Apple can do so much better. Simply by retaining $10 billion in free cash flow every year and paying out the other $30 billion in dividends every year, Apple's annual payout would soar to more than $30 a share in every years, equating to a dividend yield in excess of 7% at current prices.
That day is not here yet. It will take Apple's management a few more years to realize that the company's current cash balance--in excess of $100 billion--is already more than adequate, and future free cash flow doesn't need to be retained. Look for Apple's dividend to keep rising, perhaps reaching that $30 a share mark by mid-decade. In effect, investors buying this stocks now will be rewarded with handsome annual dividend streams starting in just a few short years.
Wellpoint
Despite the profound cost pressures taking place in our nation's health care system, the insurance end of the business remains quite profitable. Case in point:
Wellpoint
(WLP)
, one of the nation's top insurers, is expected to keep generating around $4 billion in annual operating cash flow in 2013 and 2014, just as it has in the past. And now that cash flows are likely to remain stable, management may be inclined to loosen up a fairly rigid dividend policy. Despite earning around $8 a share every year, Wellpoint's dividend remains at just $1.15.
Wellpoint's management could afford to triple the dividend -- to around $3.50 a share -- and still retain the bulk of its annual cash flow. That would equate to a dividend yield exceeding 5%, giving this company one of the strongest yields in the S&P 500.
To see these potential dividend boosters in action, visit the
4 Companies on the Cusp of a Big Dividend Hike
portfolio.
RELATED LINKS:
>>5 Health Care Stocks Triggering 'Buys' This Week
>>5 Stocks Set to Soar on Bullish Earnings
>>5 Rocket Stocks for a Short Trading Week
Follow Stockpickr on
and become a fan on
Facebook.
Stockpickr is a wholly owned subsidiary of TheStreet.com.