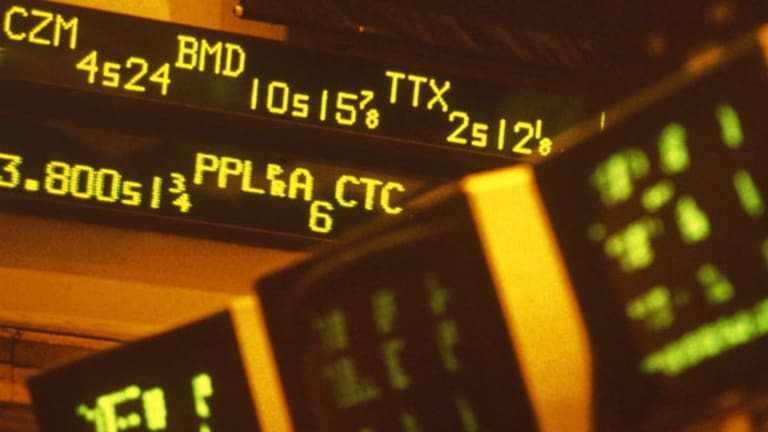 4 Stocks Poised to Win -- or Lose -- From the Expanding Drought
Here are four stocks stand out as clear beneficiaries or victims of the 2013 drought.
NEW YORK (Stockpickr) -- If you a draw a straight line north from Texas to the Canadian border, you'll track a big splotch of red. That's the area where the U.S. is simply parched. Several years of subpar precipitation have led to increasingly arid growing conditions, and as of recently, the land was even more parched than it was a year ago. That means this summer's drought may be worse than the already brutal drought of 2012. As an investor, you need to track the drought's implications. A range of companies will be clearly vulnerable to reduced spending by farmers, while other firms will actually stand to benefit.
>>5 Stocks Poised for Breakouts
Here are
four companies that could be strongly impacted
-- positively or negatively -- by the persistent U.S. drought.
Bunge
The U.S drought reduces crop yields, which means that U.S. has fewer crops available for export. That's good news for other countries' farmers, who can make up the shortfall.
Bunge
(
) has a dominant presence in Brazil, where it acts as a middle man between farmers and food processors. Bunge processes corn, soybeans and other crops, and firm prices and output in Brazil mean rising profit spreads for this firm.
Though Bunge's sales are expected to rise a moderate 9% this year (to around $66 billion), the profit margin on those sales should be far higher in 2013. That's why analysts expect per-share profits to rise nearly 60% this year to around $7.30 a share. Further margin gains should push EPS above $8 by next year, according to consensus forecasts. And in light of this stock's nearly 20% pullback since early February to a recent $66, the value case has only strengthened. Analysts at Citigroup seep this stock moving up to their $105 12-month price target.
Lindsay
The painful drought has brought home a clear message to farmers: Use every drop of water as if it were your last. To conserve water, many farmers are turning to
Lindsay
(
), which makes highly efficient irrigation equipment. You may have seen Lindsay's long pivoting arms dispensing water over a field of crops as you drive by. The company's sales base doubled from fiscal 2007 to fiscal 2012 (to about $560 million), and analysts expect sales to rise by 20% this year.
>>5 Hated Earnings Stocks That Deserve Your Love
To maintain growth, Lindsay is adding a lot of technical functionality to its equipment. For example, sensors can detect soil and atmospheric conditions and turn on by themselves only when needed. Farmers hate to water their crops just ahead of a major rain storm, and even those farmers who didn't see the need to preserve water in the past are now beginning to do so.
Titan Machinery
This company operates in two industries: construction and agriculture. The construction end of the business has been quite weak, offset by a robust farm-belt business. Trouble is, that segment may also soon be vulnerable.
Titan
(
) sells and rents tractors, tillers and other farm equipment at a network of stores situated from north to south that seems to lie directly on top of all of the regions beset by drought. Analysts who follow Titan at research firm M Partners note that "the recent declines in commodity prices and uncertainty about weather and soil conditions this year has left farmers cautious about the upcoming agricultural year and this caution will likely temper equipment purchase during 1H/F14." That's a reference to fiscal year 2014, which ends next January.
Indeed, analysts' consensus profit forecasts have been steadily dropping in recent months. The EPS outlook for fiscal 2014 has slipped roughly 10% in the past 90 days to around $2.30 a share, and analysts now expect the same result for fiscal 2015 as well. If the drought takes an ever deeper bite this year, then those forecasts will need to fall yet more.
Wendy's
In response to the prolonged drought, farmers have been taking their cattle to market at a rapid pace. Without enough hay to go around, it's wiser to cull the herd. That actually helped to lower beef prices in 2013 as slaughterhouses had an abundance of meat to process. Now, with herds greatly thinned, slaughterhouses won't be nearly as busy this year -- which should drive beef prices up.
Rising beef prices will ding all kinds of restaurants, but the impact will be most deeply felt at the burger chains, Which chain will be his the hardest? It's hard to know, but it's notable that
Wendy's
(
) is the most richly valued stock in the group, trading for nearly 30 times projected 2014 profits. Rival
Burger King
(
) trades for about 21 times projected 2014 profits while
McDonald's
(
) trades for a more reasonable 15 times projected 2014 profits.
Make no mistake, it's unwise to count on current EPS forecasts. If beef prices start rising as high as some fear, then earnings estimates will need to come down for all of these firms. That's why some restaurant-focused in investors are focusing away from the burger chains and towards chicken-oriented purveyors such as
Yum! Brands
(
), which operates the KFC and Taco Bell franchises.
To see these drought plays in action, visit the
portfolio.
At the time of publication, author had no positions in stocks mentioned.
RELATED LINKS:
>>Invest Like a Drunk: 5 Booze Stocks to Buy in 2013
>>Fight Your Urge to Fight the Fed
>>5 Toxic Stocks You Need to Sell
Follow Stockpickr on
and become a fan on
Facebook.
Stockpickr is a wholly owned subsidiary of TheStreet.com.