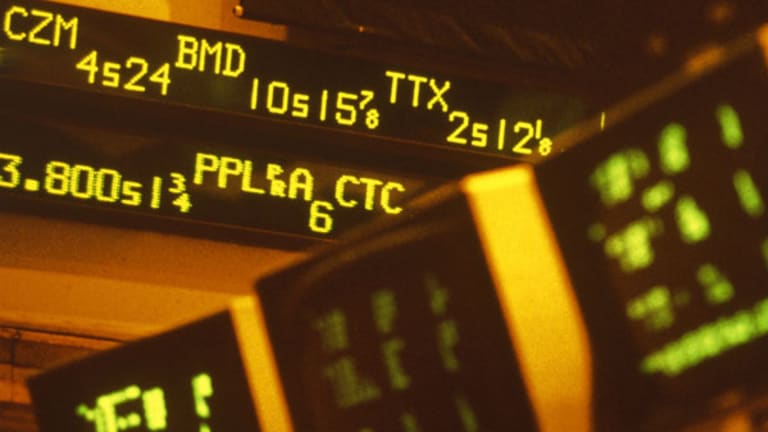 4 Stocks Moore Capital Is Betting On
Here's a closer look at four positions disclosed in billionaire hedge fund manager Louis Bacon's firm's latest quarterly SEC filing.
BALTIMORE (Stockpickr) -- For billionaire hedge fund manager Louis Bacon, managing money is a family business. That's because he's related to Julian Robertson, the man behind Tiger Management, a billionaire in his own right, and one of the most well-respected minds in the hedge fund world.
But that's where the similarities end.
>>Also:
Recent Pro Portfolio Updates: Soros, Icahn, Buffett, Klarman
Unlike Tiger Management, where investments are selected using a traditional fundamental approach, Bacon uses a global macro strategy in his firm,
, which has proven incredibly successful over the years. Essentially, a global macro strategy eschews traditional stock-picking metrics, instead favoring attributes such as economic indicators and market trends.
In more than two decades of operating, Moore's funds have been perennial top performers and among of the most sought-after hedge funds for investors, growing total assets under management to an estimated $15 billion.
>>Also:
20 Stocks With Big Insider Selling
So, then, what stocks are Bacon's funds investing in? Here's a glimpse at four positions disclosed in his firm's latest quarterly SEC filing.
One of the biggest companies that Moore owns a position in right now is
Verizon
(VZ)
, the communications giant that's slid around 3% year-to-date despite strong performance in its shares.
Verizon's most attractive business is its cell phone subsidiary, which dominates the U.S. market as the nation's No. 1 carrier. (Since VZ owns only 55% of Verizon Wireless, though, rival
AT&T
(T)
actually directly controls a bigger share.)
>>Also:
10 Best Black Friday Tech Deals
While the company's landline business still constitutes a sizable portion of the company's business, it hasn't been a major driver of growth lately. But the firm is looking to change that with the deployment of FiOS, which brings the speed of fiber optic cables directly to consumers' homes for television, internet, and voice. That said, the investment in FiOS hasn't been small, and Verizon will need to see continued large subscriber numbers for its bet to pay off.
The company's dividend may just be one of the most attractive things about this stock right now. With shares trading at current levels, Verizon's yield sits at more than 6% -- a dividend that's ensured by a fairly strong financial position. Moore Capital owns more than 1.2 million shares of Verizon.
>>Who Else Owns Verizon?:
Year-to-date performance has been largely the same at
Banco Santander Brasil
(BSBR)
, one of Brazil's largest banking stocks and a relatively recent IPO. But again, that share price movement really isn't indicative of this company's ability to deliver fundamental performance.
One of Banco Santander Brasil's most attractive attributes is its location. With Brazil's attractive economy and robust banking sector, this stock has plenty of upside in its favor.
>>Also:
10 Banks With Earnings Upside Potential
With that, however, comes some stiff competition. Larger rivals such as
Itau Unibanco
(ITUB)
and
Bradesco
(BBD)
have scale that this firm lacks. That said, with a majority shareholder in
Grupo Santander
( STD), Banco Santander Brasil benefits from the resources of a very successful financial institution in its corner.
At present, economic upside in Brazil looks attractive enough to buoy shares of all the country's banks, which already benefit from higher margins and better balance sheets than the majority of their American counterparts despite the global recession. Moore Capital owns 1.5 million shares of Banco Santander Brasil.
>>Also:
As a guarantor,
Assured Guaranty
( ASO) is on the hook when the bonds or asset-backed securities it insures collapse. Luckily for Assured, the company's conservative bent kept it from guaranteeing the riskiest assets of the housing crash. But that financial conservatism hasn't completely spared shareholders from the risks of owning this stock right now -- shares have tumbled more than 20% already in 2010.
>>Also:
6 Sick Insurance Stocks to Sell Now
Assured Guaranty has emerged from the credit crisis with the leading market position as an insurer of municipal bonds, a direct result of the company's ability to keep its credit rating strong while those of competitors dropped in 2008 and 2009 amid numerous bad bets. Although only a small number of municipal bonds owners turn to firms like Assured to protect their positions, a return to tough budgetary conditions for many state and local governments could result in an uptick in demand for this company's services in the near-term.
But it's not all upside ahead for Assured Guaranty. While the firm stopped insuring the riskiest instruments leading up to 2008, it's seen growing claims as a result of some of the mortgage-based asset backed securities that it did opt to insure at the time. If this prolonged recession continues without reprieve, those claims could continue to grow. Moore Capital owns 4.17 million shares of Assured Guaranty.
>>Also:
10 Insurance Stocks That May Gain Up to 74%
The last stock on this week's list isn't a stock at all. Moore Capital Management owns 1.3 million shares of the
SPDR S&P 500 ETF
(SPY)
, an exchange-traded fund that tracks the overall movements of the broad market. SPY does that by holding a basket of the 500 largest publicly traded companies.
>>Also:
Top 10 S&P 500 Insider Sales of 2010
Its adherence to the S&P 500 makes this ETF one of the cheapest funds available on the market today -- and an attractive option for investors wanted to either bet on the broad market's moves, or get instantly diversified exposure to stocks.
Tumult has reined in stocks in the last few weeks, giving investors a fast and furious rally followed by increased volatility, but that could be coming to an end later this month once the market settles on its direction once again.
>>Also:
10 Undervalued, Unloved S&P 500 Stocks
To see the rest of Moore Capital's plays check out the
on Stockpickr.
-- Written by Jonas Elmerraji in Baltimore.
RELATED LINKS:
>>3 Stocks Setting Up for a Breakout
>>5 Penny Stocks for Big Profits
Follow Stockpickr on
and become a fan on
Facebook.
At the time of publication, author had no positions in stocks mentioned.
Jonas Elmerraji is the editor and portfolio manager of the Rhino Stock Report, a free investment advisory that returned 15% in 2008. He is a contributor to numerous financial outlets, including Forbes and Investopedia, and has been featured in Investor's Business Daily, in Consumer's Digest and on MSNBC.com.