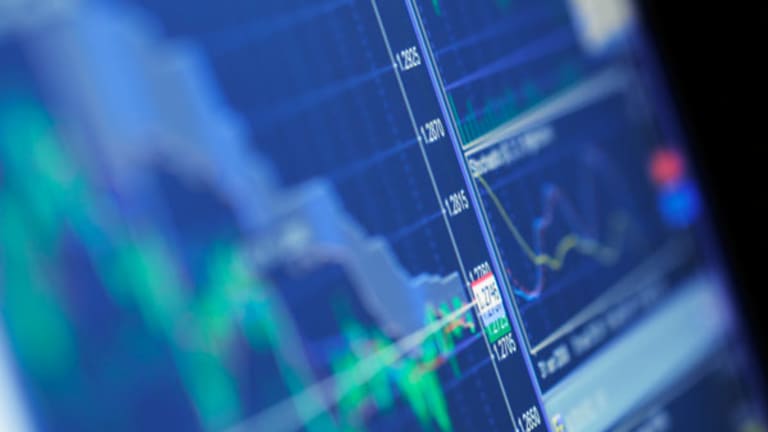 Publish date:
4 Stocks for Surging Natural Gas
These stocks are poised to benefit from the stunning rebound in natural gas.
These stocks are poised to benefit from the stunning rebound in natural gas.
NEW YORK (Stockpickr) -- By the spring of 2012, investors had simply given up on natural gas stocks. After all, the energy source had crashed in value to just $2 per thousand cubic feet, a price at which almost every producer would lose money. It was pretty clear that the industry damage would deepen and that major players might eventually run out of cash, but then a funny thing happened. Gas prices began to rebound, and they kept on going, managing to double in value in just 12 months.
To be sure, it's unwise to assume that all of the recent price gains for natural gas will hold. At a current price of $4.25 per thousand cubic feet, you should assume a modest pullback, perhaps to the $4 range as the springtime weather reduces demand for gas.
>>5 Hated Earnings Stocks That Deserve Your Love
Still, even at that lower price range, gas producers are breathing a huge sigh of relief. They no longer need to hunker down for an extended period of blight and can instead start to focus on the kind of cash flow that $4 natural gas can generate.
Here are
four stocks that stand to benefit
from the stunning rebound in natural gas.
>>5 Rocket Stocks to By for Dow 15,000
Bill Barrett Resources
The sharp plunge in gas prices over the course of 2011 really took a toll on
Bill Barrett
(
), which is engaged in the exploration, development and production of natural gas and crude oil, and its share price slid from $50 in the summer to the upper teens by early 2012. Falling gas prices set the stage for flat or even negative cash flow and eventually led to a turnover in the corner office.
But Bill Barrett is now shaping up as a solid rebound play.
New management is counting on firmer gas prices to rescue the cash flow statement, which has been subpar in recent years. Even as sales have risen, EBITDA has been stuck at around $400 million, highlighting a compression in profit margins. The key is to find opportunities to streamline, and as those take shape, BBG's EBITDA strength will start to rise -- surely aided by higher gas prices as well.
>>5 Stocks Poised for Breakouts
Analysts at Goldman Sachs recently took a fresh look at the impact of higher has prices and the improved capital allocation plans, and they raised their rating on BBG from hold to buy with a $27 price target, more than 30% upside from here.
By another measure, investors may want to give this stock a fresh look. The market value of around $930 million is roughly $250 million less than tangible book value.
Southwestern Energy
Among all of the major shale gas regions in the U.S., the Marcellus Shale, which roughly spans Pennsylvania and Ohio, has been among the most productive in terms of gas output. And few firms are positioned to capitalize on this region as well as
Southwestern Energy
(
), which is on track to produce 700,000 cubic feet of gas per day by 2015 and perhaps 800,000 cubic feet per day by 2017, according to management. That compares to current daily production rates of 300,000 cubic feet.
Of course, if natural gas prices were stuck at $2, few would care because Southwestern would generate only minimal cash flow. But $4 gas changes everything. The stage is now set for rising cash flows, thanks to a projected surge in production and firming gas prices.
>>4 Big Stocks on Traders' Radars
The company's earnings before interest and taxes, which stood at $870 million in 2012, are on track to rise to $1.3 billion in 2014, according to consensus forecasts. And the longer-term outlook is brighter still, thanks to those production plans noted earlier -- as long as gas prices don't collapse.
This stock bounced between $32 and $36 in the fourth quarter of 2012, yet even with the stunning upward move in gas prices, they still trade at $35. That makes this a nice entry point before the crowd realizes the positive implications of firming gas prices.
Cabot Oil & Gas
Cabot
(
) is also squarely focused on the Marcellus Shale and recently delivered some good news to investors: An analysis of its key wells has found that there is much more recoverable gas at each well than had been previously assumed. The company's drilling teams have already moved into place and started drilling, and as a result, production is expected to steadily rise with each passing quarter.
Merrill Lynch, which recently upgraded Cabot from hold to buy, has a $93 price target, implying robust 40% upside from here. Merrill's analysts recently boosted their net asset value of Cabot's Shale acreage from $34 to $72 a share, and thanks to rising prices and production, they figure free cash flow may soar to $1 billion by 2015.
Nabors Industries
Firming prices are expected to eventually lead energy exploration firms to put more drilling rigs back into service. And many of them will be turning to
Nabors
(
), a $4.4 billion (in market value) provider of all kinds of drilling equipment and services. (The company is also a major player in Canada and other foreign markets.)
To be sure, Nabors' recent financial performance has been underwhelming. A series of assets that were acquired over the past decade failed to generate the profits that management had hoped. Yet in recent quarters, signs are emerging that Nabors' various operations will start to bear more fruit. Analysts think that some of those acquisitions will be sold off in coming quarters in order to let management focus on the most profitable parts of the business.
You can already see the improved outlook on the company's cash flow statement. Free cash flow, which had been negative in recent years, is expected to reach $800 million this year, and more than $1 billion in 2014, according to management guidance.
To see these free cash flow kings in action, visit the
4 Stocks for the Natural Gas Rebound
portfolio.
RELATED LINKS:
>>5 Stocks Under $10 Ripping Higher
>>5 Telco Stocks to Trade This Month
>>5 Dividend Stocks Ready to Give You a Raise
Follow Stockpickr on
and become a fan on
Facebook.
Stockpickr is a wholly owned subsidiary of TheStreet.com.