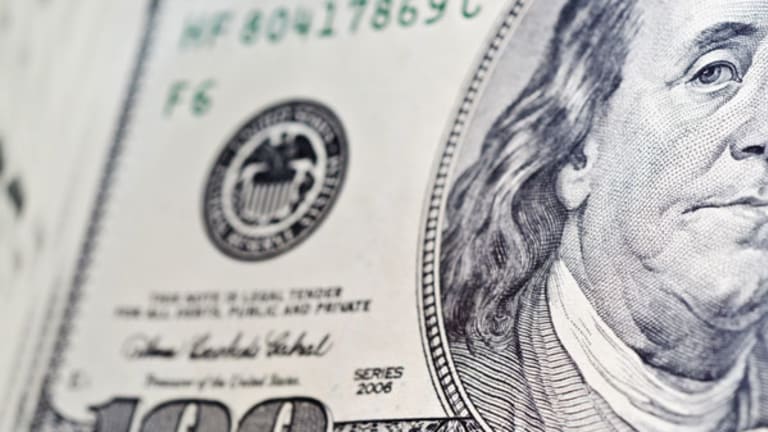 4 Stock Strategies From Wall Street: Feb. 10 (Update 1)
Investors may want to prepare for a potential pullback in the market as well as changes in the Russell 2000.
Updated with share prices.
NEW YORK (
) -- Analysts weigh in on how to watch a potential pullback in the U.S. stock market and how to position oneself for changes on the Russell 2000.
1) Watch the Pullback
With the S&P 500 up more than 7% this year, many market analysts are trying to predict the timing of a pullback. Smart investors have been buying on the dip, but fear that the market needs to cool off after a steep run up is keeping a cap on aggressive buying.
Here's a take on the index from Sam Stovall, equity strategist with S&P Capital IQ: "We think that if the S&P 500 gets into our target zone of 1,360 to 1,380, the index would be vulnerable to a 3% to 5% pullback."
His prediction is based on where the index found resistance at its high last year. Furthermore, he says, "a move into this area would complete the measured move based on the breakout from the inverse head-and-shoulders formation that occurred in January."
Also, "an initial Fibonacci extension based on the size of the inverse head & shoulders pattern also targets this region." In other words, by taking into account the levels at which many traders tend to take profits, analysts can come up with a forecast of where the index might top out next.
For longer term investors, the pullback shouldn't make much of a difference. Stovall predicts that the index will rise higher than 1,400 after taking a breather.
2) A Small-Cap Change Up
Investors following the Russell 2000 should note that the index makes changes each June.
"We expect Russell to release any index and/or style methodology changes in early March, with preliminary lists of adds, deletes, and migrations available on June 8, and the actual reconstitution taking place on June 22," writes Deutsche Bank.
Ahead of the changes, money managers and traders may begin positioning in March and trading may intensifying through the rebalancing date in June.
For the Russell 2000, Deutsche Bank expects that the biggest increases will be in the semiconductor, consumer services, dividend financials and materials sectors. Big decreases will likely be in real estate, pharmaceuticals and biotechnology, transportation and energy sectors.
Topping Deutsche's list of companies that may see most buying pressure based on "net dollar demand" are
Lender Processing Services
(LPS)
,
Synovus Financial
(SNV) - Get Synovus Financial Corp. Report
,
Comverse Technology
( CMVT) and
Tellabs
( TLAB). Companies at the top of the list based on average daily trading volume are
Hingham Institute for Savings
(HIFS) - Get Hingham Institution for Savings Report
,
FNB United
undefined
and
Rand Logistics
(RLOG)
.
Those that will see most selling pressure based on "net dollar demand" include
NetLogic Microystems
( NETL),
SuccessFactors
( SFSF) and
World Fuel Services
(INT) - Get World Fuel Services Corporation Report
. That same list based on average daily trading volume includes
Dial Global
(DIAL) - Get Columbia Diversified Fixed Income Allocation ETF Report
,
Essex Rental
(ESSX)
and
Dialogic
(DLGC)
.
Next>
3) Dare To Pick European Banks?
If you have the stomach for European bank stocks, consider Deutsche Bank's analysis of the long term financing move by the European Central Bank.
Like most economists, Deutsche bank analysts note that the liquidity risk for European banks has greatly decreased as they can now borrow money at 1% for three years. The firm estimates that the ECB's move addresses liquidity risk for the next year or two.
However, the firm warns that investors should be careful in trying to reap the benefits of the long term refinancing operation (LTRO). "Though incrementally helpful to earnings per share... we believe that the sector benefits of LTRO are priced, and that stock picking is now most important," it writes.
That means the actual LTRO allotment on Feb 29 is "no longer a significant catalyst." Analysts disagree on the net take up for the Feb. 29 LTRO. However, Deutsche Bank says the specific number is "irrelevant."
"The 'LTRO-is-good' thought process has played out in the stocks and
we don't see this as a further catalyst," it adds.
As for actual stocks, the firms feel best about Julies Baer, Swedbank and
Barclays
(BCS) - Get Barclays PLC Sponsored ADR Report
. These are top tier banks and retail names with better capital, it says. "Key downside risks relate to a deterioration in sovereign and bank funding markets, a downturn in capital market revenues, and impact on credit quality from weaker economic conditions."
Like many bank stocks, Barclays has surged this year. The stock is up 33% year to date after losing a third of its market cap last year. Shares were last trading near $14.59.
Next>
4) Look at Web Traffic to Pick Insurance Stocks
Investors trying to pick stocks in the insurance sector should consider growing Web traffic trends.
UBS recently wrote a report on the increasing Web traffic among insurance companies that operate online.
"Consumer shopping activity remained robust with monthly unique visitors to our index of insurer and insurance aggregators' Web sites up 20% year-over-year last month verses 18% in December and 32% in November," writes the firm.
"The January rise in insurance Web site activity was led by
Progressive
(PGR) - Get Progressive Corporation Report
(+32% y/y) and Esurance (+98% y/y in its fourth month of ownership by ALL). After five months of growth that far outpaced the index, State Farm's web visit growth of 19% in Jan was in line with the index's 20% rise."
Esurance is a seller of car insurance and is one of the leading auto insurance issuers online. UBS notes that Esurance saw Web growth accelerate to 76% in the fourth quarter of last year and 80% so far in the current quarter, because of a new ad campaign. "Increased advertising spending suggests that the strong growth in Esurance Web traffic will continue," it writes.
By contrast,
Allstate
(ALL) - Get Allstate Corporation Report
, the largest publicly-traded domestic home and auto insurer, which owns Esurance, has seen Web growth shrink up to 2% year over year over the past two months as newly issued applications decreased.
Allstate's fourth quarter profit more than doubled to $724 million, according to its earnings report on Feb. 1. It operating profit beat expectations, coming in at $1.48 a share. The stock is rated a strong buy by 13 analysts and a hold by 10 analysts out of 27 analysts covering the company,
according to TheStreet Ratings.
-- Written by Chao Deng in New York.
>To contact the writer of this article, click here:
Chao Deng
.
>To follow the writer on Twitter, go to:
@chao_deng
>To submit a news tip, send an email to:
.