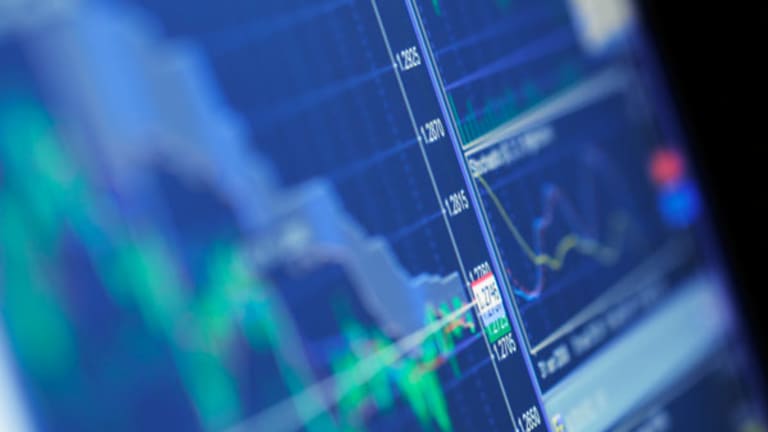 4 Silver Stocks That Shine on Pullbacks
With silver already trading in breakout territory, it could be time to consider some silver stocks on pullbacks.
WINDERMERE, Fla. (Stockpickr) -- The price action in the silver market currently is nothing short of extremely bullish behavior.
Concerns over the turmoil and social uprising in the Middle East in places such as Egypt and Libya have sent the precious metals markets soaring. Right now the
iShares Silver Trust ETF
(SLV) - Get iShares Silver Trust Report
has started to break out above some past overhead resistance at around $30 to $30.50 a share. This breakout has everything to do with destabilization of the Middle East. Market players love to jump into precious metals such as silver and gold in times of geopolitical conflicts, and the current unrest in the Middle East is serving as a major catalyst to take these markets higher.
The action in the silver market deserves your attention even more than the gold market right now. Gold still hasn't broken out, with the
SPDR Gold Trust Shares
(GLD) - Get SPDR Gold Shares Report
trading a few points below its overhead resistance levels at around $139.50 a share. Eventually, I believe that gold will join the breakout party, but until that happens, I think market players are better served to focus on the silver trade.
Related:
Top-Rated Metals and Mining Stocks
The trend right now is simply stronger in the silver market since this precious metals leader is already trading in breakout territory. This leads me to believe that it's time for market players to consider buying some
.
One of the other reasons that I prefer silver over gold right now is that there seems to be a huge short shorts squeeze going on in silver. There are a lot of rumors in the market that a
a number of investment banks are currently short silver in a big way
. I have no idea if that's true, but what I do care about is how silver is acting technically. And the current price action leads me to believe that somebody out there does have a very large short position in silver.
The actual spot price of silver is now changing hands at around $33.90 an ounce. This puts the precious metal at 30-year highs, which most certainly is a frightening development to any bear shorting silver. The all-time high on silver is $50 an ounce, which it reached in 1980. This fresh breakout in silver could mean that we are on the cusp of revisiting that all-time high. The unwinding of any large short positions could be the next strongest catalyst to set off a massive rally in silver after the Middle East turmoil.
Basically, what we could have setting up here in the silver market is a perfect storm for much higher prices. This is exactly why it's time to start
hunting the silver sector for some potential plays
.
Coeur d'Alene Mines
One silver play that looks extremely attractive is
Coeur d'Alene Mines
(CDE) - Get Coeur Mining, Inc. Report
, which together with its subsidiaries engages in the operation, exploration, development and mining of silver and gold properties in South America, Mexico, the U.S. and Australia. Coeur d'Alene also explores for lead and zinc ores. This stock is just starting to heat up in 2011, with shares up around 13% so far on the year. In fact, the stock has just started to print a brand new
at around $31.40.
Coeur d'Alene Mines has been trading in a very tight range for the past couple of months between $28 a share and $22 to $24 a share. This range-bound trading pattern shows that the stock has strong support at the lower end of the range and tough resistance at the top of the range. It's very important to be aware of this trading range, because a move above the upper end of the range will flash a signal that the stock is ready to break out and trend significantly higher.
That signal was officially hit today now that the stock has moved above the overhead resistance at around $28 to $29 a share What investors should want to see now is for volume to expand dramatically above the three-month average trading activity of 2.3 million shares. As of midday, the volume is already registering 4.1 million shares, so it looks like large institutional traders are starting to move into this stock to play the breakout.
It's also worth noting that CDE has a decent amount of bears betting against the stock since the current short interest as a percentage of the float is 7.7%. As of Jan. 31, those bears have even been increasing their bets by 6.8%, or by around 430,000 shares, to a total short position of 6.8 million shares. This reasonably large short position, combined with the stock's low tradable float of 88.9 million shares, could setup CDE for a big short squeeze.
I would suggest buying this stock on any pullback; as long as CDE doesn't trade back below that key breakout point at around $28 to $29 a share.
Mines Management
If you're looking for a
silver play setting up to move higher, then
Mines Management
(MGN)
could be just the name to fit the bill. This company is engaged in the business of acquiring, exploring and developing mineral properties in North America, primarily those containing silver and associated base and precious metals. So far in 2011 this stock has been a big loser, with shares off around 15.5%.
The weakness in this stock so far this year is presenting investors with a great opportunity to buy shares on the cheap before a potential move higher begins. Mines Management doesn't come without risk since the company currently isn't profitable. However, it does have $7.3 million in cash on its books and no debt, which could make it a takeover target if one of the major silver players thinks it can unlock some value out of the development of the Montanore Silver-Copper Deposit, which Mines says is one of the largest silver-copper deposits in the world.
The Montanore project is estimated to have more than 230 million ounces of silver and close to 2 billion pounds of copper. If the company can manage to bring this Montanore development online, then it'll reap major profits since the price of spot silver is trading at such lofty levels.
From a technical standpoint, the stock is trading right around the 50-day moving average of $3.52 a share. The stock has some strong support at around $2.80 a share and there's some stiff overhead resistance at around $4.00 to $4.40 a share. I would suggest buying this stock any significant pullback and look for the confirmation of a trend higher if it can break out above $4.40. The all-time high on MGN sits at around $10 a share, so there's plenty of upside if a strong uptrend does take hold.
Endeavour Silver
Another small-cap silver stock that you need to put on your trading radar is
Endeavour Silver
(EXK) - Get Endeavour Silver Corp. Report
, which together with its subsidiaries engages in the evaluation, acquisition, exploration, development and exploration of mineral properties, primarily in Mexico. So far in 2011 this stock has put in a modest advance of around 1.1%.
Endeavour Silver has a market cap of $482.76 million, and the stock trades at a forward price-to-earnings of 12.98. The company has an extremely strong balance sheet with $19.69 million in cash on the books and just $377,000 in total debt.
What I absolutely love about this stock is the way the chart is setting up. This stock has tested some past overhead resistance at $7.15 to $7.70 a share five times in the last four months. Now, that does show there's clearly some stiff overhead resistance at those price levels, but the more times a stock tests a resistance level in a shorter-term time frame, the higher the probability that the stock will eventually trade above that resistance.
What's even more bullish about the technical setup for EXK is that if the breakout above $7.70 does happen, it will push the stock into brand new all-time high territory. When a stock makes a new all-time high, that means just about everyone who's ever bought any shares is making money. That's the kind of company every trader should strive to be in.
What market players should watch for now with EXK is for volume on any breakout above $7.70 to expand well above the three-month average trading activity of 1.6 million shares. If we get that kind of action, look for EXK to start a march towards $10 a share or possibly even higher.
First Majestic Silver
My final silver play that looks ripe for higher prices is
First Majestic Silver
(AG) - Get First Majestic Silver Corp. Report
, which has been refereed to has the purest silver company in the world. This company engages in the production, development, exploration and acquisition of mineral properties with a focus on silver in Mexico. So far in 2011 this stock is up around 5.1%.
First Majestic has a market cap of $1.34 billion and a strong balance sheet, with around $26 million in cash on hand and only about $5.7 million in total debt. During the company's latest earnings report, it said that production for 2010 was up by 62% over 2009. Their actual silver production jumped 72% from the past year, and total silver production as a percentage of total production was 93%. First Majestic also said it anticipates even higher production gains in 2011 and plans to expand its exploration budget to around $21 million from $12.3 million in 2010.
From a technical standpoint, this stock has a ton of near-term support at around $12.70 a share. Traders might want to take a shot from the long side if AG can manage to hold its 50-day moving average of $13.15 or that previous support level at $12.70. I really like that a huge surge in volume recently hit this name on a number of up days that easily exceeded the three-month average action of 420,000 shares. This should set the stock up nicely to be bought on any pullback for a play on a potential breakout trade above $15.50 to $16.45 a share.
To see more silver stocks that could be poised to tend much higher, such as
Hecla Mining
(HL) - Get Hecla Mining Company Report
,
Silver Wheaton
(SLW)
and
Silvercorp Metals
(SVM) - Get Silvercorp Metals Inc. Report
, check out the
portfolio on Stockpickr.
-- Written by Roberto Pedone in Winderemere, Fla.
RELATED LINKS:
>>Top-Rated Metals and Mining Stocks
>>3 Stocks Increasing Their Dividends
Follow Stockpickr on
and become a fan on
Facebook.
At the time of publication, author had no positions in stocks mentioned.
Roberto Pedone, based out of Windermere, Fla., is an independent trader who focuses on stocks, options, futures, commodities and currencies. He is also an outside contributor to Beconequity.com and maintains the website Maddmoney.net, which he sold to Blue Wave Advisors in 2008. Roberto studied International Business at The Milwaukee School of Engineering, and he spent a year overseas studying business in Lubeck, Germany.