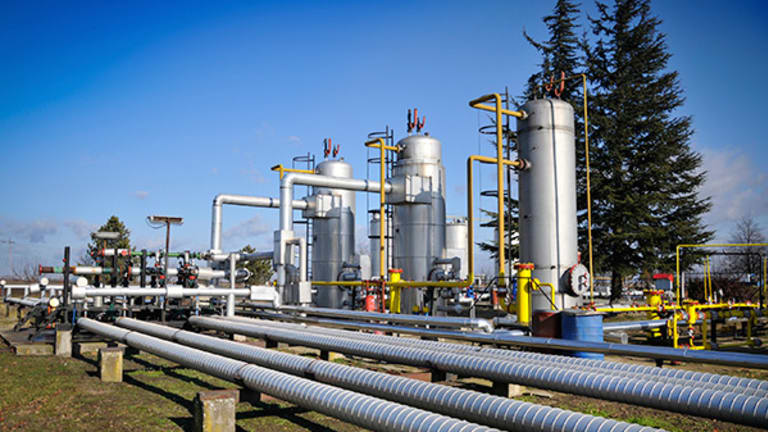 4 Safe MLPs Paying Higher Dividends
Each stock yields over 4% and has raised dividends at least 10 consecutive years.
In looking over the impact of the 2014-2015 oil price collapse, we made an interesting discovery. When there is a glut in supply, pipeline and storage companies keep doing business in most cases.
Sure, there can be some impact. However, the typical business model deals with customers under contract making minimum payments even if little is shipped. Pipelines are valuable assets that are costly to produce both from a capital and regulatory standpoint.
Here are four safe MLP's with long dividend paying histories and above average current yields. Several of these have consistently growth dividends for at least 10 consecutive years and are bona fide dividend achievers.
Higher yields sometime signal trouble. In the case of MLP's, they don't have to pay federal taxes so there is more cash to distribute to shareholders. MLP's are not for everyone but selectively chosen, they might be appropriate for a spot even in some conservative retirement accounts.
Before diving in to the list below, investors should understand what MLPs are and their key risks.
Magellan Midstream Partners (MMP) - Get Magellan Midstream Partners L.P. Limited Partnership Report
Magellan primarily transports, stores and distributes petroleum products. The partnership owns the longest refined petroleum products pipeline system in the country, with access to nearly 50% of the nation's refining capacity, and can store more than 95 million barrels of petroleum products such as gasoline, diesel fuel and crude oil. It manages operations in three sectors.
Magellan's Crude Oil Segment (11% of sales) consists of 1,700 miles of oil pipelines and storage ranging from the Upper Midwest to the Texas Gulf coast. Refined Products (80%) operates a 9,600 mile pipeline system with connecting terminals for storage from the Northeast to Georgia. Marine Storage (9%) amounts to five terminals located along the Gulf coast with the ability to store about 26 million barrels.
The company's size and strategic positioning in the U.S. energy belt has given the company the ability to take advantage of growing domestic energy production for over a decade. In the key refined products segment the majority of income comes from either contract agreements with major energy suppliers or from rates published with Federal regulators. The price of crude oil plays a role in determining rates. However, the overall balance of supply/demand is the overriding factor.
Dividends have been paid every year since Magellan's founding in Tulsa, Okla., in 2000. The current $3.28 per share payout offers an above average 4.71% yield.
Over the past decade the dividend has compounded at an 11.5% average rate and 15% over the past five years. Based on the presentation of Non-GAAP measures that the company uses to manage its business, the payout ratio over the past five years has ranged between 71%-and-97%. In 2015 this ratio was 81%, suggesting the company has sufficient cash to operate it business while providing ample income to dividend investors.
Holly Energy Partners (HEP) - Get Holly Energy Partners L.P. Report
Holly is not the biggest energy pipeline MLP, but it is the most growth oriented and offers the highest yield. So let's take a look at what makes it an interesting investment.
Holly operates a system of petroleum product and crude pipelines, storage tanks, distribution terminals and loading rack facilities in West Texas, New Mexico, Utah, Nevada, Oklahoma, Wyoming, Kansas, Arizona, Idaho and Washington. So it is a pretty conventional pipeline and storage operator earning its way by charging fees for transporting crude oil to the market. Major shippers are obligated to make deficiency payments if they do not meet their minimum volume shipping obligations. This provides an important level of predictability to the business, so long as oil producers can pay.
The company has been in business only since 2004; it got started just in time for the U.S. energy boom. So far it has put together a refined product pipeline of just 810 miles in the Southwest and 510 miles between Texas and Oklahoma. Rounding out its major assets is another 940 miles of crude oil gathering capabilities in West Texas, New Mexico and Oklahoma. These are the most important income-generating assets.
In the energy business where egos are often bigger than assets, Holly is a relative small fry. But this is changing. The company has excellent operating margins and long-term average to above-average returns on invested capital. This indicates the company has more than ample flexibility to finance operations and successfully reinvest in the pipeline business.
Over the past year Holly has actively pursued expansion deploying nearly $150 million in cash acquisitions in four separate refinery and pipeline companies that expand its ability to serve major energy customers.
The company has paid dividends every year since the Dallas-based company opened its doors in 2004. That includes the 2008 financial crisis and the more recent drop in crude oil prices.
The current $2.34 per share payout offers a well above-average 7.12% yield. Over the past decade dividends have compounded at a 6.9% average rate and 5.8% over the past five years. The payout ratio, based on management-provided financial data, has ranged in recent years from 86% to 95%.
TransMontaigne Partners (TLP)
On paper, TransMontaigne looks like a giant energy exchange. It does not take ownership of any products. Its sole business is providing terminal, storage and transportation for companies in the petroleum business. This includes the standard everyday products like oil and all its variations to chemicals, fertilizers and other liquid products. TransMontaigne facilities are strategically dispersed in the Texas, Mississippi and Ohio and other parts of the Midwest and Southeast.
The role of terminaling in the production of energy may seem like a boring and inconsequential cog, but to TransMontaigne and the $41 million it generates in quarterly revenues it is real meat and potatoes.
It also consistently produces high profit margins. TransMontaigne charges a fee for their services and often has competitive advantages where their terminals are located along the Mississippi and Ohio rivers where products are transferred to different modes of transport. TLP capacity utilization has also benefitted from over abundant U.S. energy supplies.
Regular quarterly dividends have been paid since the company was founded in Denver in 2005. The latest quarterly increase brings the annual $2.76 per share payout to offer investors a 6.41% yield.
Based on the company's non-GAAP financial results, the indicated payout ratio in 2016 is 75%. Over the past decade dividends have compounded at a 17.1% average annual rate but just 2.2% over the past five years. This indicates the business has experienced a slowdown in cash flow in recent years and is a warning that dividend growth in the future will be less predictable. It also explains TransMontaigne's above average yield. This merits close watching; however, it could prove to be short lived given the persistent increase in U.S. oil inventories in recent months.
Spectra Energy Partners (SEP)
Spectra is an energy company focusing exclusively in the pipeline transporting and storage of natural gas. It operates a 1,400-mile transport system connecting Tennessee with Virginia, North Carolina and Georgia. In addition, Spectra holds a 24% interest in a 700-mile Gulfstream interstate pipeline extending from Mississippi, Alabama and into Florida. Customers include utilities, direct industrial users and electric power generators. If you need to move gas, Spectra is your go-to resource.
For the better part of the last century energy exploration was centered on oil. All this changed around 2005 when natural gas became the star of the U.S. shale boom. According to industry data, after 2005, 80% of all drilling was targeted at natural gas.
Since then production has increased to 70 billion cubic feet today. For Spectra, whose revenues benefit from volume, the growth of natural gas has rung their cash register to the tune of $2.5 billion in sales last year.
The quarterly payout was increased in August to an annual $2.65 per share level, offering an above-average 5.78% yield. Over the past decade dividends have compounded at a 24.3% rate and by 7.4% over the past five years.
The dividend payout ratio according to the company's most recent report is 97%, meaning future income growth will need to come from greater utilization of its existing pipeline assets.
This article is commentary by an independent contributor. At the time of publication, the author did not hold a position in any of the stocks mentioned.