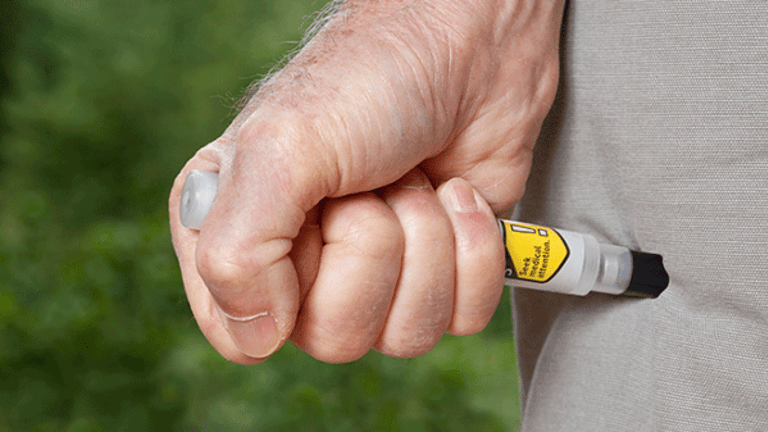 Publish date:
Mylan Has Been Pounded, but the Pain May be Far from Over
The maker of the EpiPen seems incapable of overcoming its troubles.
The maker of the EpiPen seems incapable of overcoming its troubles.
Selling cheaper copies of its blockbuster drugs seemed to be a good business idea. Yet, the going has become tough for Mylan (MYL) - Get Report .
The company, which grew in size by acquiring India-based Matrix and Germany's Merck KGaA, has been forced to face allegations of price gouging and contend with the fallout of the EpiPen auto-injector recall. Mylan is also struggling to correct the general perception that it's just a generic drug company instead of a specialty drug maker.
These factors have pummeled the stock, which is down nearly 20% over the past twelve months.
But Mylan, which trades at less than seven times forward earnings, could have significant upside if you have the appetite.
Mylan offers an emergent portfolio of 7,500 marketed products around the world, including antiretroviral therapies. It also is the world's largest producers of active pharmaceutical ingredients, the raw material for branded drugs.
However, the narrative for Mylan has changed with the company getting a lot of bad press recently.
Bears are only focusing on the negatives. Recently, Mylan has expanded a recall of EpiPen auto-injectors to include additional lots in the U.S. Second, Mylan's generic version of GlaxoSmithKline's (GSK) - Get Report Advair was rejected by the FDA. Third, the number of shares shot up after Abbott (ABT) - Get Report divested 60% of its remaining stake in Mylan in a nearly $2-billion market sale.
Bulls, on the other hand, will tell you to focus on the positives. First, after the EpiPen auto-injector pricing issue arose, Mylan launched a generic version of EpiPen. This should help the company form a stronger connect with users. Second, Mylan is no Valeant (VRX) and does not have Feds looking into its accounting books. Mylan is also not the only company involved in alleged price-fixing lawsuits. Teva (TEVA) - Get Report and four other smaller generics firms are also involved.
Third, Mylan has moved in swiftly to settle other pending litigations, in effect reducing the chances of more bad publicity. It settled its controversial Provigil deal and clearedRoche's (RHHBY) legal challenge to sell Herceptin biosimilar in some markets.
Mylan's valuation may be attractive, but there are other issues that investors must know.
The company's debt load of over $15 billion is a bit excessive, though it has been generating over a billion dollars in free cash flow in recent years. If this trend continues, debt may not pose a major problem.
Two, investors don't get any dividend from owning Mylan shares, unlike high dividend yielding companies such asAstraZeneca (AZN) - Get Report , GlaxoSmithKline, AbbVie (ABBV) - Get Report , Pfizer (PFE) - Get Report , or Novartis (NVS) - Get Report .
Three, the company has diluted shares from 219 million in 2007 to 521 million today. This, in effect, makes earnings per share (EPS) growth look worse.
Four, Mylan doesn't have a bad earnings growth outlook although profit margins are unimpressive at less than 5%. EPS is projected to grow by 8% or more this year and the next. Over the next five years, Mylan is anticipated to grow EPS by nearly 10% annually.
Mylan could be a smart, cheap bet for investors who understand the risks. Its valuation at 6.75 times forward earnings are cheap and in line with names in the space like Teva. If you can afford to take some risk, the payoff could be rewarding. The 17 analysts providing 12-month price forecasts for Mylan have a median target of $52, representing about 26% upside from current levels.
---
As we've just explained, investors should avoid shares of Mylan. If you're looking for better growth opportunities, we've found a trader who turned $50,000 into $5 million by using his proprietary trading method. For a limited time, he's guaranteeing you $67,548 per year in profitable trades if you follow his simple step-by-step process.Click here now for details.
The author is an independent contributor who at the time of publication owned none of the stocks mentioned.