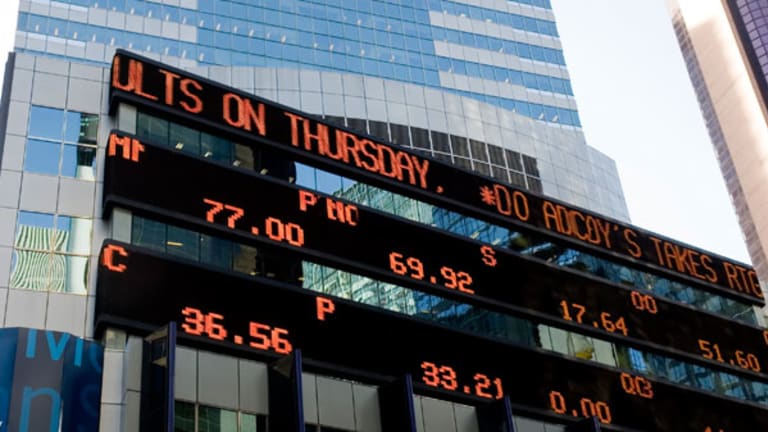 4 Reasons Not to Buy Stocks in 2013
As an investor, when you're right for too long, it's critical to question your investment thesis.
BALTIMORE (
) -- I'm bullish right now. In fact,
that I'm very bullish on U.S. stocks, and I have been for a while now.
Thing is, since calling the end of the market correction in late June, I've been right too. As I write, Mr. Market is up around 20% from that mid-summer low in the
. But I'm not writing this column today to pat myself on the back.
I'm writing it because what if I'm wrong from here?
As an investor, when you're right for too long, it's critical to question your investment thesis. After all, as market legend Ned Davis is fond of saying, "There's a difference between being right and making money." That's why today I'm going to play the devil's advocate and take a look at four reasons not to buy stocks in 2013.
(If you missed the original "
4 Reasons to Buy Stocks in 2013," read it now.
)
1. The Market's Internals Are Weak
One of the biggest criticisms that's been floating around of late has been the concern that market internals are weak -- but quite frankly, that's a cop-out. Saying that "internals are weak" is an easy way of sounding smart without actually needing to back it up with actual metrics. (Ironically, a Google search of the phrase "weak market internals" mostly brings up results from mid-2009. We all know how that played out.)
>>5 Trades Getting Ready to Pop
Digging into
indicators such as the advance-decline line, it's clear that market internals are actually confirming the new high-water marks being put in by the S&P right now.
The climbing A/D line means that most stocks are participating in the rally -- it's not merely being led by a few mega-cap leaders. That's a sign of market strength.
I think a more convincing red flag comes from Wall Street strategists right now; more and more equity folks at big banks are finally turning bullish, a signal that the contrarian extremes in hatred for the market are starting to unwind. That's not a good thing for stocks necessarily, however. When
everyone
gets bullish on stocks, it's historically a sign that the rally has run its course.
The saving grace comes from timeframes. Wall Street's strategists have much shorter timeframes than most retail and institutional investors do -- and so they tend to be more reactive to recent price action. With investment newsletter writers, money managers and individual investors still looking pretty anxious about the market right now, it's way too early to call for a sentiment top.
2. QE Won't Last Forever
A more valid bear argument is the fact that the
Fed's
programs of quantitative easing -- or QE -- won't last forever. The Fed has been taking a two-pronged approach to boosting equity markets since the financial crisis of 2008 reared its head, shoving interest rates down near zero and directly pumping cash into the market with efforts such as QE3 and Operation Twist.
>>5 Rocket Stocks to Buy as Stocks Bounce
Over the long-term, both of those actions correlate extremely well with market rallies. So when Ben Bernanke pulls the plug on the Fed's efforts, is he going to be pulling the plug on the stock rally as well?
That's a much harder question to answer.
This rally has been largely structural. In other words, a lot of equity buying has happened because investors haven't had much choice in the matter: The Fed has made it a question of parking cash in "safe" investments that are guaranteed to have negative real interest rates, or investing in an equity market that's been offering stellar performance for the past four years and change.
At some point, a switch is going to get flipped that's going to turn this rally from a structural rally into a confidence-fuelled rally. Once that happens, the Fed's QE pull-out isn't going to kill stocks; it's going to make investors more confident in buying them. Until that switch is flipped (the sentiment numbers I mentioned make it clear that it hasn't happened yet), your stock portfolio is definitely at the mercy of the next Fed meeting.
3. Foreign Markets Have Cooled
When I wrote about four reasons to buy stocks back at the start of February, foreign markets were on fire. Markets in the EU had been pushing into new highs at the exact same time that Japan was coming off of a generational bottom and indexes like Hong Kong's Hang Seng, the Shanghai Stock Exchange Composite, and Mexico's Bolsa were all in rally mode.
Since then, international markets have cooled off.
The drama in Cyprus doesn't help things much. With wealthy EU depositors now fearful that the haircut forced on Cypriot depositors could become the new prototype for similar crises (and there will be similar crises in the EU), banks will have to contend with a jumpy base of savers. To read a blog like Zero Hedge, the situation in Cyprus could spark the beginning of the end for the EU in 2013. Then again, to read Zero Hedge, every news headline could spark the beginning of the end for something.
While many international markets have cooled off, it looks more like a correction in most cases rather than a change in trend. Bear in mind that many overseas stock markets have been rallying extremely hard for the last year without much of a correction or consolidation along the way. That's not sustainable -- but it also doesn't mean that overseas stocks are going to zero.
More important, a handful of the strongest names are still looking very bullish indeed: the Japanese Nikkei 225 and South Korea's KOSPI are just two examples.
4. We're Near a Historic Top for Stocks
Finally, there's one of the most guttural arguments not to buy stocks in 2013: We're near a market top.
While the
Dow Jones Industrial Average
pushed through to new highs this year, the S&P hasn't yet and the
Nasdaq Composite
is still far from its high water mark. So why should stocks continue to rally when they're approaching a level where they've failed before?
Make no mistake, of course stocks could top out here. But looking back at the broad market over the last few decades, stocks have been trending higher consistently. By definition, that means that stocks were bumping their heads against all-time highs more often than not, and then pushing through them. Naturally, price resistance is a concern at an all-time high for stocks, but the technicals behind recent price action have been extremely orderly. That makes the likelihood of new highs in the S&P much higher than if the index had been on the heels of some unsustainable rally.
In the last couple of months, I've seen plenty of bear cases for stocks floating around. And by and large, they all boil down to the same source: People don't
feel
like stocks should be moving higher, even if the fundamental, technical and economic factors support higher ground.
That's why I'm still bullish on stocks in 2013.
-- Written by Jonas Elmerraji in Baltimore.
RELATED LINKS:
>>5 Hated Earnings Stocks Poised to Pop
>>5 Must-Own Dividend Stocks for 2013
>>3 Tech Stocks Under $5 Spiking Higher
Follow Stockpickr on
and become a fan on
Facebook.
At the time of publication, author had no positions in stocks mentioned. Jonas Elmerraji, CMT, is a senior market analyst at Agora Financial in Baltimore and a contributor to
TheStreet
. Before that, he managed a portfolio of stocks for an investment advisory returned 15% in 2008. He has been featured in
Forbes
,
Investor's Business Daily
, and on
CNBC.com.
Jonas holds a degree in financial economics from UMBC and the Chartered Market Technician designation.