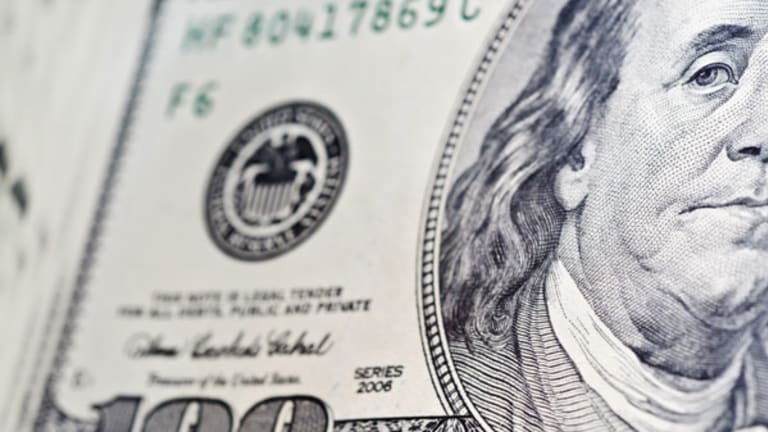 4 More Low-Volatility Stocks for a Volatile Market
In the face of continued volatility, here are four more low-volatility stocks to consider.
In the face of continued volatility, here are four more low-volatility stocks to consider.
MILLBURN, N.J. (Stockpickr) -- Last week, I outlined the importance of seeking out stocks that seek to insulate one's investment portfolio from high levels of volatility in the marketplace, such as those we experienced during the week ended Aug. 5. I identified six stocks: Procter & Gamble (PG) - Get Report, Pepsico (PEP) - Get Report, Johnson & Johnson (JNJ) - Get Report, Wal-Mart (WMT) - Get Report, Southern Company (SO) - Get Report and Chubb (CB) - Get Report as low-volatility stocks to consider in a volatile market.
Just one week later, we went from the frying pan into the fire as the equity markets, subsequent to Standard & Poor's downgrade of the long-term credit rating on U.S. Treasury debt from AAA to AA+, experienced one of the most volatile and unpredictable weeks of trading ever.
Let's review the volatile week that we just endured:
The S&P 500 Volatility Index (VIX) rose from 32 the prior Friday to end the week at 36.36.
That was after reaching a peak of 48 on Aug. 8 and a trough of 34.01 on Aug. 12, on an intraday basis
The S&P 500 and Dow Jones Industrials had some of their biggest intraday swings ever.
Since the Dow tends to get the ear of most non-professional investors and the media, let's see how that index performed in the week just passed. On the surface, the Dow declined a mere 1.53%, but closer inspection of the daily swings reveals a significantly risky and volatile week. (To put the table below in perspective, since 1928, the average daily high/low range for the Dow Jones Industrials is 1.82%.)
Not even my
were immune from the market's volatility. In just one week, each of those stocks had increases in its one-year historical realized volatility as follows:
It is important to note that each of those six stocks rose during what was possibly the most volatile week on record. I would also note that Wal-Mart went ex-dividend for 36.5 cents during the week, which only adds to that stock's weekly gains above.
Related:
2 Pair Trades to Protect Your Portfolio
We should expect the high levels of volatility to persist for a meaningful period of time given all of the global macro problems that are still confronting investors. Hence, I think that we should round out my
low-volatility stock portfolio with an additional four stocks
.
Altria
Altria
(MO) - Get Report
is one of those stocks that perform well in both good and tough economic times. I recently featured the stock in "
," and it deserves a spot in my low-volatility portfolio as well.
Altria has one of the highest dividend payouts in the S&P 500 and is also one of the
highest-yielding tobacco stocks
. Last week, it climbed 2.69%.
This stock is not one for investors who seek socially responsible investing. With tobacco and alcohol in its brand portfolio, Altria is a quintessential
. But in my book, making money is no sin.
Altria, one of TheStreet Ratings'
, shows up on a recent list of
10 Top High-Yield Momentum Stocks
.
AT&T
AT&T
(T) - Get Report
is the country's largest telecommunications company, with a market capitalization of $168 billion. The history of AT&T is quite interesting. It started out as a telephone monopoly, was subject to an antitrust law suit in the 1980s, was then broken up into several companies and then over time has recombined most of the parts from the breakup into the current AT&T. You can watch Stephen Colbert's take on AT&T's split-up and recombination
.
All through AT&T's trials and tribulations, the company has remained the quintessential widow and orphan stock, paying above-market-rate dividends and generating stable cash flow generation. Last week, shares of AT&T gained 1.88%.
AT&T, one of TheStreet Ratings'
, shows up on a recent list of
Dividend Stocks for a Downgrade Defense
.
Annaly Capital Management
Annaly Capital
(NLY) - Get Report
is structured as a real estate investment trust, or REIT. As such, the company does not pay taxes directly to the government as long as it distributes at least 90% of its taxable income to investors. It acts as a pass-through entity whereby taxes will be paid by shareholders -- hence its very high dividend payout.
Annaly primarily owns and manages a portfolio of mortgage-backed securities that are issued and guaranteed by U.S. government agencies. This caused quite a bit of uncertainty last week with the Standard & Poor's downgrade of the U.S. Treasury credit rating and the subsequent downgrading of
Fannie Mae
(FNMA)
and
Freddie Mac
(FMCC)
.
As it turned out, those concerns were overblown, and shares of Annaly rose 9.42% for the volatile week. I attribute this to the strength of the management team led by Michael Farrell and the company's excellent risk-management techniques.
Annaly is one of the
20 highest-yielding dividend stocks
.
McCormick
McCormick
(MKC) - Get Report
is a pretty boring company. It makes spices, extracts and seasonings under various brand names, including McCormick, Lawry's, Zatarain's and Old Bay, for sale to consumers, distributors and food service establishments. As a result, you should not expect the company to experience a great deal of earnings and stock price volatility.
That is indeed the case. The company has consistently beaten Wall Street consensus earnings estimates. While I would like a slightly higher dividend yield, McCormick is still paying out dividends at a rate greater than the S&P 500 average. Last week's stock price appreciation for McCormick was a spicy 3.32%.
McCormick, one of TheStreet Ratings'
top-rated food products stocks
, is one of the
, having raised its dividend consistently for 25 or more years.
We now have a
portfolio of 10 low-volatility stocks
, all of which gained in share price last week and all of which pay dividend yield that exceed that of the S&P 500.
-- Written by Scott Rothbort in Millburn, N.J.
RELATED LINKS:
>>5 Technical Setups for Breakout Gains
>>5 Stocks That Could Move Big on Earnings
>>7 Dividend Stocks Pumping Payouts
Follow Stockpickr on
and become a fan on
Facebook.
Sources for stock data above: Telemet Orion
At the time of publication, Rothbort was long PEP, SO,MO, T and NLY, although positions can change at any time.
Scott Rothbort has over 25 years of experience in the financial services industry. He is the Founder and President of
, a registered investment advisor specializing in customized separate account management for high net worth individuals. In addition, he is the founder of
, an educational social networking site; and, publisher of
The LakeView Restaurant & Food Chain Report
. Rothbort is also a Term Professor of Finance at Seton Hall University's Stillman School of Business, where he teaches courses in finance and economics. He is the Chief Market Strategist for The Stillman School of Business and the co-supervisor of the Center for Securities Trading and Analysis.
Mr. Rothbort is a regular contributor to
TheStreet.com's RealMoney Silver
website and has frequently appeared as a professional guest on
Bloomberg Radio
,
Bloomberg Television
,
Fox Business Network
,
CNBC Television
,
TheStreet.com TV
and local television. As an expert in the field of derivatives and exchange-traded funds (ETFs), he frequently speaks at industry conferences. He is an ETF advisory board member for the Information Management Network, a global organizer of institutional finance and investment conferences. In addition, he is widely quoted in interviews in the printed press and on the internet.
Mr. Rothbort founded LakeView Asset Management in 2002. Prior to that, since 1991, he worked at Merrill Lynch, where he held a wide variety of senior-level management positions, including Business Director for the Global Equity Derivative Department, Global Director for Equity Swaps Trading and Risk Management, and Director for secured funding and collateral management for the Global Capital Markets Group and Corporate Treasury. Prior to working at Merrill Lynch, within the financial services industry, he worked for County Nat West Securities and Morgan Stanley, where he had international assignments in Tokyo, Hong Kong and London. He began his career working at Price Waterhouse from 1982 to 1984.
Mr. Rothbort received an M.B.A., majoring in Finance and International Business from the Stern School of Business, New York University, in 1992, and a B.Sc. in Economics, majoring in Accounting, from the Wharton School of Business, University of Pennsylvania, in 1982. He is also a graduate of the prestigious Stuyvesant High School in New York City. Mr. Rothbort is married to Layni Horowitz Rothbort, a real estate attorney, and together they have five children.