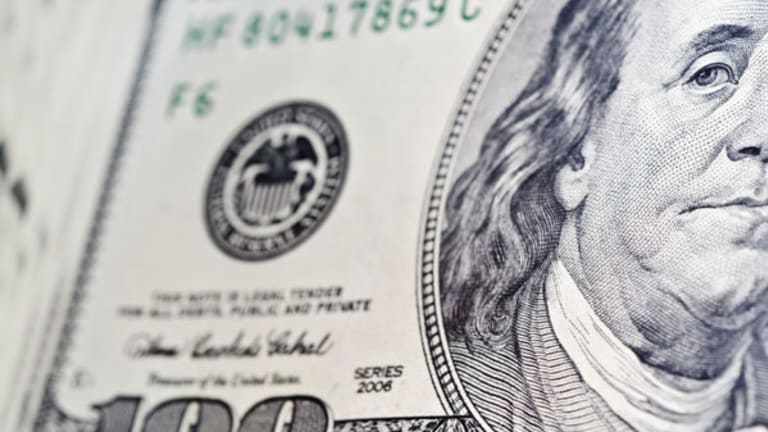 4 Market Leaders Gearing Up to Break Out
These market-leading breakout stock candidates, including Google and Apple, could have big upside potential.
WINDERMERE, Fla. (Stockpickr) -- The overall market averages are looking extremely strong this morning, with the Nasdaq and S&P 500 continuing to move higher and trade in breakout territory.
The
Dow Jones Industrial Average
is also starting to join the "breakout party" now that the index has started to move a few points above some previous overhead resistance at around 11,451.53. This is very significant action in the broad market indices since it now means that we have all three averages trading together and displaying relative strength. As soon as the Dow closes above that key overhead resistance level, it will mean the bulls are in complete control of the markets. That could easily happen once the market closes today, so the bears will be watching closely how the Dow finishes.
If we do get a close in the Dow above 11,451.53, it will not bode well for any market bear that's shorting stocks right now. To short any U.S. average here would be fighting the trend of the markets and could result in big losses if the momentum higher continues in U.S. stocks. What's even worse for the bears is that key market leaders such as
Lululemon Athletica
(LULU) - Get Report
and
Baidu.com
(BIDU) - Get Report
continue to defy gravity and move higher, baffling the most astute short-sellers.
Don't feel sorry for the bears, though, because many of the market leaders have been breaking out to new highs on strong volume. The market has been signaling that now is not the time to be short stocks, when leaders are breaking out and trending higher. This is why price always pay and it's so important to monitor the markets for breakouts. When you see breakout action in either the overall markets or market leaders, then it's usually best to trade with the trend. Don't play the guessing game and fight the trend because the market never pays an investor to be wrong.
Trading breakouts is not a new game on Wall Street. This strategy has been pioneered by legendary traders such as William O'Neal, Stan Weinstein and Nicolas Darvas.
A breakout occurs when a stock makes a move through a significant level of support or resistance, which is usually followed by heavy volume and increased volatility. Wall Street players love to see an upside breakout because it demonstrates strength in the underlying asset as the price breaks above a level of previous resistance. An upside breakout can also take a stock to new highs, which will generate a lot of interest as the stock shows up on sophisticated software that scans for this type of action.
Here's a look at a number of solid
that could have big upside potential from current levels.
As I scanned the markets this morning, the most predominant breakout action I found was occurring in the technology sector. One market leader in the tech complex that is breaking out to new all-time highs is
Apple
(AAPL) - Get Report
. This tech king is the maker of hot gadgets such as the iPhone, iPad and iPod, along with Apple TV and a portfolio of personal computer products. Apple has been a major winner this year, with shares adding more than 113 points and 53% to the upside.
If you take a look at the chart, you'll see that shares of Apple are starting to break out above some significant overhead resistance at around $321 to $323 a share. This breakout has now pushed Apple into all-time high territory, which means that just about any investor who has ever bought this stock is making money. Some of the bullish action in Apple is due to speculation that
Verizon
(VZ) - Get Report
will land the iPhone for its wireless network in the very near future. This would be a signification gain for Verizon since
AT&T
(T) - Get Report
has controlled an exclusive contract for the iPhone for over three years.
This would be a big win for Verizon, and it would also give Apple another huge customer base to sell into for its popular iPhone product. It probably doesn't hurt that rumors are suggesting that Verizon will launch a 4G device instead of just a 3G CDMA device.
If Apple does move to Verizon, it will probably be a big deal, but I doubt it's the only thing powering the stock higher. As I stated above, Apple is a market leader, and the stock is one name that money managers can't afford not to have on their books
.
In the same context, Apple isn't a short you want to have on your books now that the stock is printing new all-time highs. Look for Apple to continue to trade higher into year-end. I see no reason why this stock can't hit $350 a share before 2011 or early next year. If the stock can close above the breakout levels I mentioned above on volume above the three-month average daily action of 18 million shares, then I would be even more confident that the stock can rip much higher into year-end. Keep this name on your radar.
Another market leader that hasn't broken out yet but looks ready to do so soon is
OpenTable
(OPEN)
, which provides restaurant reservation solution in the U.S., Canada, Mexico, Europe and Asia. OpenTable provides solutions that form an online network connecting reservation-taking restaurants and people who dine at those restaurants. This stock has been a gigantic winner this year, with shares up a whopping 193%.
This leading stock is also a very controversial stock due to its lofty valuation, which currently sits at a price-to-earnings of 147 and a forward price-to-earnings of around 71. This extreme valuation has motivated one famous investor,
Whitney Tilson of T2 Partners LLC
to initiate a short position in the stock. Honestly, if you look at the chart for OPEN and see how strong this stock is acting, it makes absolutely no sense for anyone to be short this name.
Frankly, I have no idea what Tilson's thinking if his thesis is to simply short this name based on valuation. Shorting based on valuation is a case I could probably make for just about every great stock at some point in its growth cycle. The timing has to be absolutely perfect for a short like this to work. I would encourage Tilson to look at the technicals on the chart like I am about to do and think about covering that short, if he is indeed still short.
From a technical perspective, OPEN at its current price of around $74.50 is closing in on a major inflection point with the stock near some previous overhead resistance at $77 a share. If the stock manages to take out that level (and I think it will), it will enter a new breakout phase, and the stock will officially be printing new all-time highs. Shorting a stock at all-time highs is rarely a good idea. Sure, it can work sometimes, but at the end of the day you're fighting the trend and guessing instead of accepting what the market is doing.
If you take a look at the chart for OPEN, you'll also see that the stock has been making higher lows and higher highs since the stock was $40 a share in July to its levels near $75. This is a very powerful bullish uptrend that has not shown one single sign that the stock wants to make a significant correction. If I was short this stock for some crazy reason, I would be very concerned if it breaks out above $77 a share on volume above the three-month average daily action of 740,000 shares. If that happens and you're short, I would cover quickly because my take is that the stock will hit $100 sooner than you think.
I mentioned earlier that tech is the sector I am finding a ton of breakout candidates in today. If you want to see another tech name that is close to a big breakout, then just take a look at the chart for
SanDisk
(SNDK)
. This company is engaged in designing, developing and manufacturing data storage solutions in a range of form factors using the flash memory, controller and firmware technologies. This stock has been another major winner this year with shares up an impressive 73%.
If you take a look at the chart for SanDisk, you'll see that the stock is approaching a major breakout as the shares trade into some previous overhead resistance at around $50.50 a share. This is a significant price level for SanDisk since the last time the stock traded up at these levels was back in June. Subsequently, after hitting $50.50 in June, the stock sold off sharply all the way down towards $33 a share hit in September.
This is why the stock back at $50.50 now is such a critical test for this name. If you see SanDisk close above $50.50 on volume above the three-month average daily volume of 10.4 million shares, then my take is that the stock will enter a new bull phase that could push it significantly higher. Also, keep in mind that a move above $50.50 will push the stock towards a new
, which is another technical pattern that bodes well for future prices.
There's some speculation in the market that SanDisk could be an attractive takeover target. That speculation was started due to some heavy call options activity in the stock that was picked up on last week. Honestly, trading off of rumors like this is fruitless in my opinion. Just follow the trend, volume and price action in the stock. If it breaks out above $50.50 on big volume I would strongly considering playing this name from the long side.
One final tech name, another market leader that's starting to breakout, is
Google
(GOOG) - Get Report
. This technology company maintains index of Web sites and other online content for users, advertisers, Google network members, and other content providers. This stock is actually down 3% year-to-date, but it's up 24% during the last three months and is now demonstrating all kinds of market-leadership qualities.
If you take a look at the chart for Google, you'll see that shares are starting to breakout above some key overhead resistance at around $600 a share. This is some significant action in Google since this key psychological-level has marked stiff resistance on the stock since mid-November. If the stock can manage to close above $600 a share on strong volume that clocks in higher than the three-month average daily action of 3.1 million shares, then I would look for this stock trade much higher.
How much higher, you might ask? If Google does hold this breakout level, then look for the stock to move towards $630 to $631 a share which is the next significant overhead resistance levels. My take is that the stock has a very good chance of seeing those levels, especially with another technical indicator that looks ready to flash a buy signal. The moving average convergence divergence (MACD) momentum indicator is close to forming a crossover pattern on Google. If this crossover is confirmed, then look for new momentum to come into Google that should help to add buying pressure to send the stock higher.
The bottom line here on Google: Market players should watch the stock closely for a close above $600 on strong volume, or a move intraday above $600 on big volume that doesn't reverse and close below the prior day's low price. If we get it, I would look to buy this stock with $630 as an achievable target. Keep in mind, that we could easily see prices get above $630, but first let's get there and see how the stock acts at that level. If the stock can't close above $600 on big volume, then obviously take it off your breakout trade radar.
To see more breakout action in stocks such as
Acme Packet
(APKT)
,
Crocs
(CROX) - Get Report
and
Rosetta Resources
(ROSE) - Get Report
, check out the
portfolio on Stockpickr.
-- Written by Roberto Pedone in Winderemere, Fla.
RELATED LINKS:
>>How to Trade This Week's Earnings
>>Stocks Increasing Their Dividends
Follow Stockpickr on
and become a fan on
Facebook.
At the time of publication, author had no positions in stocks mentioned. Roberto Pedone, based out of Windermere, Fla., is an independent trader who focuses on stocks, options, futures, commodities and currencies. He is also an outside contributor to Beconequity.com and maintains the website Maddmoney.net, which he sold to Blue Wave Advisors in 2008. Roberto studied International Business at The Milwaukee School of Engineering, and he spent a year overseas studying business in Lubeck, Germany.