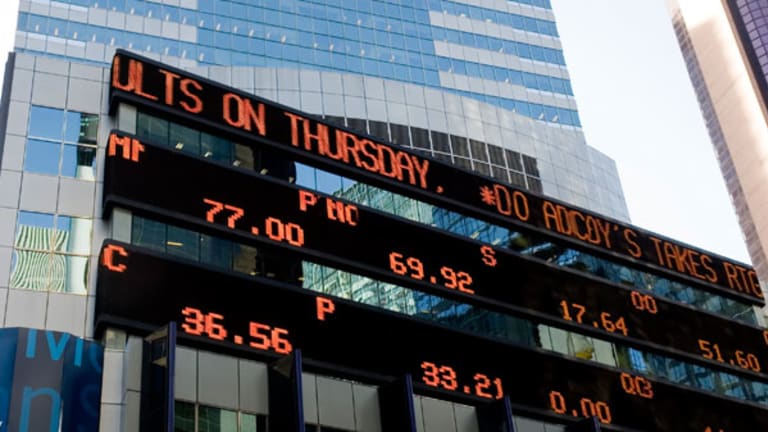 4 M&A Deal Stocks to Watch in June
With M&A deals coming off decade-long lows, deal volume is starting to spike again.
BALTIMORE (
) -- "More money, more problems" isn't just a truism for rappers from the 1990s -- it's also a major issue that's plaguing corporate treasury departments right now.
As I write, U.S. companies are sitting on record holdings of cold, hard cash. How much? Just as the calendar's about to kick over to June, more that 20% of the
S&P 500's
value is paid for in cash. That's an absolutely massive cash balance. And it's creating a problem for firms because it's almost impossible to earn meaningful returns in the near-zero rate market we're stuck in.
>>5 Stocks Insiders Love Right Now
On the one hand, companies don't want to part with their huge cash balances; many are still shell-shocked by liquidity crunches from the financial crisis, and want to avoid a similar scenario. But on the other hand, firms are failing shareholders if they can't earn market-beating returns on their cash and refuse to return it in the form of dividends, buybacks, or debt reductions.
That's why mergers and acquisitions are heating up this month.
In markets where fundamentals are being discounted, mergers and acquisitions (better known as M&A) can provide amazing value for purchasing firms' balance sheets -- and they can provide instant gratification for shareholders in the target firm. Too often, investors think that there's no money to be made once a deal has been announced, but that's just plain wrong; between merger arbitrage opportunities and value creation for acquiring firms, it's worth paying attention to Wall Street's deal book.
And now, with M&A deals coming off decade-long lows, deal volume is starting to spike again.
With that, let's take a look at
four M&A deal stocks worth watching
right now.
>>5 Defensive Stocks to Protect Your Portfolio Gains
Life Technologies
In mid-April, life sciences firm
Life Technologies
(
) announced that it had struck a deal to be acquired by larger firm
Thermo Fisher Scientific
(
) in a $15.9 billion cash deal that would net LIFE shareholders $76 per share. A month and a half later, Life is still trading for a $1.59 discount to the deal value; that's a 2.14% risk premium left in shares right now for merger arbitrageurs.
>>3 Hot Stocks to Trade (or Not)
Life Technologies makes products that life sciences researchers use in their work. Because LIFE has a deep portfolio of patented and licensed technology, it's able to command higher prices than more commoditized science equipment firms can -- and the firm's large consumables unit provides the firm with extremely sticky recurring revenues quarter after quarter. It's not surprising that Thermo Fisher wants to add LIFE's offerings to its own umbrella; the target firm's products should complement TMO's own lab equipment and consumables business well.
Between cost savings from joining forces and increased selling opportunities from TMO's more mature conventional sales force, the merger should unlock considerable value for Thermo Fisher's shareholders. And by funding the deal with cash, rather than stock, TMO management is able to part with a fixed-value asset rather than an asset that's been appreciating immensely during this rally.
That's a trend we're seeing a lot of in this economic environment.
As of the most recently reported quarter, Life Technologies was one of
.
Hudson City Bancorp
It's been a pretty lackluster year for shares of
Hudson City Bancorp
(
), despite the fact that the firm is in the midst of an acquisition attempt from larger regional bank name
M&T Bank
(
). A big part of that has to do with the fact that this is the sole deal where target company shareholders are getting paid out in stock rather than cash. The reason: Banks don't have cash to part with anymore.
>>5 Trading Setups With Upside This Week
But ultimately, the deal makes a lot of sense. It gives M&T an instant way to increase its deposits by $25 billion, and to expand its reach in the lucrative mid-Atlantic region. For Hudson City, it gives shareholders exposure to a larger, better-diversified bank at an attractive valuation. M&T has historically been one of the more attractive names in the banking space, specifically because it's opted to stick to banking rather than more exotic revenue streams that attracted its bigger rivals. As a result, it managed to remain profitable during the Great Recession, and it's continued to earn impressive margins more recently.
While deficiencies in M&T's Bank Secrecy Act/Anti-Money Laundering compliance efforts are delaying the merger (which got announced all the way back in August 2012), the delay isn't likely to turn into more than that. And with a 3.1% spread between Hudson City's current price and M&T's offer price, there's a small pair trade opportunity for investors who want to take advantage.
Clearwire
Clearwire
(
) jumped almost 30% yesterday following news that
DISH Network
(
) was upping its buyout offer in a move to one-up mobile phone carrier
Sprint
(
). The bidding war for Clearwire is benefitting the firm's shareholders in a big way -- shares of the $3 billion wireless broadband internet stock have climbed more than 55% as a result.
>>3 Tech Stocks Under $10 to Watch
The bidding war for Clearwire is part of a more complex love quadrangle that involves a second bidding war between DISH and Japanese cellular carrier Softbank for control of Sprint itself. Since Sprint already owns a 50.8% stake in Softbank, each increased offer from DISH essentially reduces the value of Softbank's offer. As the two firms keep circling around each other, it's presenting an interesting spectacle for onlookers -- and potential opportunities.
As I write, Clearwire is trading for a 2.2% premium to DISH's $4.40 offer -- a number that reflects the market's belief that the one-upping with Sprint will keep on escalating. If that's the case, it could still present an attractive buy. Clearwire needs a majority of non-Sprint-owned shares to approve its offer.
I also featured Clearwire recently in "
4 Big Tech Stocks on Traders' Radars
."
Yahoo!
Last up is
Yahoo!
(
), a firm that's been on a buying spree lately. Yahoo generated considerable attention when the firm announced that it was acquiring social networking site Tumblr for $1.1 billion, a move that adds around 130 million users and 12 billion monthly page views to the firm's ad stats, but arguably doesn't change YHOO's valuation.
>>5 Rocket Stocks to Buy as Stocks Bounce
The real question is how deeply Yahoo! plans to integrate Tumblr into its own network of sites. If CEO Marissa Mayer has plans to do more than just duct tape the microblogging site onto Yahoo!'s existing business, then there's the potential to see more value get unlocked.
Yahoo!, for its part, is in a unique position. The firm's business has been challenged by rivals with more consumer appeal, but it still grabs enough ad dollars to remain quite profitable and build up a handsome cash position (with the help of some well-timed investments). With ample net cash, Yahoo! has needed to buy other companies, so it has.
A reported acquisition offer for online video site Hulu could add another interesting destination to Yahoo!'s portfolio of offerings, as should PlayerScale, a game development platform that reaches an estimated 150 million users around the world. Yahoo! is certainly transforming itself -- and its balance sheet -- so a material change in valuation is on the horizon once investors figure out the end game in Yahoo's executive suites.
For another take on Yahoo!, check out "
4 Huge Stocks Ripe for a Sharp Pullback
."
To see these M&A plays in action, check out
on Stockpickr.


-- Written by Jonas Elmerraji in Baltimore.
RELATED LINKS:
>>4 Stocks Spiking on Big Volume
>>3 Homebuilders Ready to Fall Down
>>5 Stocks Under $10 Set to Soar
Follow Stockpickr on
and become a fan on
Facebook.
At the time of publication, author had no positions in stocks mentioned. Jonas Elmerraji, CMT, is a senior market analyst at Agora Financial in Baltimore and a contributor to
TheStreet
. Before that, he managed a portfolio of stocks for an investment advisory returned 15% in 2008. He has been featured in
Forbes
,
Investor's Business Daily
, and on
CNBC.com.
Jonas holds a degree in financial economics from UMBC and the Chartered Market Technician designation. Follow Jonas on Twitter @JonasElmerraji