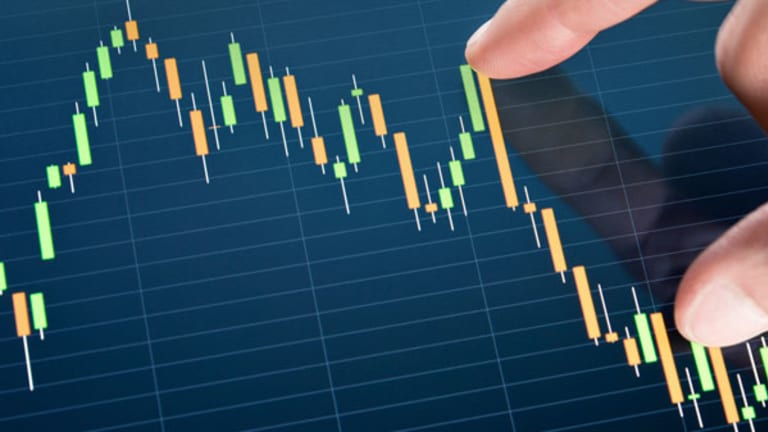 Publish date:
4 Loser Stocks Poised for Big Rebounds
Many of the second-quarter's laggards are now deep value plays.
Many of the second-quarter's laggards are now deep value plays.
NEW YORK (Stockpickr) -- Just two months ago, investors had plenty of reason to cheer. The stock market was half a year in to a solid rally that began in October, 2011, and many portfolios were growing in value.
Yet since the second quarter began, the market has done a 180. Even as earnings season was quite solid, macro-economic concerns have ruled the day. Fears of a Greek-led crisis have been spooking the markets, though the U.S. economy has done its part: It looked quite perky this past winter, but appears to be cooling off as employment trends weaken anew and analysts dim their view for both corporate and consumer spending for the rest of 2012.
>>5 Beaten-Down Stocks to Invest in Now
In that light, a modest pullback in the market makes ample sense. Indeed the
S&P 500
could soon arrive at a point that is 10% below its recent early April peak of 1419. A 10% drop is typically known as a "stock market correction," though we'd need to see a 20% drop from the peak to call it a bear market.
Still, many companies must feel as if they are in a bear market. Their stocks have fallen really sharply since the quarter began and in some instances, they now represent such deep value that they are popping up on investors' radars.
Here are
four big losers in the second quarter of 2012
that could finish the year on a much brighter note.
Citigroup
Less than half a decade ago, this mega-bank was hurtling towards bankruptcy and needed a rescue from Uncle Sam. It's been a long road back, but
Citigroup
(C) - Get Report
is now far healthier: Profits are rising, book value is growing and the bank is now re-positioned to capture the growth prospects in the most dynamic regions of the globe.
As of the most recent quarter, Citigroup had assets (loans that are issued) of around $111 billion in Asia and Latin America. That's more than twice the figure of any other major American bank.
Meanwhile, shares have fallen more than 25% in the second quarter after a series of stumbles. A few months ago, the bank failed in its bid with regulators to get the green light to start buying back stock and pay more robust dividends. That left an incorrect impression that Citigroup had problems in the eyes of regulators. Instead, those regulators simply wanted to see Citigroup's capital base grow a bit larger before proceeding.
In addition, the recent trading losses at
JPMorgan
(JPM) have scared off investors from all banking stocks.
Yet even with these setbacks, Citigroup should remain an earnings powerhouse. Analysts think the bank can earn nearly $5 a share in 2013, meaning the forward P/E multiple is just 5.5. The fact that shares trade for little more than half of tangible book value also underscores the value proposition.
Citigroup also shows up on recent lists of
5 Bank Stock Pullback Bargains
and
5 Bank Stocks Wilting Under the Summer Sun
.
AMD
Chipmaker
AMD
(AMD) - Get Report
, which has also seen its shares slide about 25% in the second quarter, is a real head-scratcher. In recent quarters, results have looked a bit better, most notably in the area of gross margins, as the company is in the midst of a broad upgrade cycle for its key chips. AMD will always toil in
Intel's
(INTC) - Get Report
shadow, which means it will have to offer lower prices to win customers, but this strategy appears to be working.
Case in point: AMD's recently launched Trinity microprocessor will be used in a range of sleek new laptops -- known as ultra-books -- that are being prepared for sale by a half-dozen PC manufacturers.
>>5 Rocket Stocks for the Snapback Rally
The fresh slate of chips is expected to power a solid upturn in profits. AMD is expected to see EPS rise 50% this year to 75 cents and another 20% in 2013 to around 90 cents a share. The falling stock price, meanwhile, has set up a deep value play. Shares now trade for just seven times projected 2013 profits.
If AMD can deliver the quarterly results in the second and third quarters that analysts anticipate, then this may be a quick rebounder.
Standard Motor Products
Selling replacement parts for aging cars and trucks is an unsexy business. Sales grow only slowly and profit growth is also more tortoise-like than hare-like. For
Standard Motor Products
(SMP) - Get Report
, even that modest goal was missed in the first quarter. Quarterly sales fell 4% to $212 million as key customers held off on new orders to work down bloated inventories. Profits fell more than 20% to around just23 cents a share.
Still, this is more of a hiccup than a warning sign. As long as there are aging vehicles on the road, then Standard Motor Products will likely be back on a modest growth path in a few quarters. And analysts at Goldman Sachs remind us that this remains as a very profitable company. Though they concede that the current speed bumps will likely cause free cash flow to fall by nearly half this year to around $1.50 a share, the Goldman analysts see that metric moving back up above $2 in 2013 and 2014.
>>6 Stocks to Play if the Market Tanks
That means that shares sport a free cash flow yield (free cash flow divided by market value) in excess of 15%. That's a huge yield that typically attracts value investors. Goldman Sachs sees this stock rising from a recent $13.50 back to $17.
Universal Electronics
If you've switched cable providers recently or upgraded to a DVR, then chances are you got a new remote control made by
Universal Electronics
(UEIC) - Get Report
. Universal Electronics supplies more than half of all branded and generic remote control devices, including the ones you can buy at a local consumer electronics store that can be programmed to work with a wide range of TV sets and DVD players.
It's a steady-as-she-goes business, but quarterly results sometimes lag forecasts as sales of TV sets slump, or consumers hold off switching cable providers. Indeed, a first-quarter shortfall has sent this stock plunging 30% in the current quarter, and the stock is off by nearly half from levels seen a year ago.
That spells buying opportunity, according to research firm Dougherty. The first-quarter shortfall was largely due to customers working off inventories, and they still expect UEIC to boost sales and profits modestly this year, in a more robust fashion next year.
In 2013, sales are expected to rise roughly 5% to around $500 million, while EPS is expected to rise roughly 15% to around $1.85. Shares trade for just 7.5 times that forecast.
To see these stocks in action, visit the
4 Loser Stocks Poised for Big Rebounds
portfolio.
RELATED LINKS:
>>5 Stocks Insiders Love Right Now
>>5 Stocks to Buy to Be Like Buffett
Follow Stockpickr on
and become a fan on
Facebook.
Stockpickr is a wholly owned subsidiary of TheStreet.com.
At the time of publication, author had no positions in stocks mentioned.