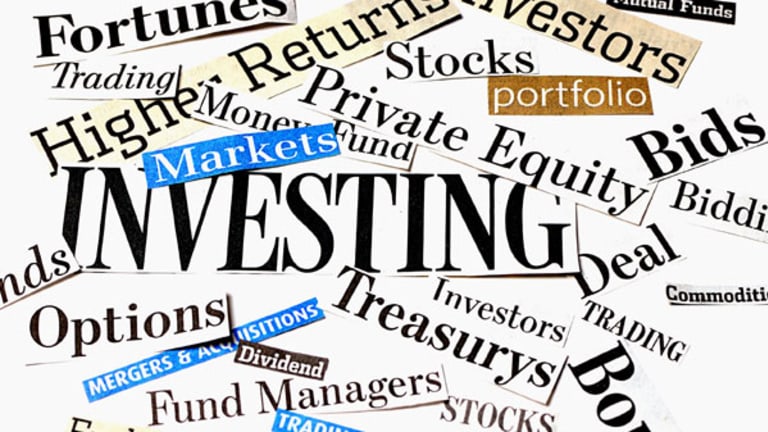 Publish date:
4 Loser Stocks Poised for a Comeback in 2013
These stocks fell deeply out of favor in the last year but could be poised to rally this year.
These stocks fell deeply out of favor in the last year but could be poised to rally this year.
NEW YORK (Stockpickr) -- Despite a few spend bumps along the way, the S&P 500 managed to grind out another double-digit gain in 2012.
Of course, not all stocks joined in on the upside. In fact, there were 45 stocks scattered over the S&P 500, S&P 400 (mid-caps) and S&P 60 (small-caps) that plunged by more than 40% over the past year.
>>4 Reasons to Buy Stocks in 2013
Many of those falling knives will stay down, which is why you shouldn't try to catch them. But the investing landscape is also filled with stocks that fell deeply out of favor in one year, only to rally sharply in the next year.
Netflix
(NFLX) - Get Report
, for example, plunged from $300 in the spring of 2011 to below $60 by the summer of 2012 but is now back up above $170. The huge gain over the past six months wasn't anticipated by the crowd that simply saw a losing stock chart.
Here are
four more stocks with solid rebound potential in 2013
.
>>5 Toxic Stocks That Are Poisoning Your Portfolio
Diamond Foods
Diamond Foods
(DMND)
, the packaged food company behind Kettle Brand chips, Emerald nuts, Pop Secret popcorn and other items, has been on a losing streak that began 16 months ago. Shares moved above $90 back then but now trade below $16.
What went wrong? A botched acquisition of the Pringles brand potato chips, fraudulent dealings with walnut growers, a complete turnover of management, and a last-minute capital infusion that boosted the share count were just some of the factors.
All of those issues are now behind Diamond Foods, but shares have failed to rebound as recent quarterly results remain messy. New management continues to sort out the final details of the mess that they inherited. More than likely, the new management team will look to sell off one of those brands to raise cash.
On a sum-of-the-parts basis, analysts at D.A. Davidson think shares are worth at least $20 a share, which is more than 40% above current levels. This stock will never revisit the heights seen back in 2011, but better days appear to lie ahead.
J.C. Penney
A half decade ago, retailer
J.C. Penney
(JCP) - Get Report
was one the most respected department store operators, and its shares moved above $80. By the time the company hired
Apple
(AAPL) - Get Report
veteran Ron Johnson in June 2011, the company had already lost its mojo, and shares had fallen to just $35. Johnson's first 19 months on the job have not gone as planned; shares still sit below $20.
Johnson aimed to revamp the retailer along the lines of Apple's strategy, creating a differentiated shopping environment characterized by many stores-within-a-store, all of which were aimed at replicating the enjoyable shopping experience at Apple's stores. He also wanted to get rid of all of the regular discounting that saps retailers' profits. That second move has backfired, and Penney has again begun to run merchandise-moving sales.
But it's the first effort -- the store-within-a-store concept -- that has a decent shot of working out. Penney's monthly sales results aren't yet surging, but consumer surveys reveal a keen interest in this new style of shopping experience.
It's not clear if this experiment will succeed, and it will surely take at least several more quarters to bear fruit. But if Johnson's plans do pan out, then shares are so undervalued in terms of price-to-sales metrics, that this could turn out to one of the best comeback plays of 2013.
Arkansas Best
The trucking industry has yet to fully recover from the deep economic slowdown of 2008, with both freight rates and volumes only slowly recovering. Indeed, most of the publicly traded trucking firms have seen their shares pummeled over the past five years, including
Arkansas Best
(ABFS)
, whose shares traded above $40 in 2008, were at $20 to start 2012, and now trade around $11.
But an upturn appears to be in the offing. A 2012 EPS loss of 32 cents should be followed by a profit of 57 cents per share in 2013, according to consensus forecasts. Note that this is a company that routinely earned $2 to $3 a share in the middle of the last decade when freight volumes and pricing were more robust. Even if profits move up to the low end of that range, this is a very cheap stock.
Shares of Arkansas Best are also cheap by another measure: They trade at just 90% of tangible book value. That should provide downside support if the market gets choppy.
Cliffs Natural Resources
Value investors tend to seek out companies that have a strong base of assets but are otherwise temporarily out of favor as near-term sales and profit trends weaken. Undergirded by a strong balance sheet, shares can hold their own until operations improve. Of course, there are so many moving parts to a balance sheet, and all of the assets may be valued more optimistically than the real world data suggest. That's why it's always interesting to look at a company after it has just taken a fresh, more realistic view of its balance sheet.
Mining firm
Cliffs Natural Resources
(CLF) - Get Report
is a perfect example. The company recently announced that it is writing off roughly $2 billion in asset values because previously acquired mines are no longer worth as much. This is known as "kitchen sink accounting," when a company aims to get rid of all the bad news at once.
The good news: Cliff's revised balance sheet is now a lot more accurate. The better news: That updated balance sheet is worth a lot more than the company's market value. Cliff's now has roughly $6.3 billion in shareholder value, compared to a market value of just $5.1 billion. That means shares might rally 20% just to get back up to book value.
That's cold comfort to any investors that have seen this stock fall from $100 in the summer of 2011 to a recent $36, but the next stock price move now appears to be upward.
To see these stocks in action, visit the
portfolio.
RELATED LINKS:
>>5 Hated Stocks Set to Soar on Earnings
>>5 Rocket Stocks Ready for Blastoff This Week
>>5 Stock Charts You Need to See
Follow Stockpickr on
and become a fan on
Facebook.
Stockpickr is a wholly owned subsidiary of TheStreet.com.