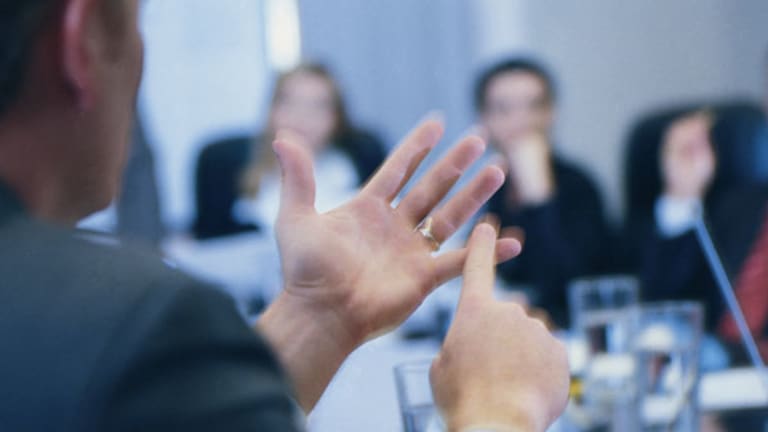 4 Leadership Lessons From Marissa Mayer's Surprise Rise
Women in business can learn about breaking through the glass ceiling from the surprise hiring of Google engineer Marissa Mayer as Yahoo!'s new CEO.
Editor's Note: This is the seventh article in a monthly series focusing on business and leadership lessons from prominent figures in history, sports, politics and corporate America.
NEW YORK (
) -- Marissa Mayer, the new CEO and president of
Yahoo!
(YHOO)
, is already being hailed as a pioneer: Mayer is the youngest female CEO of a Fortune 500 company.
At just 37, nearly seven months pregnant and less than a month on the job, the pressure is on. Regardless of her age and sex, shareholders of the $19 billion dollar internet company
its struggling business model -- and soon.
Mayer comes into a job that didn't end so well for predecessors. From Carol Bartz to the most recent Yahoo! CEO failure, Scott Thompson -- who had to resign after a frustrated hedge fund investor uncovered lies on his resume -- the Yahoo! CEO job has most recently been associated with failure, failure of a spectacular and very public nature.
While Mayer clearly made a major contribution to
Google's
(GOOG) - Get Alphabet Inc. Class C Report
expansion and success as one of the search giant's initial engineers, questions persist about whether she has the experience to run a public company.
Yet for the technology sector, by nature always looking to the future -- and for a company like Yahoo! which needs a new outlook -- Mayer's selection makes sense for at least one obvious reason. "She brings the youth movement to the table," says Adam Connors, managing partner of
in Hoboken, N.J. "Leadership these days is trending younger and she is crossing a couple of borders between women, youth and technology, which is signifying the future."
"That's a powerful statement to take somebody that young and put her in that position at such a critical point in the company's future," says Steven Raz, co-founder and managing partner of Cornerstone Search Group in Parisppany, N.J. "
It is making a tremendous statement about how they feel about her and really the face of the company moving forward."
>>>Lessons From The Bard: How Shakespeare Would Run a Business
Connors say the primary questions for Mayer don't relate to the technology sector but to leadership itself: can she prove to be fiscally responsible, and make her vision clear and win the loyalty of employees and investors (who have seen too many Yahoo! CEOs and too little in the way of progress.) "As a CEO, you have to have a good commanding presence and then speak with conviction," Connors says. It may seem like simple advice, but given Yahoo!'s recent tumult, it can't be understated.
Yet focusing too much on what Mayer has yet to accomplish as Yahoo! CEO runs the risk of giving short thrift to what she has already accomplished on her way to the top of the Fortune 500. There are lessons from Mayer's rise that leaders, business owners and other executives, especially women, can take with them as they attempt to continue up the corporate ladder or build their own businesses. We've come up with four lessons, specifically.
1. Throw your hat in the ring.
You'll never know if you can do something unless you try. So try. Mayer may not have the experience of a seasoned chief executive, but is it fair to say that just because she hasn't done this job before that means she won't succeed?
In fact, Mayer has been in a similar "here come the naysayers" position before.
Specifically, this is not Mayer's first time at being a first female. When she joined Google in 1999, she was the company's first female engineer.
most recently included being vice president of Google's local, maps, and location services, however, she has held numerous executive positions in the company and launched more than 100 well-known Google features and products.
>>>3 Leadership Lessons From Tim Tebow
Mayer "got herself into a position where she could take a huge career risk with impunity and become the CEO of a large company," says Peter Cohan, an adjunct professor at Babson College and owner of a strategy consulting and venture capital firm, adding that it's, "a very unusual example of somebody who starts off as an important player in a small business and ends up turning herself into a big company executive." Taking the top job at Yahoo! shows that she is willing to take a risk, even if it might be more of a risk to her reputation than to her financial situation at this point, he says.
Cohan started his company in 1994. At the time, he says, he thought the idea was extremely risky, but in the end a good decision.
"Sometimes taking a risk is actually less risky than not taking a risk," Cohan says.
It is also clearly a risky bet from Yahoo!'s perspective.
2. Women need to network.
"Women are kind of lacking of the good old boy network or the ability to leverage their peers," says Robin Toft, president and CEO of
Sanford Rose Associates - San Diego
, the La Jolla, Calif.-based division of the international executive search firm. Toft's office focuses on placing female executives in C-suite offices.
"What I realize by working with them is that female CEOs don't know each other and don't leverage each other for best practices or intelligence or support," she says.
Toft strongly recommends that women business owners and executives build peer networks to cultivate relationships and be well-connected to executive search professionals to keep abreast of possibilities.
It is also generally harder for a female executive to establish credibility.
The fact that Mayer was able to do this internally at Google is in and of itself an example of "excellent leadership," Toft says. And her leadership likely included some attributes with which women excel more often than men. "Women have been known to care more about employees, multi-task more -- there are certain things that women do well by their nature," the executive recruiter adds.
3. Culture is paramount to any company.
A successful company is only as good as the people who work for it and employees are only as successful as the company lets them be.
Mayer was central to creating Google's strong entrepreneurial and open culture, which the company places a very public focus on.
"We strive to maintain the open culture often associated with startups, in which everyone is a hands-on contributor and feels comfortable sharing ideas and opinions. ... Our offices and cafes are designed to encourage interactions between Googlers within and across teams, and to spark conversation about work as well as play," Google says.
>>>Best Business Lessons From George Washington
>>>3 Business Lessons From Joe Paterno
Google is "all business, but they're having fun and it's creating a good environment," Spire's Connors says. He wonders how much of the Google's culture Mayer will bring over to Yahoo!
Can Mayer recreate that "startup" spirit at a technology brand that has seemed to be moving in the direction of the dinosaurs?
Mayer has already "taken the cash registers out of the (Yahoo!) cafeteria," according to
CBS News
. While
reports she has been making herself visible in the cafeteria. That can go a long way in raising employee morale.
4. Work-life integration among top brass is gaining momentum.
Nancy Mellard, head of the
CBIZ Women's Advantage
, a professional development program for women, says Mayer's appointment -- and the fact that the position is so high-profile -- has opened the floodgates for debate about work-life balance.
"She's not trying to find balance, I think she is trying to find integration of both her personal and professional lives," Mellard says. "We try to set ourselves up for ultimate failure because our lives are not in balance.
We should take what's important to us and integrate that in all the other important parts of our lives."
>>>5 Best Business Lessons From Warren Buffett
>>>5 Best Business Lessons From Steve Jobs
The lesson to be learned from Mayer is to identify what's important -- in her case having a child as well as her career -- and integrate them. Essentially, the process Mayer is going through offers an opportunity for more women professionals to figure out a way to prioritize what is important in their lives.
And this example applies to anyone, regardless of gender. "Those who have identified clearly what their priorities in life are have found a way to integrate them," Mellard says.
-- Written by Laurie Kulikowski in New York.
To contact Laurie Kulikowski, send an email to:
Laurie.Kulikowski@thestreet.com
.
To follow Laurie Kulikowski on Twitter, go to:
http://twitter.com/#!/LKulikowski
>To submit a news tip, email:
.
RELATED STORIES:
>>Resources for Black-Owned Business Success
>>Omaha Steaks: Carving Out a 21st Century Sales Model
>>Go Daddy CEO: Hot for Small Business Owners
Follow
TheStreet
on
and become a fan on
Disclosure: TheStreet's editorial policy prohibits staff editors, reporters and analysts from holding positions in any individual stocks.