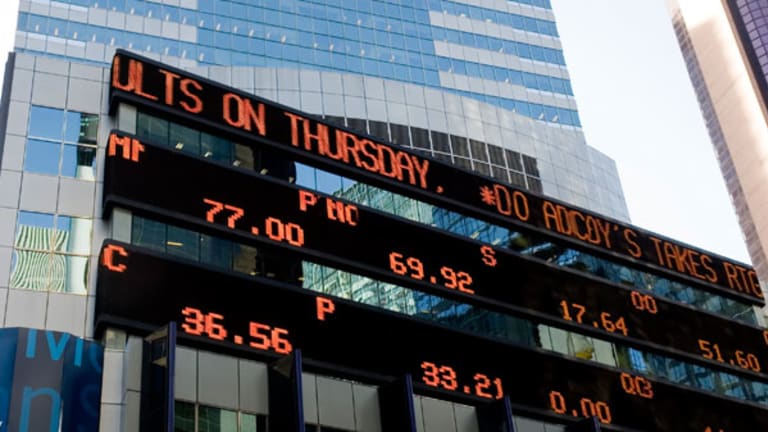 4 Hot Stocks to Trade (or Not)
Here's a look at how some of the most active names on the market today are trading technically.
Here's a look at how some of the most active names on the market today are trading technically.
7 Hot Stocks to Trade (or Not)BALTIMORE (Stockpickr) -- Put down the 10-K filings and the stock screeners. It's time to take a break from the traditional methods of generating investment ideas. Instead, let the crowd do it for you.
From hedge funds to individual investors, scores of market participants are turning to social media to figure out which stocks are worth watching. It's a concept that's known as "crowdsourcing," and it uses the masses to identify emerging trends in the market.
>>5 Huge Stocks to Trade: Must-See Charts
Crowdsourcing has long been a popular tool for the advertising industry, but it also makes a lot of sense as an investment tool. After all, the market is completely driven by the supply and demand, so it can be valuable to see what names are trending among the crowd.
While some fund managers are already trying to leverage social media resources like Twitter to find algorithmic trading opportunities, for most investors, crowdsourcing works best as a starting point for investors who want a starting point in their analysis. Today, we'll leverage the power of the crowd to take a look at
some of the most active stocks
on the market today.
>>5 Stocks Poised for Breakouts
These "most active" names are the most heavily-traded names on the market -- and often, uber-active names have some sort of a technical or fundamental catalyst driving investors' attention on shares. That's especially true now that earnings season is officially underway. And when there's a big catalyst, there's often a trading opportunity.
Without further ado, here's a look at
.
>>5 Hated Earnings Stocks That Deserve Your Love
Affymax
Nearest Resistance: $2
Nearest Support: $1.55
Catalyst: Turnaround Murmurs
>>3 Health Care Stocks Under $10 to Watch
Affymax
(
) is seeing surprising trading volume on the Nasdaq today for a third session in a row. The sudden spike in the biopharmaceutical firm surrounds earnings -- not the numbers per se but the comments made by management during the earnings call. Speculators think that those comments could bode well for AFFY's diabetes drug, but the rumors are still very much just that.
Between hints at bankruptcy and management opting to fire themselves, AFFY has been in freefall in 2013. Even though the stock has more than doubled this week, it's still down 90% on the year. And at this point, headline risk is still far too high to consider this stock a high-probability trade.
If you've got skin in the game and want to speculate on AFFY's fortunes, that's one thing. Buying because of this week's price action alone would be a mistake.
News Corp.
Nearest Resistance: N/A
Nearest Support: $32
Catalyst: Earnings Beat/Spinoff
>>5 Stocks Ready to Soar on Bullish Earnings
Media conglomerate
News Corp.
(
) is up more than 4% this afternoon following an earnings beat for its third quarter of fiscal 2013 and plans to spin off the firm's publishing arm. News Corp.'s TV unit fared well in the third quarter, buoyed by especially strong performance at cable network Fox News, and shares gapped up before this morning's open as a result. That pushed the $77 billion stock to new 52-week highs.
Making new highs is significant from an investor psychology standpoint because it means that everyone who has bought shares in the last year is sitting on gains. As a result, the "back to even" mentality is less of a concern than it would be for a name with a higher proportion of shareholders sitting on losses. Traders who aren't too risk-averse may want to consider buying NWSA here.
Tesla Motors
Nearest Resistance: N/A
Nearest Support: $45
Catalyst: Earnings Beat
>>4 Stocks Spiking on Big Volume
Shares of mid-cap electric car maker
Tesla Motors
(
) are up almost 25% after the firm delivered better-than-expected numbers for the first quarter. The firm achieved its goal of earnings a profit for the quarter, bringing home 12 cents per share. That's triple what analysts expected the firm to make.
The firm also posted a lifted sales outlook, expecting to deliver 21,000 Model S sedans for the full year. This stock is both technically and fundamentally very attractive right now, even if momentum has been a bit insane for the last month and change.
Expect some consolidation after such a big run higher. That could be an opportunity to build a position in TSLA.
Green Mountain Coffee Roasters
Nearest Resistance: N/A
Nearest Support: $60
Catalyst: Earnings Beat
Last, but far from least, is
Green Mountain Coffee Roasters
(
), a stock that's no stranger to being one of the most active names on the Nasdaq -- or one of the most controversial. GMCR posted its second-quarter earnings numbers yesterday, earning 93 cents per share, while the consensus estimate was down at 72 cents. That earnings beat proved impressive enough to gap shares up almost $25% to a new 52-week high this morning.
Today also brought an announcement that
Starbucks
(SBUX) was expanding its deal with GMCR and extending the deal by five years. With encroachment from SBUX's own competing Verismo brewer seen by Green Mountain bears as a big catalyst for downside, the announcement is an important coup for the firm's shareholders. It confirms the status of Green Mountain's Keurig as the league leader in 2013.
To see these stocks in action, check out the at
on Stockpickr.


-- Written by Jonas Elmerraji in Baltimore.
RELATED LINKS:
>>4 Stocks for Surging Natural Gas
>>3 Health Care Stocks Under $10 to Watch
>>5 Rocket Stocks to Buy for Dow 15,000
Follow Stockpickr on
and become a fan on
Facebook.
At the time of publication, portfolios managed by author were long TSLA. Jonas Elmerraji, CMT, is a senior market analyst at Agora Financial in Baltimore and a contributor to
TheStreet
. Before that, he managed a portfolio of stocks for an investment advisory returned 15% in 2008. He has been featured in
Forbes
,
Investor's Business Daily
, and on
CNBC.com.
Jonas holds a degree in financial economics from UMBC and the Chartered Market Technician designation. Follow Jonas on Twitter @JonasElmerraji