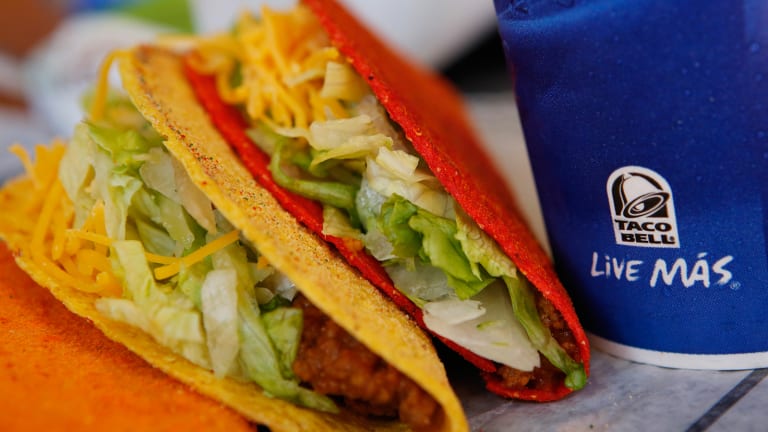 4 Fast-Food Giants That Are Trying to Clean Up Their Ingredient List
Three other companies are doing what Yum! announced about its Taco Bell and Pizza Hut -- removing artificial ingredients and trying to serve 'healthier' fare to U.S. consumers.
Updated to include comments from McDonald's.
NEW YORK (TheStreet) -- Fast-food companies are on a mission recently to convince customers their food is healthier -- or at least, not so unhealthy.  
Tuesday, Yum! Brands (YUM) -owned Taco Bell joined the growing ranks of fast-food chains moving toward using fewer artificial ingredients. Taco Bell said it will remove artificial colors, artificial flavors, high-fructose corn syrup and palm oil from its food by the end of 2015. Artificial preservatives will be also be eliminated "where possible" by 2017.
The moves do not include fountain drinks from supplier PepsiCo (PEP)  or co-branded products, such as its Doritos-flavored taco shells.
Fellow Yum! Brands holding Pizza Hut also said it will remove artificial colors and flavors from its pizzas by the end of July. The pizza chain is in the midst of better catering to millennials with a hipper menu to help bolster sagging U.S. sales.
The use of artificial ingredients in fast food has been essential to the fast food industry since its inception. They help to preserve food destined for mass consumption and reduce complexity in the kitchen so that food can be made quickly. Consequently the recent announcements from the industry's heavyweights could lead to higher costs and price increases on economically sensitive customers.
But the demand by consumers for greater transparency in the broader food industry has created a need for the fast-food business to evolve. "I would say that 2015 may be the year where we have the biggest conversation ever about the quality of food and about what it means to our physical health," said Whole Foods (WFM)  co-CEO Walter Robb in an interview last year. "It's not an elite thing, but it's actually something that is an American thing -- It comes up because McDonald's (MCD) and Yum! Brands have finally realized their stuff isn't selling anymore," added Robb.
Turns out Robb was right.
The new industry trend is for supporting "clean ingredients," and the payoff for adapting to changing consumer preferences could be huge.
Upstart fast-casual pizza chain Blaze Pizza, which prides itself on using ingredients people can actually pronounce, is a good example.
According to the 66-store company, its average sales per store last year of $1.55 million were the highest in the U.S. fast-food pizza business, with Pizza Hut a distant second at $730,000. Blaze Pizza restaurants with over two years of operation have experienced a 40.6% year-over-year gain in sales in their second year.
"We look strongly at what Panera Bread and Chipotle are doing, and have been on our journey to making sure our ingredients are clean -- no preservatives, no chemicals, no additives," said Blaze Pizza president and COO Jim Mizes in an interview.
TheStreet takes a look at how three other giant fast-food companies are trying to capitalize on the latest trend and clean up their ingredient acts.

1. Chipotle
One of the first things to now greet Chipotle's (CMG) hungry patrons: a "farewell to GMOs" sign on its menu boards, as seen above. Each of Chipotle's over 1,700 U.S. restaurants, as well as its Asian food concept ShopHouse, which counts 10 locations, in late April began serving GMO-free food. The news came after a two-year long effort by the "heathy" fast-food company to completely remove GMOs from the menu.
The Mexican-inspired chain's emphasis on ingredients has clearly paid off. In 2014, Chipotle's same-restaurant sales gained an impressive 16.8% and the stock has risen 16% in the past year, nearly double the gain in the Dow Jones Industrial Average. Over the past two years, Chipotle's stock is up about 70%.
Pizzeria Locale, which is partially owned by Chipotle, was not included in the latest announcement on GMOs.  But that doesn't mean it's not trying to cook clean food. 
The fast-casual pizza concept currently has two locations open, and another two set to debut in Kansas City and Cincinnati this year. Similar to Blaze Pizza, Pizzeria Locale stresses the use of clean ingredients.  An example is Edison wheat, which according to the company is "an heirloom variety (wheat) grown in Oregon and milled partially in house at the restaurant." The wheat, says the company, is "nutrient dense" and offers a flavor "not found in commoditized wheat."
2. Panera Bread
Earlier this month, Panera Bread (PNRA) lifted the veil on what it calls a "No No List."  The company's "No No List" issues a self-imposed ban on more than 150 ingredients, including artificial colors, flavors, sweeteners and preservatives. By 2016, Panera's menu will be free of all such ingredients.
"The No No List is the latest step on our journey to clean food and a transparent menu," said Panera Bread founder and CEO Ron Shaich in a May 5 statement.
As of May 1, Panera started offering salad dressings free of artificial sweeteners, colors, flavors and preservatives. About 85% of the ingredients on Panera's bakery-cafe food menu are in test or have rolled out nationally without these artificial additives. Beginning in September, all of the company's flatbreads will feature 15 grams of whole grain in each serving.
Panera's stock is up 19.2% over the past year.
3. McDonald's
The food giant only marginally makes the list, having announced in March that it plans to start sourcing chicken raised without antibiotics important to human medicine, as well as milk from cows that are not treated with the artificial growth hormone rbST. McDonald's said it will phase in the new chicken requirements over the next two years, and will start to introduce the new milk later this year.
"We continue to evolve our menu to meet the changing tastes and needs of our customers -- we're looking at a number of options for what this next evolution will be, but don't have specific plans we can share at this time," said McDonald's spokeswoman Lisa McComb in an email.
Otherwise, though, McDonald's has made fairly limited changes to its ingredient list, a factor that may be contributing to the company's poor perception among consumers and weak results. Over the past year, McDonald's is up a scant 3.1% and over the past two years, it's down 3%.
The timing of any further efforts by McDonald's on ingredient quality remains unclear, but clearly an area of focus.  "Removing the antibiotics out of our chicken supply chain across the next two years is a move that customers value, because we can bring to them quality ingredients and quality menu items at the McDonald's affordable prices -- and they encourage us to do more of that," said McDonald's CEO Steve Easterbrook on the company's April 22 earnings call.  
When asked by TheStreet in early May whether McDonald's would introduce organic lettuce for its burgers, Easterbrook was non-committal, although he acknowledged that "consumers are reframing the conversation around food."
One significant change that McDonald's could make to improve perceptions of its food quality is using hormone-free beef, though there likely would be challenges given the chain's enormous size and the more limited supply chain for such premium cattle. 
According to McDonald's website, "most of the cattle we get our beef from are treated with added hormones, a common practice in the U.S. that ranchers use to promote growth."   
Hormone-free burgers have been powering big results at upstart burger chainShake Shack (SHAK) . According to Shake Shack, it's burgers are made from "100% all-natural Angus beef" that contain "no hormones and no antibiotics ever." 
This article is commentary by an independent contributor. At the time of publication, the author held no positions in the stocks mentioned.