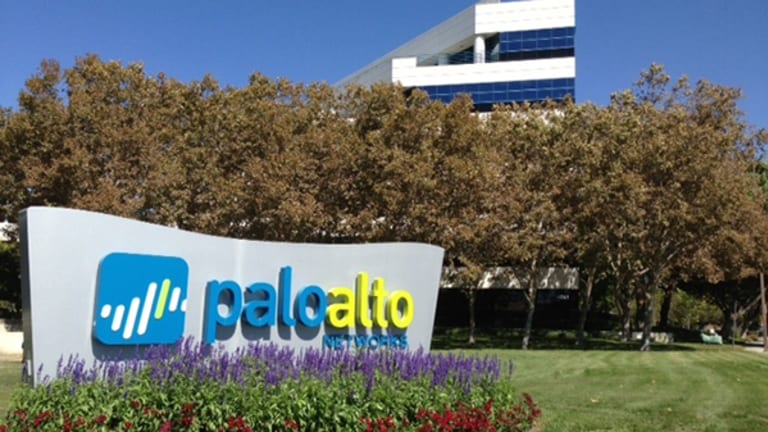 4 Cybersecurity Stocks That Are Good Buys Right Now
Analysts are seeing some good buying opportunities amid the sector's recent downturn.
Updated to correct the attribution of a quote about Palo Alto Networks in the sixth paragraph. The quote was from an analyst, not Palo Alto's CEO.
NEW YORK (TheStreet) -- Cybersecurity stocks have taken a tumble recently on fears that the sector may have gotten ahead of itself, but analysts are seeing some good buying opportunities amidst the downturn.
"When you have six to seven straight quarters of beat-and-raise on expectations, there's naturally going to be some pull back," said senior analyst Andrew Nowinski of Piper Jaffray in an interview with TheStreet.
Analysts attribute the roughly two-month-long slide in cybersecurity stocks to several factors: the general market volatility in August, the consistent over-performance of the sector during the last year, even rumors of reverse-engineered competing products stealing market share in China.
Since June 23, the PureFunds Cyber Security ETF (HACK) - Get ETFMG Prime Cyber Security ETF Report has fallen 20%, compared to the 8% slide in the S&P 500 and a 6.5% dip in the Nasdaq. Over the previous six months, however, the ETF jumped 28%, compared to an 11% climb in the Nasdaq over the same period.
One of the top picks in the sector is Palo Alto Networks (PANW) - Get Palo Alto Networks, Inc. Report , which reported stellar fourth quarter earnings last Wednesday, with a 59% revenue spike and more than 2,000 new customers. CEO Mark McLaughlin said during the fourth-quarter conference call that the company had taken some of these customers directly away from industry leaders Cisco (CSCO) - Get Cisco Systems, Inc. Report and Check Point (CHKP) - Get Check Point Software Technologies Ltd. Report .
"We wouldn't see this kind of growth if spending on security products were really becoming an issue," Nowinski said. "Palo Alto is gaining both new customers and new subscriptions."
Shares of Palo Alto have risen 80% over the last year to around $179, but are down from a high of $197 in mid-July.
While Palo Alto is seen as a leader within the next-generation security space, with its cheery earnings lifting stocks last week throughout the sector, it's not the only cybersecurity stock worth keeping an eye on.
"We're strong on FireEye (FEYE) - Get FireEye, Inc. Report , Fortinet (FTNT) - Get Fortinet, Inc. (FTNT) Report , Palo Alto and Check Point," said senior analyst Cyrus Mewawalla of London-based CM Research. "Demand for these companies is going to go up faster than analysts expect."
FireEye is perhaps the highest-profile company in the space due to its blockbuster product Mandiant, which has helped repair data breaches at Sony Pictures, Anthem and Home Depot. In true Silicon Valley fashion, its astronomical top-line growth has won it a $5.9 billion market cap despite never having turned a profit. Its shares are down 32.2% since July 18, compared to the Nasdaq's 7.7% drop over the same period.
Fortinet specializes in firewalls and so-called unified threat management, a suite of programs and services to protect computer networks from attacks. The company's pristine balance sheet is without debt, and its share price has declined 10% since mid-June, despite a revenue jump of more than 30% in the most recent quarter.
Tel Aviv-based Check Point is also debt-free and has grown its endpoint and network security businesses significantly. The company's shares have underperformed the the sector as a whole, even as the company has been buying back shares. This is notable, according to Mewawalla, since Check Point is widely considered to have industry-leading products.
Longer term, the cyber security sector is anticipating lucrative new rounds of contracts with the federal government, pending the passage of information sharing legislation currently under debate in the Senate and continued integration between the public and private cyber sectors.
"Walking the hallways out in the Pentagon, we heard many times that the next fiscal year for the federal government would be better than the last one," Palo Alto's McLaughlin said during his conference call. "That's fantastic for us, given what our technology does."