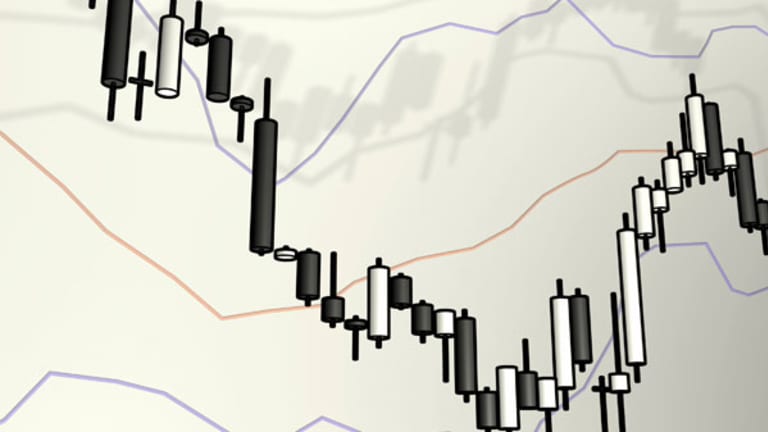 4 Cheap Greek Stocks to Bet On
These beaten-down stocks are fundamentally sound and should recover as concerns in Greece abate.
These beaten-down stocks are fundamentally sound and should recover as concerns in Greece abate.
MILLBURN, N.J. (Stockpickr) -- When picking stocks, I will usually start by looking at one of more fundamental variables or by targeting a sector theme. While that may serve as my guide, another aspect to investment management is taking advantage of speculative opportunities. Sometimes it pays to take chances by allocating a small portion of your portfolio to high-risk, high-reward contrarian plays.
For example, during the financial crisis, shares of
Ford
(F) - Get Report
were being priced for bankruptcy, yet the company was not in the same sad state of affairs as
General Motors
(GM) - Get Report
and
Chrysler
. Ford common and preferred stock was extremely cheap, and I bought some into the abyss. Later, I sold that stock for hefty profits.
Casual dining chain
Ruby Tuesday
(RT)
was also in disarray. Investors were pricing in the demise of the company. What I saw at Ruby Tuesday was a new management team that was going to turn the company around. I was able to buy shares for $2 or less, and once that new management team did indeed turn the company around, I wound up selling those same shares at $10 and higher.
>>5 Stocks Under $10 With Big Upside Potential
Buying low-priced down-and-out stocks is like buying call options on a company's survival. I am now seeing similar opportunities in an entire country: Greece. The situation in Greece is akin to what happened in Latin America in the early 1990s, Russia in the late 1990s and even to the U.S. financial institutions a few years ago.
Before I present my ideas, I want to put some parameters around this strategy. First, when adding these names to your portfolio, allocate an equal dollar amount for each stock. You cannot predict whether one or all of the stocks will pay off, so you want to spread our capital around so as not to miss or limit our opportunity for gains.
Think of this money as lottery money. Allocate only a small portion of your total portfolio to these stocks because of the speculative nature of the strategy. Ideally, you'll get a hefty payout; should you lose, however, the damage to your portfolio will be small.
Finally, don't look at these stocks as you would core holdings. With core stock holdings, we will focus on earnings, sales and other fundamental data points. These Greek stocks are caught up in the media frenzy over Greece and Europe, yet each one is still fundamentally sound. Just as they were dragged down by the macro concerns in Europe, they will recover once those concerns abate. If these stocks work, you will be handsomely rewarded.
I am expecting that despite all of the intrigue and infighting within the eurozone, Greece will be rescued. The reputation of the entire EU and the euro currency is at stake. Countries such as France and Germany, which have the most to lose due to their economic exposure to all of Europe, will rescue Greece just as the U.S. came to Argentina's rescue nearly two decades ago.
With that in mind, here are
four cheap speculative Greek stocks
to buy in preparation for a bailout and turnaround in that country.
National Bank of Greece
National Bank of Greece
(NBG)
is the largest and oldest commercial banking institution in Greece. The company has a presence throughout Southern Europe and the Mediterranean. Think of the National Bank of Greece as a combined
Citibank
(C) - Get Report
,
JPMorgan
(JMP) - Get Report
,
Wells Fargo
(WFC) - Get Report
and
Bank of America
(BAC) - Get Report
for that nation. The bank also works closely with the debt-saddled government of Greece.
There is no way that this bank will be allowed to go under. The stock price is off more than two-thirds from its closing price at the end of 2010, yet it still has a market capitalization of over $2 billion. When I looked at the balance sheet, I was amazed to see a rather liquid institution.
Of course, the risk for this bank is that it might have to write off or write down many assets. Should that happen, I assume that any large financial rescue plan in Greece would also include some relief of the bank's liabilities.
The downside for National Bank of Greece is 60 cents. The upside is 5 to 10 times as much.
>>6 Financial Stocks Offering Excellent Value
Coca-Cola Hellenic Bottling
Coca-Cola Hellenic
(CCH) - Get Report
produces and distributes
Coca-Cola
(KO) - Get Report
and other beverages. Although the company is headquartered in Athens, the company conducts operations across 28 European and African nations, including Russia and the former Soviet Republics. Thus, only a small percentage of its revenue is actually coming from Greece. The opportunities for Coca-Cola Hellenic to grow, especially in the emerging and developing markets, are tremendous.
For the first half of 2011, beverage volumes and revenues increased 3%. The company also grew market share in many markets, including Russia. However, due to increasing commodity prices, restructuring costs and weak economic conditions in Europe, net profits and EPS in euros declined by 28% and 27%, respectively. Despite all of those headwinds, the company earned 146 million euros for the first six months of the year.
Coca-Cola Hellenic generates very strong cash flow, which has been applied to paying down its long-term debt and to its dividend. That strong cash flow should continue in the future. Please note that the company typically pays a dividend of about 37 cents per year, but no dividend was declared for 2011. That dividend could be reinstated in the spring of 2012.
There is no denying that operations in the eurozone are challenging right now, but Coca-Cola Hellenic does not face the same problems that several governments and banks in Europe do. Stability in the eurozone could add as much as 20% to this company's stock price in 2012.
Coca-Cola Hellenic is one of TheStreet Ratings'
.
Aegean Marine Petroleum Network
Aegean Marine Petroleum Network
(ANW)
provides marine-based fueling, logistics and other services to the global shipping industry in ports and at sea. The company is headquartered in Piraeus, Greece, but has operation thought the world, so only about 5% of its global revenue is derived in Greece. Unfortunately, the company gets painted by the broad brush of all that is bad about the Greek credit situation.
As more and more global commerce is being conducted over the seven seas in tankers, container ships, cruise lines and dry bulk ships, the need to supply fuels and other products to these ships is ever increasing. Last week, the U.S. Congress passed a new set of free-trade agreements with South Korea, Colombia and Panama, the first since 1994. President Obama expected to sign these into law today. As a result, even more shipping will take place than ever before.
Aegean Marine Petroleum is expected to earn 39 cents this year, down from 53 cents last year, but earnings are expected to rise dramatically in 2012. The stock is selling at about 14 times trailing earnings and 5 time forward earnings estimates. The company's larger competitor,
World Fuel Services
(INT), sells for about 15 times trailing earnings and 13 times forward estimates. Even if earnings for Aegean Marine Petroleum revert to 2010 levels when it earned 53 cents per share, the stock is worth at least 50% more than where it now stands.
Aegean is one of TheStreet Ratings'
.
Hellenic Telecommunications
What is it like to be a telecom in one of the worst economies in the world right now? Look no further than
Hellenic Telecommunications
(HLTOY: Pink Sheets). This telecom gets no respect just because it is located in Greece. Telecommunications in this day and age is a priority for people of all ages and locales. We are in the mobile telecom age. Do you think that the people of Greece are going to give up on Facebook and Twitter just because their government is broke? I think not.
Hellenic Telecomm has a very secure balance sheet and generates strong cash flow. The company paid off $3.3 billion of its long-term debt the past two years, down to a level of $4.3 billion at the end of 2010. Furthermore, the stock earns a dividend of about 10 cents per share annually.
Since the end of 2010, the stock has dropped by nearly 45%, from $4 on New Year's Eve day. I consider Hellenic Telecomm an excellent component of my
four cheap speculative Greek stocks
and expect it to perform much better once Greece moves beyond its current crisis.
-- Written by Scott Rothbort in Millburn, N.J.
RELATED LINKS:
>>5 Big Stocks to Trade for Gains
>>5 Hated Stocks That Could Blast Off
>>6 Dividend Stocks for Earnings Season
Follow Stockpickr on
and become a fan on
Facebook.
At the time of publication, Rothbort was long HHC, C, BAC and Ford Warrants, although positions can change at any time.
Scott Rothbort has over 25 years of experience in the financial services industry. He is the Founder and President of
, a registered investment advisor specializing in customized separate account management for high net worth individuals. In addition, he is the founder of
, an educational social networking site; and, publisher of
The LakeView Restaurant & Food Chain Report
. Rothbort is also a Term Professor of Finance at Seton Hall University's Stillman School of Business, where he teaches courses in finance and economics. He is the Chief Market Strategist for The Stillman School of Business and the co-supervisor of the Center for Securities Trading and Analysis.
Mr. Rothbort is a regular contributor to
TheStreet.com's RealMoney Silver
website and has frequently appeared as a professional guest on
Bloomberg Radio
,
Bloomberg Television
,
Fox Business Network
,
CNBC Television
,
TheStreet.com TV
and local television. As an expert in the field of derivatives and exchange-traded funds (ETFs), he frequently speaks at industry conferences. He is an ETF advisory board member for the Information Management Network, a global organizer of institutional finance and investment conferences. In addition, he is widely quoted in interviews in the printed press and on the internet.
Mr. Rothbort founded LakeView Asset Management in 2002. Prior to that, since 1991, he worked at Merrill Lynch, where he held a wide variety of senior-level management positions, including Business Director for the Global Equity Derivative Department, Global Director for Equity Swaps Trading and Risk Management, and Director for secured funding and collateral management for the Global Capital Markets Group and Corporate Treasury. Prior to working at Merrill Lynch, within the financial services industry, he worked for County Nat West Securities and Morgan Stanley, where he had international assignments in Tokyo, Hong Kong and London. He began his career working at Price Waterhouse from 1982 to 1984.
Mr. Rothbort received an M.B.A., majoring in Finance and International Business from the Stern School of Business, New York University, in 1992, and a B.Sc. in Economics, majoring in Accounting, from the Wharton School of Business, University of Pennsylvania, in 1982. He is also a graduate of the prestigious Stuyvesant High School in New York City. Mr. Rothbort is married to Layni Horowitz Rothbort, a real estate attorney, and together they have five children.