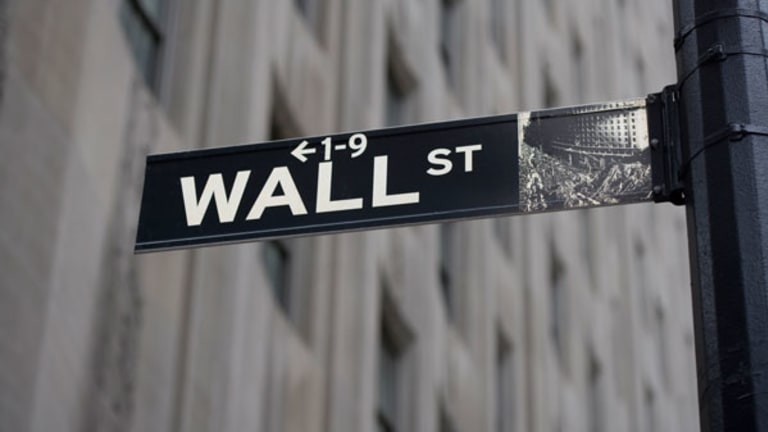 4 Breakout Buys for January -- and One Sell
Even though the past few days have come with a correction, it's been more of a sideways move than a downward one. That bodes well for stocks to keep moving higher in 2013.
Even though the past few days have come with a correction, it's been more of a sideways move than a downward one. That bodes well for stocks to keep moving higher in 2013.
BALTIMORE (
) -- Now that the fiscal cliff is behind us, are you ready to do it all again?
The debt ceiling debate is heating up in Washington, with our elected officials digging in for another protracted battle between Democrats and Republicans. Over on Wall Street, the bulls and bears have been battling as well -- and even if it doesn't fully feel like it just yet, the bulls distinctly have the upper hand right now.
>>5 Stocks Set to Soar on Bullish Earnings
Just last week, the
S&P 500
pushed through to a new post 2007 high close, a big move for a market that most investors are still very anxious about. Even though the past few days have come with a correction, it's been more of a sideways move than a downward one. That bodes well for stocks to keep moving higher in 2013.
And it's why we're taking a technical look at five breakout buys for January -- and one lone sell.
>>5 Rocket Stocks Worth Buying This Week
For the unfamiliar,
is a way for investors to quantify qualitative factors, such as investor psychology, based on a stock's price action and trends. Once the domain of cloistered trading teams on Wall Street, technicals can help top traders make consistently profitable trades and can aid fundamental investors in better planning their stock execution.
So without further ado, let's take a look at
worth trading now.
>>5 Stocks Setting Up to Break Out
Amgen
We'll start big, with $66 billion pharma firm
Amgen
(AMGN) - Get Report
. Amgen has been a strong performer in the last year, rallying more than 28% over the trailing 12 months. But that rally may be far from over if the price setup in shares holds true.
That's because Amgen is currently forming an ascending triangle pattern, a bullish setup that's formed by horizontal resistance to the upside (at $90, in this case) and uptrending support below shares. As AMGN bounces between those two technical barriers, it's getting squeezed closer and closer to a breakout above resistance. When that
above $90 happens, traders have a buy signal for this big pharmaceutical stock.
It's important not to be early on this Amgen trade. Shares have reversed off of $90 resistance the last three times they attempted to move through it. It'll take a close above that $90 level to indicate that the Amgen trade is on.
Intralinks Holdings
Moving down the size spectrum, small-cap software firm
Intralinks Holdings
(IL)
is forming the exact same setup as Amgen right now. Like the big pharma firm, IL sports a horizontal resistance level to the upside (at $6.75 for IL) and uptrending support below shares. That push though $6.75 is the buyable move in this stock.
Whenever you're looking at a technical price pattern like this one, it's critical to think in terms of buyers and sellers. After all, while the "triangle" pattern is a good way to describe what's going on in AMGN and IL, geometry has nothing to do with this stock's upside potential. Instead, it all comes down to supply and demand for shares.
Here, $6.75 is a price where there's an excess of supply of shares; in other words, it's a place where sellers have been more eager to take gains and sell their shares than buyers have been to buy. That's what makes the breakout above $6.75 so significant. It indicates that buyers are finally strong enough to absorb all of the excess supply above that price level.
When the push happens, keep a
under IL's nearest swing low.
Vishay Intertechnology
Things have been less auspicious at
Vishay Intertechnology
(VSH) - Get Report
lately. Shares of the Pennsylvania-based semiconductor stock have moved up a whopping 2% in the last 12 months, trailing the broad market's ascent by around 12% over the same period. But that underperformance could be coming to an end thanks to a reversal pattern that's been shaping up in shares over the long term.
Vishay is currently forming a double bottom, a price pattern that's formed by two swing lows that bottom out at approximately the same price level. The two bottoms are separated by a peak that marks that resistance level for the setup. A breakout above that price -- right at $11 for VSH -- is the buy signal for shares.
Because the setup for this pattern has been longer-term, the trading implications are longer-term as well. That means that once Vishay is finally able to push through $11 (its most recent attempt wasn't successful), the rally could last a while. Still, remember that sellers own the space at and above $11 right now, that's why it's imperative to wait for the breakout before you buy.
Diebold
Diebold
(DBD) - Get Report
is another potential reversal play right now. Shares of the $2 billion security and self-service kiosk maker have slid double digits in the last six months, making a reversal a welcome sight for long-suffering shareholders. Here's how to trade it.
Diebold's hasn't just been slipping lower. Instead, it's been moving lower in an orderly trend channel that's bounded by trend line resistance to the upside and trend line support below shares. That support and resistance level give us a good indication of this stock's likely moves within the channel -- and an indication of when this channel is broken. For the last couple of weeks, Diebold has been testing its trendline resistance level; a breakout above that upper bound for the channel means that the downtrend is over.
adds some extra confidence to this trade -- 14-day RSI has been trending higher since the end of October. Since momentum is a leading indicator of price, that's a very good sign for shares. Still, the downtrend isn't broken yet, and I wouldn't recommend buying DBD until it is.
Hawkins Chemical
It's important to remember that even though the broad market looks pointed higher right now, the same can't be said for every individual stock out there. That's why we're not looking exclusively at upside trades today --
Hawkins Chemical
(HWKN) - Get Report
is the sole bearish setup that's hitting our radar.
Hawkins is currently in the final stages of forming one of the most well known topping patterns: the head and shoulders. In a sentence, the head and shoulders is a pattern that indicates exhaustion among buyers. It's formed by two swing highs that top out around the same level (the shoulders), separated by a bigger peak called the head. A breakdown below the support level that connects those three peaks (called the neckline) is the signal to sell or short shares.
So far, this head and shoulders top looks pretty textbook, which means that the trading implications are especially good for it right now. That said, if HWKN buyers can muster the strength to push shares above the top of the right shoulder, we'll consider this setup broken. In the meantime, watch for the move below the neckline at $36.50.
To see this week's trades in action, check out the
Technical Setups for the Week portfolio
on Stockpickr.
-- Written by Jonas Elmerraji in Baltimore.
RELATED LINKS:
>>5 Dividend Hikes to Watch for This Earnings Season
>>4 Stocks Spiking on Unusual Volume
>>5 Stocks Set to Soar on Bullish Earnings
Follow Stockpickr on
and become a fan on
Facebook.
At the time of publication, author had no positions in stocks mentioned. Jonas Elmerraji, CMT, is a senior market analyst at Agora Financial in Baltimore and a contributor to
TheStreet
. Before that, he managed a portfolio of stocks for an investment advisory returned 15% in 2008. He has been featured in
Forbes
,
Investor's Business Daily
, and on
CNBC.com.
Jonas holds a degree in financial economics from UMBC and the Chartered Market Technician designation.