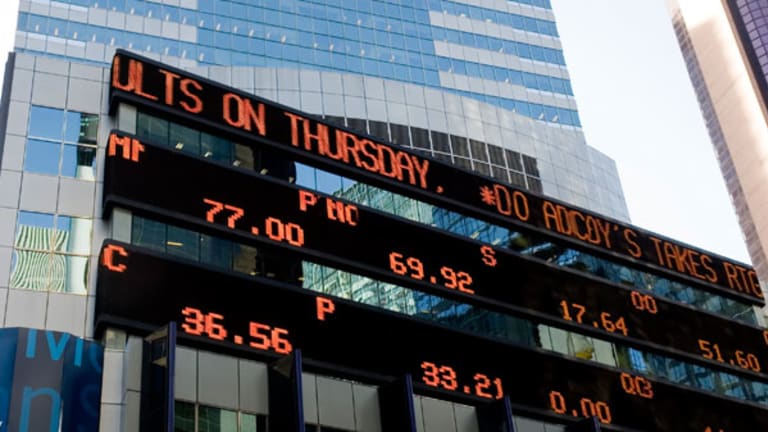 4 Biotech Stock Stars Losing Their Luster
These biotech stocks could take a big hit when investors start to focus on lower-valued stocks in other industries.
NEW YORK (Stockpickr) -- What's the hottest investment niche of the past 15 months? Biotech stocks -- by a long shot.
While many industries and sectors have risen a respectable 10% or 20% in that time, the Amex Biotechnology Index has risen a stunning 60%. Lest you think that the index simply rode the backs of small, speculative biotech stocks that happened to strike a major partnership or saw a key drug approved, know that it focuses on the industry's largest and most stable players.
>>4 Biotech Stocks Under $10 Moving Higher
Why did these major biotech stocks take off like rockets in 2012? First, the Food & Drug Administration has improved the drug approval process, removing some of the mercurial decision-making that it had been known for in prior years. Also, investors grew less concerned that looming changes in health care would dampen profits for the drug industry -- though it's not clear if that attitude will last. Our nation's health care system remains very expensive, and companies can expect to see tougher reimbursement pressures in the years ahead.
After stunning gains, many of these biotech firms now look fairly valued on profit forecasts for 2015 or 2016. Based on 2013 profit and profit growth rates, these stocks look downright frothy.
>>5 Health Care Stocks Triggering 'Buys
Here are
that could take a big hit when investors start to focus on lower valued stocks in other industries.
Celgene
Drugmaker
Celgene
(CELG) - Get Free Report
focuses on various types of cancers, especially blood cancers known as multiple myeloma, and has been a top performer in the industry for more than a decade. Thanks to a deeper look at its pipeline of new drugs that should fuel growth over the next few years, investors have bid shares up more than 50% over the past six months. The current $42 billion market value equates to nine time trailing sales and seven times projected 2014 sales. That's rich.
Yet it's the profit outlook that should give you pause. Celgene is expected to earn roughly $5 a share in 2013 (on a GAAP basis) and around $6 a share in 2014, implying a 2014 multiple of around 16. Trouble is, further profit gains will become harder to achieve as many of this company's current top-selling drugs will increasingly be exposed to generic competition. It's that patent cliff that many drugmakers face that explains why many of them trade closer to 10 times projected profits.
Analysts at Goldman Sachs prefer to value Celgene against discounted cash flows and think fair value is around $88, or roughly $10 below current levels.
Biogen Idec
Biogen Idec
(BIIB) - Get Free Report
has seen its shares triple in value since the summer of 2010, and it now trades for more than seven times trailing sales and a hefty 26 times trailing profits. Analysts expect sales to rise roughly 15% in 2013 and 2014, with profits rising at an even faster pace, but the outlook beyond that becomes quite murky.
Half of Biogen Idec's sales are derived from Avonex, a key drug for the treatment of Multiple Sclerosis. The trouble is that rivals are looking to make a big dent in Avonex's overwhelming market share.
Novartis'
(NVS) - Get Free Report
Gilenya drug and
Sanofi's
(SNY) - Get Free Report
Aubagio are both entering the market in a more tolerable oral dosage form. As a result, Avonex's sales are expected to start dropping $200 to $300 million each year. New drugs, such as the company's BG-12, are expected to take up the slack, but the surging stock price already reflects a fully successful drug launch.
In the near-term, investors await the likely spring-time approval for Tecfidera, Biogen's own orally-ingested MS drug, but the crowded field has left Merrill Lynch's to suggest that most analysts are too aggressive with their 2013 sales forecasts for the drug. Looking further out, much of this company's drug pipeline is in earlier stages of clinical testing, and it will be more than a year before investors learn of further development progress.
For a stock that has registered a solid 200% gain in less than three years, the coming year may be seen as a time of profit-taking.
Biomarin
Since bottoming out in early 2009,
Biomarin's
(BMRN) - Get Free Report
shares have surged more than 400%. Now, by a range of metrics, this stock is well past full value. For example, the $7 billion market value is 12 times greater than its 2012 sales base of $500 million. And the company remains unprofitable, so it's hard to find any way to value this stock against earnings metrics.
Biomarin uses its deep expertise in enzyme-based treatments to target rare genetic diseases. The patient populations for these drugs may be small, but the selling price for each drug could be tremendous. The focus on niche diseases also means more limited competition.
Although Biomarin has several drugs on the market, it's the company's promising pipeline that explains why this stock has surged in value. A key drug, PEG-PAL, which treats sufferers of phenylketonuria, or PKU, may not reach the market until 2015. Before then, Biomarin's GALNS, which also treats PKU, may get FDA approval in late 2013. Analysts at Morningstar anticipate that this drug will get approval and predict peak sales of $800 million annually. Even if that happens, these analysts still think shares are worth just $44, or roughly 20% below current levels. That's the result of a 10-year DCF analysis.
In effect, this stock's tremendous run already reflects any good news yet to come.
Life Technologies
Life Technologies
(LIFE) - Get Free Report
, which provides a wide range of lab tools for biotech scientists has seen its shares surge more than 50% since the summer of 2012, when management noted that the company may put itself up for a sale.
Make no mistake, this is a "good" but not "great" business. Sales rose 5% in 2011 (to $3.8 billion) and 1% in 2012, and they are expected to rise just 3% in 2013 and 2014, according to consensus forecasts. Operating profits have never exceeded $650 million, meaning this stock trades for around 16 times likely peak cash flow. That's quite rich for a company with limited growth prospects.
The recent move -- from $40 to $58 -- has left shares vastly overvalued, and there appears to be little upside, even if the company is sold. If Life Technologies doesn't get acquired, shares may disgorge all of those gains.
To see these overvalued biotechs in action, visit the
portfolio.
RELATED LINKS:
>>5 Big Stock Charts You Need to See
>>4 Stocks Ready for Big Dividend Hikes in 2013
>>5 Stocks Insiders Are Scooping Up
Follow Stockpickr on
and become a fan on
Facebook.
Stockpickr is a wholly owned subsidiary of TheStreet.com.