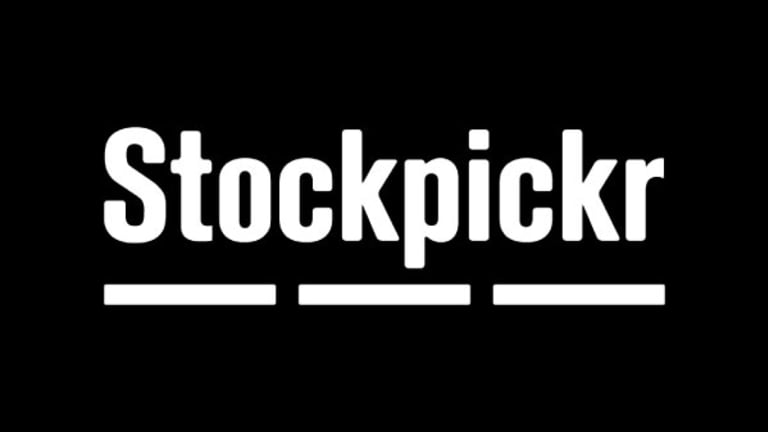 4 Big Stocks Ripe for a Sharp Pullback
These stocks could turn out to be the biggest laggards of 2013.
These stocks could turn out to be the biggest laggards of 2013.
NEW YORK (Stockpickr) -- Market strategists talk about two kinds of stock market environments: "risk-on" and "risk-off." In a risk-off market, investors are fearful and favor conservative safe stocks. Since this past Labor Day, though, we've been in a "risk-on" market, and some of the most widely reviled (and heavily shorted) stocks have become the market darlings.
But sentiment is a fickle beast, and when investors grow nervous about an ever-rising market, they can quickly move back into "risk-off" mode, leading to considerable distress for the recent market winners.
>>5 Stocks Poised for Breakouts
It's easy to spot the names that are most vulnerable to a market correction. Here we'll focus on stocks that have risen at least 25% so far in 2013, sport a 2014 price-to-earnings that is higher than the broader market average of 14 and have relatively high levels of short interest.
With that in mind, here are
four stocks that could turn out to be the biggest laggards
of the rest of 2013.
>>5 Big Stocks That Could Drop in May
AMD
As investors have come to understand that the market for personal computers is slowly disappearing, with the slack taken up by tablet computers such as the iPad, it's also become apparent that many PC-related computer chips will no longer be in hot demand. That's bad enough for industry dominator
Intel
(
), but it's potentially catastrophic for smaller rival
Advanced Micro Devices
(
), which can flourish only in times of robust demand, when the pie is big enough for both of these chip makers to share profitably.
By the time that investors realized in late 2012 that AMD was headed for yet another money-losing year in 2013 (after losing $1 billion in 2012), shares managed to slip below $2. Yet miraculously, this stock has managed to double from those lows to more than $4. The key catalyst: Video game console maker
Sony
(
) plans to use AMD's chips in its upcoming Playstation, and there are rumors that
Microsoft
(
) will follow suit with its next Xbox.
>>3 Tech Stocks Spiking on Big Volume
Yet here's the rub: The video game console market is far, far smaller than the PC market and won't instantly turn AMD into a profit machine. Analysts think the company has a shot of moving toward break-even in the summer of 2014, but few expect per-share profits to rise to 25 cents or 50 cents a year in coming years, as the recent rebound implies. When that reality sets in, profit-taking in this strong gainer may be the next move.
H&R Block
For much of the past five years, tax preparation firm
H&R Block
(
) traded between $14 and $20 as investors slapped a modest P/E multiple on profits, noting the maturity of the tax prep business. Yet since the start of this year, shares have risen more than 55% as investors come to expect that the looming tax changes associated with recent health care changes will spur the need for much more tax help from firms such as H&R Block.
Analysts at Morgan Stanley question whether the Affordable Care Act will really deliver the upside that these shares seem to already reflect. And they think that even with a modest bump from ACA, per-share profits are likely to rise just 10% to 12% in fiscal (April) 2014 and 2015.
>>3 Big Stocks on Traders' Radars
The fact that this stock, which historically traded with a single-digit forward multiple, now trades for more than 15 times projected 2014 profits means that much of the reward has been achieved, with ample risk still ahead. After all, this stock could go right back to a single-digit multiple if the impact from ACA is underwhelming.
Netflix
Hats off to Reid Hastings. The CEO of
Netflix
(
) took a lot of heat last year when his company was reporting tepid sales growth and shares were in freefall. He preached patience and promised better results in the future. With shares now up more than 200% since this time last year, he's surely been proven right. Netflix has turned out to be a far more impressive operator than many realized.
Yet it's crucial to distinguish between a great company and a not-so-great stock price. The fact that this stock now trades for around 70 times projected per-share profits of $3.10 a share tells you that shares have become disconnected from any fundamental reality. While the company's bulls focus on Netflix's 15% to 20% sales growth in 2013 and 2014, serious headwinds remain.
>>4 Hot Stocks to Trade (or Not)
Those headwinds include a largely maturing U.S. customer base, ongoing losses at its international business, and a management preference for avoiding price increases, which can impede sales and margin gains. Analysts at Merrill Lynch also suspect that Netflix will soon see a lot of competition, which is one of the reasons they see shares falling to just $115. In Wall Street parlance, this is a stock that is "priced to perfection," meaning that all of the good news may already be factored in, with possible bad news unaccounted for.
Yahoo!
Along with Netflix's Reid Hastings,
Yahoo!'s
(
) Marissa Mayer deserves kudos for reviving a seemingly broken business model. Mayer has sought to light a fire under Yahoo!'s sleepy management team, and the company is again garnering buzz in the tech/media industry.
The truest measure of Ms. Mayer's efforts: Yahoo!'s shares have risen from $16 when she arrived in July 2012 to a recent $26.
>>5 Rocket Stocks Ready for Blastoff
There's one small problem with all of Yahoo!'s good fortune. This is still a company struggling for growth. Sales are expected to grow just 1% this year (to $4.5 billion) and just 3% in 2014. And by then, per-share profits are expected to be rising at around 9% (to around $1.50 a share in 2014).
To justify any further gains for this stock, it's crucial for Yahoo! to unveil some major growth initiatives, and we just witnessed one. The recently announced acquisition of Tumblr exemplifies the bold thinking that Yahoo! needs, but it may not be enough to move the needle in terms of sales and profits. The $1.1 billion purchase of the multi-media-focused social networking site is aimed at stemming steady customer defections: Yahoo! has seen a decline in page views (on a year-over-year basis) for 13 straight months. Yet Tumblr had just $13 million in revenue in 2012, and Yahoo! doesn't just need page views -- it needs revenues.
Time will tell if this type of deal will do the job or if it represents a desperate measure to restore Yahoo!'s relevance.
To see these potential market laggards in action, visit the
4 Big Gainers Set to Reverse Course
portfolio.
RELATED LINKS:
>>5 Dividend Stocks Ready to Hike Payouts
>>Warren Buffett's 5 Favorite Stocks for 2013
>>5 Stocks Under $10 Set to Soar
Follow Stockpickr on
and become a fan on
Facebook.
Stockpickr is a wholly owned subsidiary of TheStreet.com.