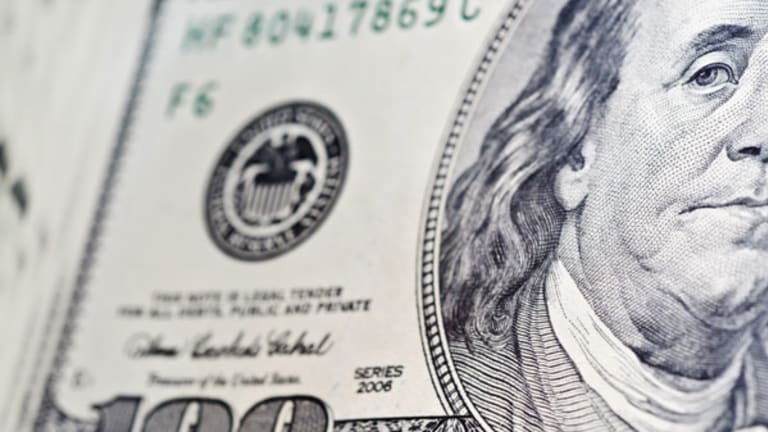 Publish date:
4 Bargain Stocks With Top Free Cash Flow Yields
A wide range of companies are generating near-record profit margins, and cash continues to pile up on corporate balance sheets.
A wide range of companies are generating near-record profit margins, and cash continues to pile up on corporate balance sheets.
NEW YORK (Stockpickr) -- In the past few years, we've read countless reports about the still-struggling U.S. consumer. Hopes are rising that 2013 will be a better year for consumers, but we're not exactly on the cusp of a truly healthy consumer economy where all people feel a greater sense of financial well-being.
In corporate America, it's an entirely different story. By many measures, a wide range of companies are generating near-record profit margins, and cash continues to pile up on corporate balance sheets.
>>4 Loser Stocks Poised for a Comeback in 2013
To be sure, many stocks have surged in value in recent years and aren't necessarily deep bargains in the context of their cash flow prowess. However, there are a handful of stocks in the S&P that produce prodigious amounts of free cash flow (defined as operating cash flow minus capital spending) yet have a market value that is still quite low in relation to that cash flow.
Here are
four stocks that sport free cash flow yields
(which is free cash flow divided by market value) in excess of 7%.
>>5 Rocket Stocks Ready for Blastoff
Xerox
This office equipment maker could have been a candidate for the trash heap by now, were it not for savvy moves to shore up its balance sheet and a game-changing acquisition.
Xerox
(XRX) - Get Report
acquired business services company Affiliated Computer Services in 2009, and that move is now paying off handsomely.
How do we know? Because Xerox has now become a veritable cash cow, churning out impressive amounts of free cash flow. Over the past four years, Xerox has generated a cumulative $6.8 billion in free cash flow, or roughly $1.7 billion per annum. The entire company is valued at just $10 billion, which equates to a free cash flow yield of 17%. That's almost hard to fathom at a time when most other companies sport free cash flow yields in the 3% to 4% range.
To take advantage of the low valuation assigned to its shares, Xerox bought back more than $1 billion in shares in 2012, and will likely keep shrinking the supply of stock.
E*Trade
Online brokers are a fortunate lot. They get to charge $5 or $10 for every trade they complete for clients, but since it's all done by computers, they don't really need to spend very much on personnel to complete all of those transactions.
That's a lesson that should have been heeded by
E*Trade
(ETFC) - Get Report
, which foolishly ventured into the mortgage underwriting business in the past decade -- with disastrous consequences.
These days, E*Trade has returned to its roots, wisely focusing only on online trading. And the company again proves what a good business that is. Over the past three years, free cash flow has steadily risen, moving just above $1 billion in 2011. (2012 free cash flow figures won't be revealed until the company files its 10-K).
The $3 billion market value is quite low for such strong free cash flow. The fact that shares trade right at tangible book value makes this a true value investor's delight.
GameStop
Like many other technology-focused retailers, video game vendor
GameStop
(GME) - Get Report
is struggling to find ways to grow. Sales were flat in fiscal 2012 at around $9.5 billion and are expected to settle in just under $9 billion in the current fiscal year that ended in January and the fiscal year that began in February.
Still, management has shown a remarkable knack for squeezing cash out of this business. Free cash flow hit a record $460 million in fiscal 2012 and was likely in a similar range in the most recent fiscal year as well.
That shouldn't be a surprise. Any time a company runs out of new business segments to invest in, it ends up returning more of its cash to shareholders. Management has been using all of that free cash flow to buy back stock. The share count has fallen from 164 million in fiscal 2010 and likely finished fiscal 2013 under 120 million.
That helps explain why earnings per share, as well as free cash flow per share, keep rising at a steady pace. The current free cash flow yield of around 16% may climb even higher if free cash flow stays constant and the share count (and therefore market value) continues to shrink.
Prudential Financial
Investors have largely been ignoring the shares of insurance companies in recent years, in large part because low interest rates are depressing this industry's earnings. Insurers sit on billions of dollars in cash to pay out against future policy claims, and when rates are higher, all that money earns a pretty penny.
Prudential
(PRU) - Get Report
is no exception. Shares trade for just 71% of tangible book value. More to the point, this company looks awfully cheap when you look at free cash flow. Prudential is on track for the second straight year of free cash flow in excess of $10 billion, and that figure will likely rise even higher when interest rates start to move up.
How do you square such large numbers against this insurer's $27.5 billion market value? Frankly, it's hard to fathom.
Analysts at Citigroup think that if you are going to invest in just one insurance stock, you should choose Prudential. According to Citigroup, Prudential "offers the best risk-reward among large cap multi-line life insurers. In our view, the company's improving ROE, above-average near-term earnings growth, and superior business mix merit a valuation above the life group average." To be sure, there isn't much risk in a stock that has already traded so far below tangible book value.
Notably, book value is likely to keep on rising in coming years, thanks to the company's impressive free cash flow. Book value per share currently stands at around $79 a share (compared with a stock price of $57). Citigroup's analysts expect book value to approach $85 a share this year and exceed $90 a share in 2014.
To see these free cash flow kings in action, visit the
portfolio.
RELATED LINKS:
>>5 Stocks With Big Insider Buying
>>Hedge Funds Hate These 5 Stocks -- but Should You?
>>5 Toxic Stocks That Are Poisoning Your Portfolio
Follow Stockpickr on
and become a fan on
Facebook.
Stockpickr is a wholly owned subsidiary of TheStreet.com.