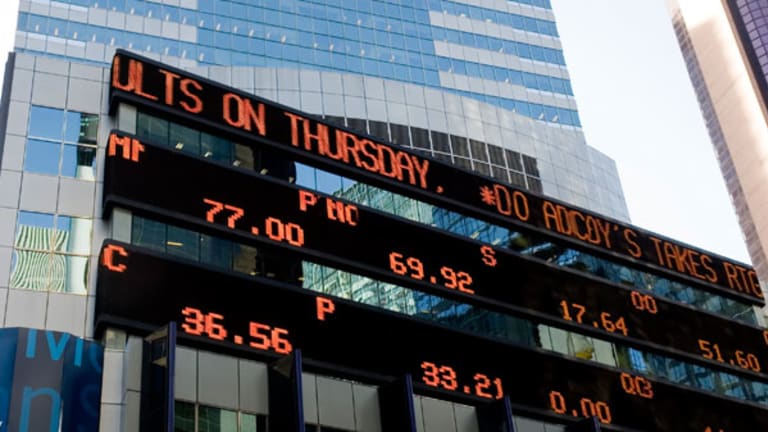 4 Bargain Bin Stocks to Pad Your Portfolio in October
While 'cheap' stocks have been harder to find lately, they're still out there. Here are five stock bargains to consider.
BALTIMORE (Stockpickr) -- Where have all the bargains gone? The U.S. stock market has been on fire for the last five years, busting through new all-time highs every since month in 2014, and with those new high-water marks for stocks, equity valuations have gotten richer too, making stock selection tough for value-seeking investors.
The good news is that while "cheap" stocks have been harder to find, they're still out there. To find them, we're tearing the lid off of Wall Street's "bargain bin" today.
In our search, we're focusing in on stocks that currently trade near book value per share, a number that (generally) means that a company costs about as much to buy as the value of the stuff it owns. In other words, investors are putting too big a discount on future earnings.
Often, stocks trade under book value for good reasons. It could mean, for example, that a company has a major black cloud ready to disrupt its businesses, or that its liabilities are under-represented on its balance sheet. To combat those value traps, we're focusing on larger bargains with consistent profitability, and assets that are primarily financed with equity rather than debt.
Without further ado, here's a look at four stocks from Wall Street's bargain bin.
Chevron
Some bargain stocks are hiding in plain sight. Case in point: Chevron (CVX) - Get Chevron Corporation Report . In spite of being a $229 billion oil and gas supermajor, shares trade for a discount compared with the other big players in the energy space -- and a recent correction in energy stocks over the past quarter has only served to underline the fact that Chevron looks cheap here. Right now, Chevron trades for 1.49 times book value.
Chevron is the No. 2 oil company in the U.S. with proven reserves of more than 11.2 billion barrels of oil equivalent, and the firm pulls 2.6 million barrels of oil equivalent out of the ground each day. A combination of high commodity prices and liquids-heavy production has meant that more of Chevron's wells are viable today -- meaning that the firm can scale up its earnings relatively easily in this energy market.
Chevron has been making good investments in resources outside of oil -- namely LNG projects, which earn high returns right now. That production prowess has helped it generate net profit margins above 10% in the most recent quarter. As I write, the firm trades for just 11.3 times the trailing year's earnings. That's a bargain-basement multiple right now.
Profitability is only part of what makes Chevron a bargain, though. The firm also carries more than $16 billion in net cash and investments, enough to cover more than 7% of the firm's market capitalization at current price levels. That cash coverage gives Chevron the best looking balance sheet in the hugely capital-intense energy industry, and it's a big risk reducer amid the threat of a drop in oil prices. It also provides an extra guarantee over the firm's 3.6% dividend yield.
Chevron typically trades at a discount to its peers, just normally not this much. As I write, Chevron's price-to-book value ratio trails its peers by 22%, more than double the discount that shares have historically sported. As the energy correction runs its course and prices normalize, expect Chevron's cheap valuation to drive bigger gains for investors who get in now.
Consolidated Edison
Regulated utility stock Consolidated Edison (ED) - Get Consolidated Edison, Inc. Report is another name that looks cheap from a book value standpoint right now. ConEd is the local power company in New York City and much of New Jersey, a power-hungry footprint that gives ED exposure to demand in one of the country's biggest metropolitan areas. Like Chevron, ConEd is a big dividend payer, particularly in the context of this record-low interest rate environment. The firm pays a 4.45% dividend yield at current price levels.
Right now, ConEd trades for 1.33 times its book value.
Consolidated Edison earns 90% of its revenues by providing steam, natural gas and electricity to customers. That large percentage of regulated business means that ConEd's numbers are more consistent than peers with a bigger mix of energy trading or merchant generation. And that's a direction that pretty much every name in the utility business has been moving towards in recent years.
Even though ConEd provides energy to its customers, don't mistake it for being an energy stock a la Chevron. Instead, regulated utilities are purpose-built income generators. And with the Fed likely to keep rates low longer than many expect, high-yield names like ED should be well-positioned to outperform.
WellPoint
WellPoint (WLP) tips the scales as one of the largest managed-care organizations in the country, boasting more than 36 million medical members under its coverage. It's also a bargain bin stock to watch right now. For the last couple of years, the black clouds of how health reform could impact some of the industry's biggest players have been a drag on performance in shares of WLP, but as those fears get resolved, this stock is starting to look cheap.
WellPoint is the licensee for Blue Cross/Blue Shield in some of the most populous states in the country, giving it a trusted brand name for corporate benefits administrators. Because of its size, WLP is able to keep administrative costs down (something that's become a mandate under new healthcare rules), and it's able to negotiate better rates with healthcare providers. Because healthcare is incredibly sticky, WLP's big scale comes with some big advantages in the years ahead.
The transition to more fee-based revenues from Medicare (as opposed to insurance underwriting revenues) is the silver lining to the Obamacare black cloud in WLP -- it gives the firm a risk-free revenue stream. And management has done a good job of demonstrating that WLP can continue to thrive in the new healthcare environment: WellPoint's margins have expanded over the last few quarters, reaching 3.96% in the second quarter.
WellPoint currently trades for a price-to-book ratio of 1.37, a number that represents a 34% discount, on average, to the firm's managed health peers. That's a big bargain on shares of WLP at the exact same time that this stock is starting to shine again.
Xerox
Last up is Xerox (XRX) - Get Xerox Holdings Corporation Report , the sole name on today's bargain bin list that's been a repeat offender: I listed Xerox as a bargain back in February, and the bet has paid off. Since then, shares of Xerox have climbed more than 23%, outperforming the S&P 500 by a big margin. The good news is that Xerox still looks like a bargain today. As I write, shares trade for a small 24% premium to book value.
Xerox is a totally different company today than it was just a few years ago. While it's still best-known for its ubiquitous office copiers, the firm has pushed away from the no-moat black and white copier business, instead focusing on areas where it can show a competitive advantage (and earn bigger margins for its trouble). Today, Xerox earns just 35% of sales from printer and copier sales. Document management, business services, and consumables like toner are the new cash cows for Xerox -- and that's helped shove net margins into the mid-single digits. As the legacy business becomes a smaller piece of the puzzle, margins should continue to grow.
While Xerox does carry $7.7 billion in debt, that burden is offset by a $2.4 billion cash and investment position that keeps the firm's overall balance sheet picture looking attractive today. Despite the fact that Xerox is now a document management company, it trades for a 67% discount to its peer group today based on book value. That bargain isn't going to last forever. XRX should continue its upside trajectory in 2014.
To see these value-centric names in action, check out the Bargain Bin Buys Fall 2014 portfolio on Stockpickr.
-- Written by Jonas Elmerraji in Baltimore.
RELATED LINKS:
>>2 Oversold Stocks Under $10 Ready to Bounce Higher
>>5 Rocket Stocks to Buy to Avoid the Selloff
>> 3 Stocks Spiking on Big Volume
Follow Stockpickr on Twitter and become a fan on Facebook.
At the time of publication, author had no positions in stocks mentioned. Jonas Elmerraji, CMT, is a senior market analyst at Agora Financial in Baltimore and a contributor to TheStreet. Before that, he managed a portfolio of stocks for an investment advisory returned 15% in 2008. He has been featured in Forbes , Investor's Business Daily, and on CNBC.com. Jonas holds a degree in financial economics from UMBC and the Chartered Market Technician designation. Follow Jonas on Twitter @JonasElmerraji