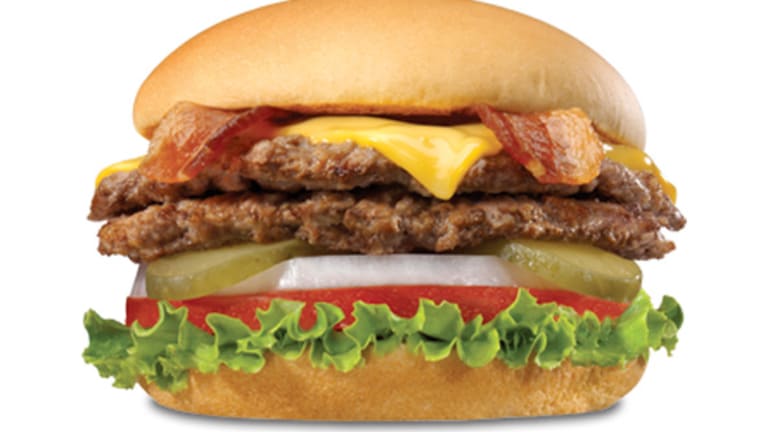 NEW YORK (Real Money) -- Hate to break it, but there is life in the burger industry outside of Shake Shack (SHAK) - Get Shake Shack, Inc. Class A Report.
And in that life, there are some major themes emerging. But here is the most basic theme: The nation's appetite for burgers remains strong -- listen, despite its struggles, McDonald's (MCD) - Get McDonald's Corporation (MCD) Report still sells a load of burgers. Statistics show that nearly 50% of consumers purchase burgers from fast-food restaurants at least once every three weeks, and approximately 21% of people eat them at a fast-casual chain at least once a month. The number of burger lovers who make their own burgers once a week has only increased by 3% since 2007.
What the likes of Shake Shack, Smashburger and Five Guys, a.k.a. the "better burger" chains, are causing is fundamental changes in the industry. The changes reach well beyond what appears on the menu. It has to do with a U.S. farming industry that is ill-equipped to handle surging demands for all-natural burgers. Every Shake Shack that opens to crowds roaring for hormone-free burgers places extra stress on the beef supply chain. In all honesty, organic beef prices may continue to climb over the next five to 10 years due to the rise in better burger fast-food chains. A couple of other major themes are below.
Refranchising: Refranchising is basically a restaurant operator unloading its owned stores onto franchisees. It does this to reduce operating expenses and collect more lucrative fee income from franchisees. McDonald's is refranchising hundreds of restaurants. Wendy's (WEN) - Get Wendy's Company Report has unloaded a ton, and will divest more in coming months.Burger King (BKW) is mostly franchisee operated. Even juice maker Jamba Juice  (JMBA) - Get Jamba, Inc. Report is going "asset light," as those in the business call it.
What refranchising is essentially doing is placing more power to create menus into the hands of franchisees. These franchisees know what their local customers want, and given that they are small business owners, are willing to take risks to cater to their clients' needs. I think we are about to embark on a period of the Great Reinvention of the American burger. We're already seeing some creative burgers from Wendy's and Burger King that have local-market flair. I believe McDonald's has a few premium burgers up its sleeves for release this summer. Seeing more premium burgers is a positive as they sell at higher price points and support sales. If you are a Shake Shack, others improving burger quality has to be a mild concern.
As of today, I don't see the publicly traded burger chains doing Shake Shack-like burgers, however. The closest is Wendy's, but it remains behind overall in terms of ingredient quality.
The return of casual-dining eateries in the burger business: If you pull up the websites of Brinker International's (EAT) - Get Brinker International, Inc. Report Chili's division and DineEquity's (DIN) - Get Dine Brands Global, Inc. Report Applebee's business, one thing is clear: Burger offerings have improved. I think over the next six months you will see the old guard in the restaurant business place an emphasis on gourmet burgers and sides, such as sweet potato fries. In many respects, they are seeking to launch burger "shop in shops" -- except there is no physical infrastructure in their restaurants, just interesting-looking burgers at premium prices on the menu.
Return of value menus: Whereas more premium burgers are going to support prices, reinvigorated value menus could be somewhat of an offset. McDonald's is already running commercials focusing on a $2 items. The Golden Arches are likely to unveil a more comprehensive list of value offerings in coming months -- higher-priced than the dollar menu (which is not as profitable as it used to be due to inflation), but attainable for those on a budget in need of calories. Wendy's offers a $1.49 fried chicken sandwich and has plans to bolster its value marketing and menu mix going forward. Sonic (SONC) also remains very aggressive on marketing its affordable menu options.
Kudos to Shake Shack for causing the establishment to up their burger games. The question is whether by 2016 those raised games at much larger rivals weigh on the red-hot Shack.
Editor's Note: This article was originally published at 11 a.m. EDT on Real Money on June 4.
This article is commentary by an independent contributor. At the time of publication, the author held no positions in the stocks mentioned.