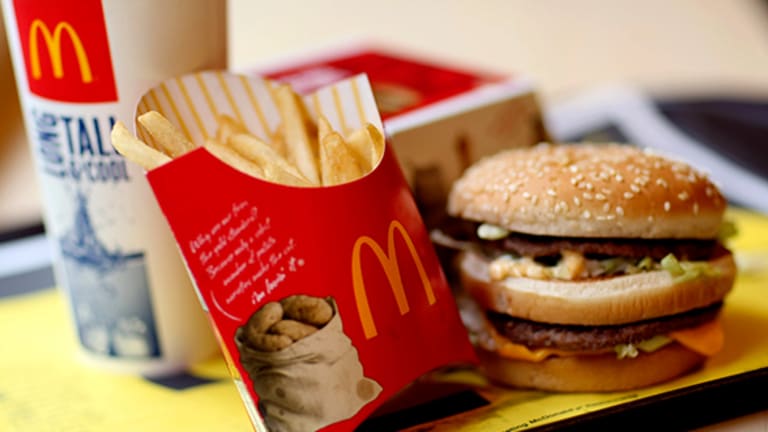 3 Top Ways McDonald's Is Trying to Win Back U.S. Customers
McDonald's CEO called the U.S. 'a burning priority' in outlining several changes the burger giant is planning to make at its restaurants.
NEW YORK ( TheStreet) -- McDonald's (MCD) - Get Report is leaving no fry unturned in its efforts to engineer a turnaround in the U.S.
"Clearly, the U.S. is a burning priority," said McDonald's CEO Steve Easterbrook at Sanford C. Bernstein's Strategic Decisions Conference in New York on Wednesday.
Calling it the "early days" in its bid to reverse several quarters of weak U.S. sales, Easterbrook said that the burger giant is already seeing "an acceleration in new product innovation" from franchisees. Recent efforts by McDonald's to refranchise hundreds of restaurants in the U.S. have put more power into the hands of franchisees, allowing them to create new menu items based on local preferences.
The hope is that innovation begins to attract customers who have increasingly gravitated to "better burgers" from fast-food chains such as Five Guys, Restaurant Brands International's (QSR) - Get Report Burger King and upstart Shake Shack (SHAK) - Get Report.
TheStreet takes a look at three things McDonald's is focusing on to right its ship in America.
1. Fixing the drive-thru
In the U.S., 70% of McDonald's sales are derived from the drive-thru. However, this key area of the business has been plagued in recent years by slow service, borne in part from the yawning size of the menu. Now, McDonald's is beginning to refine its menu. Easterbrook said McDonald's is increasing the number of U.S. restaurants offering two side-by-side drive-thru stations to ease traffic. A new scaled-down menu board will also be put in place, which should help hurried customers choose their food more quickly.
2. Improving the food
McDonald's has been surprisingly slow to adapt to changing consumer preferences for higher-quality, healthier ingredients, a trend that's driving strong results at Chipotle (CMG) - Get Report and Shake Shack. On Tuesday, Yum! Brands (YUM) - Get Report announced it would remove artificial ingredients from its food at Taco Bell and Pizza Hut.
"We continue to evolve our menu to meet the changing tastes and needs of our customers -- we're looking at a number of options for what this next evolution will be, but don't have specific plans we can share at this time," McDonald's spokeswoman Lisa McComb wrote in an email.
Instead, McDonald's has turned its attention to ensuring its food comes out hot and people know basically how it's made. "We will continue to do more of this," Easterbrook said. McDonald's is now toasting its hamburger buns for longer so that burgers arrive hotter to the consumer and their first bite is crispier. Burger meat is also being seared differently than in the past to increase juiciness. "These little things add up", Easterbrook said.
3. A better product and pricing strategy
Although coy on specifics, Easterbrook suggested McDonald's will be employing something of a barbell strategy in its product offerings, with the menu increasingly split between value offerings and more premium items. "We have a new value program for the summer," Easterbrook said, declining to share specifics. Peter Bensen, McDonald's chief administrative officer, followed that up by noting a vote is being put to franchisees to offer a new value program this summer. 
On the other hand, Easterbrook said the chain is also "focusing on premium items," which suggests that more expensive sandwiches such as the sirloin burger or artisan grilled chicken sandwich could show up on menus soon. A barbell strategy would serve to attract both lower-income customers and those with more money to spend.
This article is commentary by an independent contributor. At the time of publication, the author held no positions in the stocks mentioned.