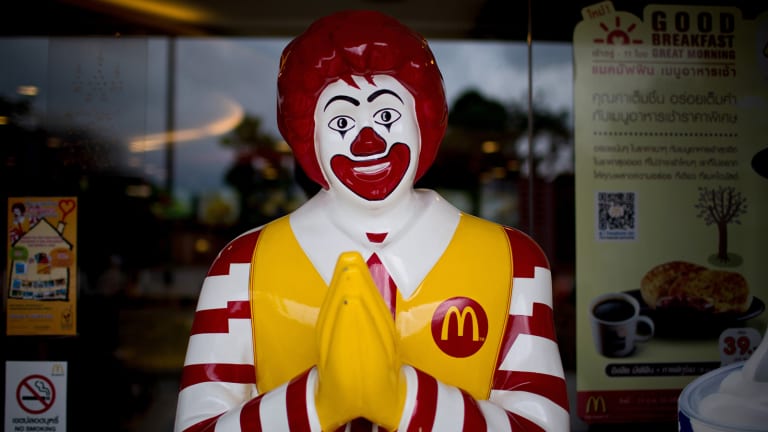 3 Major Changes McDonald's New CEO Is Making to Save the Golden Arches
'Our business model strength is enduring,' says McDonald's CEO Steve Easterbrook in a taped video. But he admits the company's 'recent performance has been poor; the numbers don't lie.'
'Our business model strength is enduring,' says McDonald's CEO Steve Easterbrook in a taped video. But he admits the company's 'recent performance has been poor; the numbers don't lie.'
Updated to include additional comments from McDonald's CEO Steve Easterbrook.
NEW YORK (TheStreet) -- In a pre-taped 23-minute video, and live presentation for Wall Street, new McDonald's (MCD) - Get Report CEO Steve Easterbrook laid out the future of the Golden Arches but also acknowledged it will take some time to turn the business around.
"Our business model strength is enduring," said Easterbrook in a taped video, before he stepped in front of franchisees from around the globe at McDonald's headquarters in Oakbrook, Ill., on Monday. But, he admitted, "our recent performance has been poor; the numbers don't lie."   To bolster performance, Easterbrook outlined such things as a menu that is easier to order from inside the restaurant and via the drive-thru, and more availability to personalize one's burger.
However, Easterbrook cautioned that in spite of the company's new turnaround initiatives, he expects sluggish sales to "persist through at least the first half of the year."
Dealing with mounting concerns by consumers on food quality and their preferences for "healthy" fast food from the likes of Chipotle (CMG) - Get Report and Shake Shack (SHAK) - Get Report, McDonald's U.S. same-store sales have fallen for six straight quarters. Overseas, regions like McDonald's Japan and China have seen pressure on sales as a result of these food-quality concerns. The company also faces greater pressure from Starbucks (SBUX) - Get Report and chains owned by Yum! Brands (YUM) - Get Report, such as KFC.
TheStreet takes an instant look at three things Easterbrook divulged in the hopes of reviving sales.
1. A major refranchising initiative.
In a bid to boost profits, McDonald's will seek to refranchise some 3,500 restaurants over the next four years. It previously expected to refranchise 1,500 locations. The move will make McDonald's 90% franchisee operated globally, up from 81% currently.  "I have a strong philosophical belief in franchising," said Easterbrook.
As part of the business model shift, McDonald's hinted at further cuts in staff at its headquarters on top of ones made earlier in the year.  McDonald's expects to save about $300 million from this restructuring by the end of 2017.
Ultimately, it will place an extra emphasis on franchisees to develop new menu items to cater to local taste preferences and to drive sales.  Franchisees will also have to become more creative in reaching consumers.  Easterbrook referenced new tests of all-day breakfast in certain San Diego markets and delivery at 88 restaurants in Manhattan with upstart delivery platform Postmates.
2. There is too much red tape at McDonald's.
For McDonald's to compete more effectively, it has to move more quickly to implement new ideas, either on its menu or operationally. That has been difficult, however.
"The structures are cumbersome, decision-making too slow," stressed Easterbrook.
To free up the flow of ideas inside the organization, McDonald's will reorganize into four segments -- the U.S., international, high-growth markets and foundational markets. Each segment will be overseen by one division president.  According to Easterbrook, the "speed of knowledge transfer" amongst division heads will improve as a result of the new segment structure.
3. Improve food quality.
"The world has moved faster outside over the last five years than inside," said Easterbrook.
One area where things have moved quickly is demand by consumers for better ingredients in fast food. Chipotle, for example, just announced that its entire menu is free of controversial genetically modified organisms. Easterbrook said McDonald's is "recommitted to hot, fresh food," and is seeking to bolster food quality and perception on what it serves.  
The CEO suggested on the call with analysts that recipes may be tweaked to better address consumer concerns.  But when pushed, Easterbrook was non-committal on the timing of those recipe changes and what those changes might be. "Consumers are reframing the conversation around food," admitted Easterbrook in response to a question by TheStreet. He added, "We are a wonderfully democratic brand," and said to "expect changes."  
Earlier this year, McDonald's announced that it would be removing hormones from its milk and chicken.  But in the end Easterbrook concluded, "We all need to step up our game." 
This article is commentary by an independent contributor. At the time of publication, the author held no positions in the stocks mentioned.