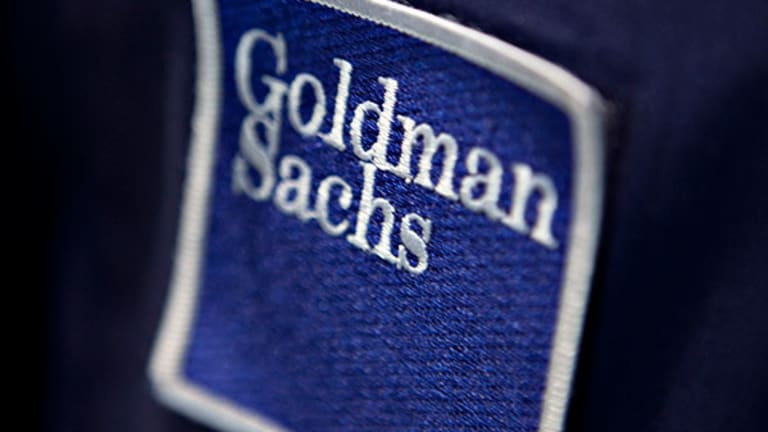 3 Takeaways From Goldman Sachs Quarterly Earnings Blowout
Goldman Sachs GS smashed through analyst estimates when it released earnings before the bell Thursday morning.
NEW YORK (TheStreet) -- Goldman Sachs (GS) - Get Goldman Sachs Group, Inc. Report smashed through analyst estimates when it released earnings before the bell Thursday morning.
Earnings were $5.94 per share and revenue was $10.62 billion compared with analyst estimates of $4.26 and $9.35 billion respectively. The bank announced it would increase its dividend to 65 cents a share from 60 cents last quarter.
Goldman saw all its business units contribute to the blowout quarter. Investment banking activity was up 7% from the first quarter of 2014. Revenue from investment banking was $1.91 billion, which was the bank's highest quarterly performance since 2007.
The real winner, though, was the bank's institutional client services division, which houses trading activity. Total revenue for the division was up 23% from the first quarter of 2014. Revenue in equities was up 46% from the same period.
In a press release, the investment bank cited higher net revenue from securities services thanks to higher account balances. Also, like JPMorgan (JPM) - Get JPMorgan Chase & Co. Report, Goldman saw an increase from last quarter in its fixed income, currency and commodities (FICC) desk with trading in currencies and interest rate products leading the charge.
On a call with analysts following the earnings release, the focus was on investment banking activity, trading, and the bank's response to regulatory demands.
Investment Banking Activity 
Goldman saw impressive activity in its investment banking unit. The bank cited high M&A activity in the U.S. and highlighted some of its recent transactions including Allergan's acquisition by Actavis.
While Goldman's transaction backlog has decreased since the fourth quarter of 2014, it is significantly higher than it was during the first quarter of 2014.
During the analyst call, Goldman CFO Harvey Schwartz also acknowledged that greater deal activity could in fact be a catalyst for additional deal activity. Net revenue from Goldman's financial advisory unit increased 41%.
Trading Activity 
While other banks have shed some of their trading operations following pressures from financial regulators, Goldman has been rewarded so far for keeping its trading business largely intact. Even though currencies and interest rates were the winners for FICC this quarter, trading activity in commodities was still significant given volatility in the oil and natural gas markets.
"This reinforces the need to be in a position to provide liquidity and financing," Schwartz said the on the call. Analysts had mentioned earlier in the call that there are fewer banks engaged in commodities trading.
Similarly, the bank benefited from trading activity brought on by the European Central Bank's announcement of its (ECB) quantitative easing program. The ECB's entrance into quantitative easing just as the US is winding down its own QE program propelled trading in currency and interest markets.
The announcement of Europe's QE program also benefited the bank's equity and derivatives business as traders sought ways to trade on the news in European markets.
Regulatory Concerns
Heavily tied to Goldman's trading activity are concerns about the bank's response to increased regulations. While other banks -- most notably JPMorgan Chase -- exited their commodities business, Goldman persisted.
During last month's Fed stress tests, Goldman appeared to falter a little bit amid questions that it was sufficiently covered to manage the risks of engaging in riskier trading activities.
Goldman's bet has been that not only are they well-capitalized, but they will also benefit from being one of the remaining players in this space as the economy continues to recover from the 2008 U.S. financial crisis.
The bet appears to have been paid off, as Goldman announced that it will be able to increase its dividend by 5 cents this quarter.