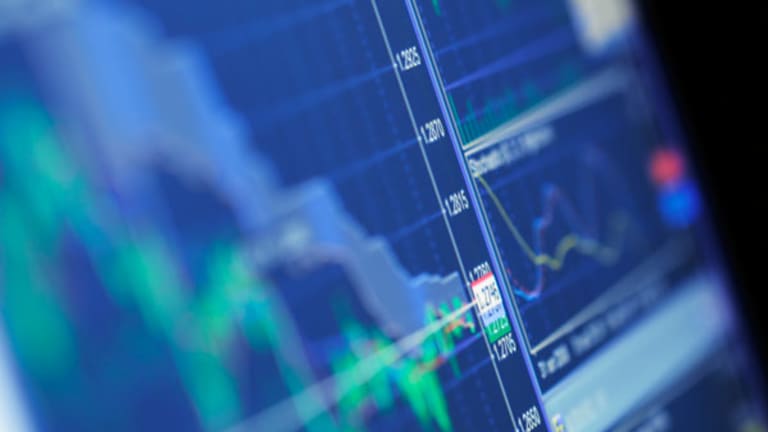 3 Stocks With Rising Analyst Expectations
Stocks with rising expectations often benefit from increased buying pressures from institutions and retail investors alike. Here are three stocks that could head higher this week.
BALTIMORE (Stockpickr) -- Stocks were trading mostly lower Monday morning, despite technical upside in broad-based indices and hopes for strong retail sales numbers for Black Friday later this week.
are going to get a substantial amount of attention this week thanks to the latter, the busiest shopping day in the U.S., which acts as a major indicator of consumer sentiment for the year to come.
>>Also:
Real market-moving potential could also come from the Thanksgiving market holiday's shortened trading hours. This week, as usual, we'll attempt to eke maximum gain potential out of the market by turning to five more Rocket Stocks.
For the uninitiated, Rocket Stocks are our weekly list of companies with short-term gain catalysts and longer-term growth potential. In the last 79 weeks, Rocket Stocks have outperformed the S&P 500 by 77.51%. A new week, a new set of Rocket Stock plays.
>>Also:
Cramer's Stocks to Watch This Week
This week, we'll continue our trend of looking at stocks with rising analyst expectations. On Wall Street, expectations can mean everything -- and stocks with rising expectations often benefit from increased buying pressures from institutions and retail investors alike. To find them, I run a quantitative screen that seeks out stocks with a combination of analyst upgrades and positive earnings surprises.
Here's a look at
.
Covidien
(COV)
Covidien, the Ireland-based pharmaceutical and medial device maker, has been having a relatively tepid year in 2010, but that shouldn't dissuade investors from taking a good hard look at this stock as we approach 2011. That's because this company boasts an enviable product lineup and a number of pipeline drugs that are poised to capture large new markets.
The company already leads the market with its bariatric products, designed to be used for obesity surgeries. Those surgeries are on a significant uptick here in the U.S. and are expected to grow by a factor of five in the next decade.
>>Also:
5 Stocks Insiders Predict Will Outperform
Likewise, the firm's pharmaceutical arm has captured attractive niche markets that would take significant R&D costs for a competitor to attempt to enter.
As with many well-run medical companies, Covidien took on the recession as an opportunity to solidify its core business and divest itself of peripheral business lines that don't offer high growth potential.
Today, the company stands with a strong balance sheet and impressive cash generation abilities. Those attributes have been enough to get Covidien to increase its quarterly dividend payouts in the last quarter, a move that should help attract more income-focused investors to the company's shares.
>>Also:
Dividend Stocks: Intel, ADP, Wendy's
We're betting on shares at the heels of the firm's fourth-quarter earnings release.
Duke Energy
(DUK)
Regulated utilities are undergoing an image adjustment lately, as scores of these firms have begun to sport double-digit net margins and continued record dividend yields. It wasn't long ago that these stocks were universally thought of as the safe, boring choice for dividend investors. Now however, they're proving attractive for investors on the market for capital appreciation as well.
>>Also:
Top-Rated Electric Utility Stocks
One of the best utilities on the market today is Duke Energy, a company that boasts the position of being one of the largest regulated electric and gas utilities in the world, delivering its resources to more than 4 million customers in the Midwest. The company also own hydroelectric generation facilities in Brazil and Peru, attractive markets where demand for electricity is on the upswing.
Duke fuels its growth through substantial investments in capital resources, a good thing for investors who often see management teams hesitant to part with cash at the expense of long-term profits.
>>Also:
Interestingly, Duke's chief executive isn't paid in cash. Instead, CEO Jim Rogers (not to be confused with the famous investor of the same name) is paid entirely in stock options and performance-based share grants, a compensation scheme that aligns his interests with those of his long-term stakeholders.
Increasing analyst sentiment has put Duke Energy on my radar this week. As a result, we're betting on shares of this Rocket play.
>>Also:
10 Mid-Caps Favored by Analysts
St. Jude Medical
(STJ)
Another stock that's benefiting from increased analyst sentiment is St. Jude Medical, a $13 billion medical device supplier that specializes in cardiovascular devices such as mechanical heart valves and pacemakers.
Shares of the company have enjoyed a 7.5% capital gain in 2010, but that's essentially at parity with the S&P's overall move year-to-date. As we approach 2011 with solid fundamentals, St. Jude could climb ahead of the market.
>>Also:
Cramer's Undeniable-Bullishness Stocks
As with Covidien, St. Jude benefits from enviable market positioning for its core medical products. Growth through acquisition has been St. Jude's primary strategy for expanding top-line numbers, and so far, it's been an effective one. The company has bought up a portfolio of promising therapies, many of which have yet to make it to market -- a sign that significant upside potential still exists in the firm's IP coffers.
While foreign sales already make up more than 45% of total sales, with St. Jude expanding the reach of some major products to international markets in the next few years, now could be an especially good time to be a shareholder of this company. We'll latch onto that potential growth during this shortened trading week.
>>Also:
5 U.S. Stocks With Emerging-Markets Upside
For more stocks that made this week's cut, including
Qualcomm
(QCOM)
and
Analog Devices
(ADI)
, check out
at Stockpickr.
RELATED LINKS:
>>Two Pair Trades for Absolute Returns
>>Must-See Charts: Ford, Regions, Cisco
>>4 Defensive Stocks to Pad Your Portfolio
Follow Stockpickr on
and become a fan on
Facebook.
At the time of publication, author had no positions in stocks mentioned.
Jonas Elmerraji is the editor and portfolio manager of the Rhino Stock Report, a free investment advisory that returned 15% in 2008. He is a contributor to numerous financial outlets, including Forbes and Investopedia, and has been featured in Investor's Business Daily, in Consumer's Digest and on MSNBC.com.