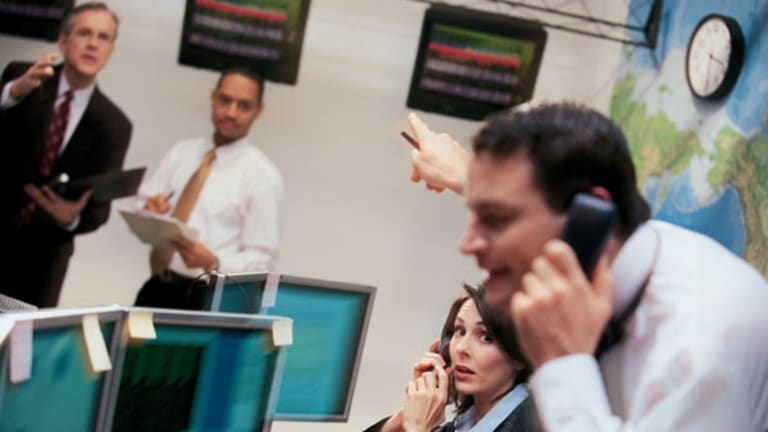 Publish date:
3 Stocks With Ever-Increasing Dividends
These companies have plenty of money for dividend boosts.
These companies have plenty of money for dividend boosts.
NEW YORK (Stockpickr) -- Over the past few years, companies have begun to pay a lot more attention to their dividends. The move to faster-rising payouts can be viewed cynically: Companies have simply run out of growth opportunities and don't have any better uses for cash these days.
But the more optimistic view likely holds more merit: Companies are now so profitable that they can afford to invest in future growth initiatives and still have plenty of money left over for dividend boosts.
>>5 Sin Stocks to Play Defense
Here are
that look positioned to take their already-respectable dividends to new heights in coming years.
Ford
Auto maker
Ford Motor
(
) has spent a hefty $24 billion over the past five years to modernize its manufacturing plants, build a major presence in China and develop a range of new models that will be hitting showrooms over the next year or two. Management has also been paying down debt (the auto maker has a $63 billion smaller debt load than it did at the end of 2007), to the point that current levels are just about right.
With all of those heavy expenditures now complete, Ford has just begun to pay a lot more attention to a dividend that was eliminated at the end of 2006. Ford paid out a nickel a share to investors in 2011, 20 cents a share in 2012, 40 cents a share in the current year -- and a little math shows that this payout can go much higher.
>>3 Big Stocks on Traders' Radars
Let's assume that Ford starts to earmark 35% of its cash flow to its dividend -- a payout ratio that is still below the level that many companies target. Ford has averaged $7 billion in operating cash flow annually over the past three year, and if 35% ($2.45 billion) of that went to dividends, then the dividend would rise to 64 cents a share, working out to a 4.2% dividend yield.
Yet it's the forward view that counts. Ford's North American operations generate nearly $10 billion in operating cash flow, but major losses in Europe are dragging down overall results. If you assume that Ford's European operations will move toward break-even over the next few years, and if you assume that U.S. auto sales will rise another 10% from current levels by 2015 (to around 17 million units), then Ford looks set to generate at least $10 billion in total operating cash flow by then. At that point, Ford's dividend would approach almost $1 a share, assuming that 35% payout ratio is the target. That's a 6.5% yield, in relation to the current stock price.
MasterCard
Credit card issuer
MasterCard
(
) really saw its business take off since the middle of the last decade. As it expanded its global reach, revenue shot up from $3.3 billion at the end of 2006 to $6.7 billion at the end of 2011. Still, the divided was stuck at 60 cents a share annually throughout the growth phase. Management thought it wise to preserve most of the cash flow to help fuel that international sales growth.
>>5 Big Trades for a Ping-Pong Market
These days, MasterCard is settling into a more mature phase, as revenue grew around 10% in 2012 (to $7.4 billion) and is expected to rise at a similar pace in 2013 and 2014. Yet even as the top line matures, this is still a remarkable bottom-line story. MasterCard's profit margins are already quite robust and growing higher still, thanks to a largely automated business model when additional incremental revenues flow quickly to the bottom line. Prior to last year, Master Card never earned more than $15 a share in its history before 2010. Now the company is on track to earn $25 a share this year and perhaps $30 a share next year, according to consensus forecasts.
Management has already responded by doubling the dividend to $1.20 a share in 2012 and doubling it again in 2013 to $2.40 a share. Guess what? That dividend is bound to double again, if not in 2014 then soon thereafter. Frankly, Mastercard's profits are now so robust that we may be looking at a $10 a share dividend by the end of the decade, especially as this company's cash is piling up so fast (recently exceeding $5 billion) and it carries no debt. Soon management will have almost no need to retain profits, at which point the dividend could be sharply hiked.
GameStop
For several years, investors have been anticipating the end of the video game console business as more gamers move their action on line. That concern pushed shares of
GameStop
(
), the nation's leading video game and console retailer from $45 in early 2008 to just $16 by last summer.
>>5 Stocks With Big Insider Buying
GameStop's management insisted that the future wasn't quite so bleak. It defended the stock through share buybacks -- the share count fell by nearly 40 million from fiscal (February) 2009 to 2012 to around 126 million -- and now appears increasingly committed to dividend boosts. GameStop issued its first ever dividend (80 cents a share) in 2012 and hiked it $1.10 a share this year.
That dividend can go far higher. Why's that? Because GameStop's business suddenly look a lot healthier than it did just a year or two ago. Sales trends have improved as the economy has stabilized, and new video consoles from
Microsoft
(
) and
Sony
(
) are likely to lead to rising demand for video game titles that can play on those new consoles.
To be sure, sales are on track to dip slightly in the current fiscal year, before rising roughly 6% in fiscal 2015 to around $9.2 billion. More important, per-share profits are expected to hit a company record $3.65 a share by next year. Look for the dividend, which already yields around 3%, to keep on rising in tandem with profits.
To see these dividend growers action, visit the
3 Firms That Can Keep Boosting Dividends
portfolio.
RELATED LINKS:
>>4 Hot Stocks to Trade (or Not)
>>5 Stocks Under $10 Set to Soar
>>5 Buy Signals From the Health Care Sector
Follow Stockpickr on
and become a fan on
Facebook.
Stockpickr is a wholly owned subsidiary of TheStreet.com.