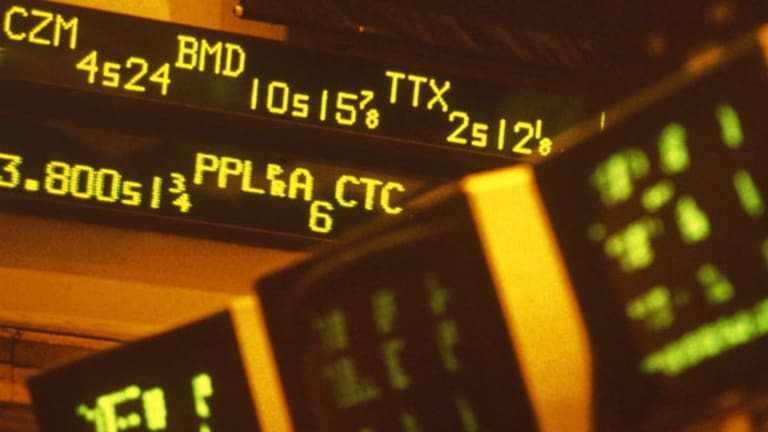 3 Stocks Setting Up to Break Out
These breakout stock candidates have big upside potential from current levels.
WINDERMERE, Fla. (Stockpickr) -- The U.S. stock market is in full bull mode as stocks continue to power higher and look ready to put in their third straight week of gains.
It seems like the market is taking just about everything negative being thrown its way, brushing it off and trending higher. All of the major U.S. averages are now trading near or at brand new 52-week highs. There's no doubt that this action has surprised a lot of investors, but it goes to show why it pays to follow the trend and price action.
What's even more bullish about the current market action is that new sectors such as
and
are starting to lead, while old leaders such as
continue to act well. The emergence of multiple sectors acting bullish bodes well for future prices. It shows that the large institutional money managers are finding stocks that look attractive across the entire spectrum of the market.
Related:
6 Solar Stocks That Are Heating Up
If the
ever decide to join the party, then the market could really get some new juice that could spark an even bigger sustained rally. Until that happens, market players still have plenty of nonfinancial names to chose from that are trending higher and breaking out.
Trading breakouts is not a new game on Wall Street. This strategy has been pioneered by legendary traders such as William O'Neal, Stan Weinstein and Nicolas Darvas.
A breakout occurs when a stock makes a move through a significant level of support or resistance, which is usually followed by heavy volume and increased volatility. Wall Street players love to see an upside breakout because it demonstrates strength in the underlying asset as the price breaks above a level of previous resistance. An upside breakout can also take a stock to new highs, which will generate a lot of interest as the stock shows up on sophisticated software that scans for this type of action.
Here's a look at a number of solid
that could have big upside potential from current levels.
Intuit
One stock that's already starting to break out is
Intuit
(INTU) - Get Intuit Inc. Report
, a provider of business and financial management solutions for small and medium-sized businesses, consumers, accounting professionals and financial intuitions. This stock is off to a solid start in 2011 with shares up around 9.9%.
If you take a look at the chart for Intuit, you'll see that the stock has started to breakout substantially above some past overhead resistance at around $50.54 a share. This breakout, which has now moved the stock around four points above the resistance level, was sparked by some very bullish fundamental new the company reported this morning. Intuit, which is the maker of TurboTax and QuickBooks accounting software, reported a profit of 32 cents per share, which beat Wall Street expectations and raised its quarterly earnings forecast.
What's now great about this breakout for INTU is that the move is coming on very heavy volume. So far on Friday, volume has already exceeded the three-month average trading action of 3 million shares by over 1.5 million shares. This shows that large institutional money managers want to get in on this story following the company's bullish earnings report. This also could mean that a new bullish trend could be setting up for INTU that takes the stock significantly higher in the coming months.
I wouldn't chase the stock today since it's already up handsomely, but I would suggest putting this name on your breakout trading radar for a future play. On any significant pullback in the near-term, I would look to add to this stock and jump aboard this bullish trend. I would also use the breakout price which is around $50.54 as my stop in case for some reason the trend were to change.
As of the most-recent quarter,
held 29.21 million shares of Intuit, which comprises 2.1% of the total Primcap portfolio. Jamie Dlugosch highlighted the stock earlier this week as one of
three earnings trades for the week
.
Deckers
Another stock that has already started to break out is market leader
Deckers Outdoor
(DECK) - Get Deckers Outdoor Corporation Report
, which is engaged in designing, producing, marketing and brand managing of footwear and accessories. So far in 2011 this stock has gained around 13%; last year, the stock was a clear market leader, advancing by over 100%.
If you take a look at the chart for Deckers, you'll notice that this stock has been in a powerful uptrend where shares have been making higher highs and higher lows during the past six months. That powerful uptrend did stop for a short period at the start of 2011, but now it has resumed and the stock is forming a significant breakout. Shares of Deckers have now started to breakout above some past overhead resistance at around $87.88 a share.
This is a significant breakout because the last time the stock hit that resistance level it sold off by around ten points and even managed to break below the 50-day moving average. However, now Deckers is breaking out and this bullish price action is coming on huge volume. On Thursday, the stock traded higher and volume clocked in at 3.3 million shares, which is substantially better than the three-month average trading activity of 1.7 million shares.
If this stock continues to trend higher, and more importantly hold the breakout level, then I think the stock will easily hit $100 a share if not even higher. Keep in mind that when you see big volume breakouts like we have here in DECK, it increases the probability for higher prices dramatically.
In most-recent quarter,
increased its stake in Deckers by 10%. The stock now comprises 1.75% of Buckingham's total portfolio. Deckers was one of
, and it was one of Sterne Agee's
12 top consumer stocks for 2011
.
Great Panther Silver
One more stock that looks poised to break out is
Great Panther Silver
(GPL) - Get Great Panther Mining Limited Report
, which engages in the acquisition, exploration, development, and operation of mineral properties and mines in Mexico. It focuses on the exploration of gold, silver, lead, zinc and precious metals. This stock could be starting to heat up right now as the
iShares Silver Trust
(SLV) - Get iShares Silver Trust Report
, which tracks the spot price of silver, is also starting form a technical breakout.
If you take a look at the chart Great Panther Silver, you'll see a stock that's been in a solid uptrend during the past six months. During that timeframe, the stock has advanced from 65 cents a share to its current price of close to $3 a share. Despite that huge move, the stock is now technically setting for possibly even higher prices.
This precious metals play has started to breakout above some past overhead resistance levels around $2.92 to $2.93 a share. This breakout shouldn't be taken lightly, because if it does hold, it will start to move the stock into brand new all-time territory. What's great about a stock that prints a new all-time high is that it has no overhead resistance that could spark future selloffs. Basically, everyone who's ever bought this stock is now making money and that's the kind of company I want to be in when I own a stock.
The breakout action on the stock today is even more bullish when you take a look at the huge volume that's starting to move into the stock. On Thursday (an up day for the stock), over 1 million shares changed hands which is notably higher than the three-month average trading volume of just 499,000 shares. Just today, there have already been over 1.4 million shares that have traded for GPL which is even more significant because the stock broke out.
What this tells me is that some significant money is flowing into the stock now that GPL has managed to get above that $2.90-to-$2.93 level which had been an area the stock has sold off from three times in the past couple of months. This move is significant and the huge volume increases the probability for much higher prices in the future. It wouldn't surprise me to this stock double from current levels if the trend higher remains in place and if the breakout levels hold.
To see more breakout action in stocks such as
Aruba Networks
(ARUN)
,
Advanced Micro Devices
(AMD) - Get Advanced Micro Devices, Inc. Report
and
Research In Motion
( RIMM), check out the
portfolio on Stockpickr.
-- Written by Roberto Pedone in Winderemere, Fla.
RELATED LINKS:
>>Stocks That Could Benefit From M&A
>>3 Old Stocks: Will They Soar Again?
Follow Stockpickr on
and become a fan on
Facebook.
At the time of publication, author had no positions in stocks mentioned.
Roberto Pedone, based out of Windermere, Fla., is an independent trader who focuses on stocks, options, futures, commodities and currencies. He is also an outside contributor to Beconequity.com and maintains the website Maddmoney.net, which he sold to Blue Wave Advisors in 2008. Roberto studied International Business at The Milwaukee School of Engineering, and he spent a year overseas studying business in Lubeck, Germany.