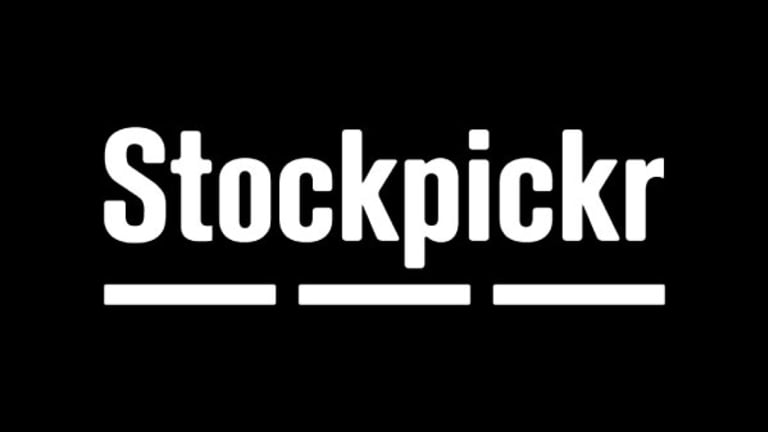 3 Stocks Setting Up to Break Out
Here's a look at some solid breakout stock candidates that could have big upside potential.
WINDERMERE, Florida (Stockpickr) -- Through my experience in trading the markets, I have learned to focus on the behavior and action in individual stocks over the action in the overall market.
This does not mean I ignore what the overall market is doing, but my experience has taught me that it's far more important to watch how key stocks are acting. This strategy has served me so well because a strong stock -- or a weak one for that matter -- is going to do whatever it wants to do, no matter which way the market wants to go.
Case in point is the action in red hot movie-streaming and DVD-subscription company
Netflix
(NFLX) - Get Netflix Inc. Report
today. I
at around $185 a share as a breakout trade because the stock was acting ridiculously strong in a very weak tape.
Low and behold, today the stock is trading higher by around 2% near $196 a share, despite the fact that the
Dow Jones Industrial Average
is down 130 points, or 1.18%, and the
S&P 500
is off 11 points, or 1.01%. This stock looks like it's on its way to $200 a share and possibly much higher if the trend up continues.
>>Also:
As you can see from this example, Netflix refused to go down during a weak tape last week and during a weak tape today. The sea of red on my trading screen made it easy to spot the strength in Netflix last week since the stock was bucking the overall trend. This is again why I love to focus on the action in individual stocks over the action in the broad market averages.
Netflix also broke out last week, which made the stock even stronger since it was breaking out in a challenging environment. Breakouts are a great way to spot and isolate strength in a stock before it makes a big move like Netflix did. The strategy of trading breakouts was pioneered by legendary traders such as William O'Neal, Stan Weinstein and Nicolas Darvas. A breakout occurs when a stock makes a move through a significant level of support or resistance, which is usually followed by heavy volume and increased volatility.
Wall Street players love to see an upside breakout because it demonstrates strength in the underlying asset as the price breaks above a level of previous resistance. An upside breakout can also take a stock to new highs, which will generate a lot of interest as the stock shows up on sophisticated software that scans for this type of action.
>>Also:
7 Stocks to Buy for a Santa Claus Rally
Here's a look at a number of solid
that could have big upside potential.
One market leader that looks ready for a big breakout is
Sina
(SINA) - Get SINA Corp. Report
, which operates as an online media firm and information service provider in the People's Republic of China. This name has been a market leader in the Chinese Internet space, with shares up 43% so far this year.
If you take a look at the chart for Sina, you'll see that the shares are starting to break out above some previous overhead resistance at around $63.50 a share. This breakout is coming on volume that should easily eclipse the three-month average trading activity of 1.5 million shares, with volume already tracking in at 1.4 million this afternoon. Some of the reason that Sina is acting so strong is because traders want exposure to the company's Web site Weibo, a micro-blogging destination that some have called China's Twitter.
>>Also:
Top-Rated Internet Software & Service Stocks
This microblog service has grown to 50 million registered users, which makes it the largest service of its kind in China, according to analysts. So far, over 2 billion tweets have been published by Weibo users, and the company has opened up its platform to apps, with over 800 applications in use right now. Even Sina's CEO sees big potential with Weibo. He recently said that one day it could grow big enough to become the firm's largest revenue source.
Here we have a situation like with Netflix, where Sina is breaking out while the overall broad markets are acting weak. This clearly demonstrates that the stock is in strong demand by institutional money managers. What I like even more about this breakout in Sina is that the stock is now trading at all-time highs. This is the perfect storm for a stock because it means that there's no more overhead resistance and just about everyone who has bought shares is making money.
>>Also:
Top Holdings of Hedge Funds in FBI Probe
It's also worth noting that around 8.8% of the tradable float of 61 million shares is currently sold short by the bears. The shorts even increased their positions during the last reporting period on Nov. 15 by 9.6%, or 426,951 shares, to a total short position of 4.9 million shares. I have absolutely no idea why anyone would short a stock at all-time highs because this constitutes nothing but trend fighting. I would look for this stock to trade towards $70 a share for the next reasonable target, but ultimately if the trend up continues, I think it could see $100.
Another stock that looks ready for a powerful breakout move is
MRV Communications
(MRVC: Pink Sheets), a supplier of communications solutions to telecommunications service providers, enterprises and governments worldwide. So far year-to-date this stock is up a whopping 135%. I don't love that this stock trades on the pink sheets, but a breakout is a breakout nonetheless.
The chart for MRV Communications looks very strong with shares now starting to move above some significant overhead resistance at around $1.60 a share. This breakout is a pretty major move because the last time the stock was trading close to $2 a share was back in 2008. Now with the stock currently trading near $1.66, we're in shouting distance of that key $2 level.
>>Also:
Top-Rated Communications Equipment Stocks
Another reason I like the action in MRV Communications is because volume during the entire month of November has been very strong. Just take a look at the volume on Friday, which saw over 1 million shares change hands as the stock closed higher, which is well above the three- month average trading volume of just 309,000 shares. Two other recent up days, Nov. 22 and Nov. 23, saw volume come in above 700,000 shares, again much higher than the three-month average. This shows that there's demand in the market for this stock and could be a signal that shares will move much higher in the future.
I would also like to point out that
at MRV Communications have made notable purchases of the company's stock recently. Director Charles Gillman bought 181,271 shares or $256,575 worth of stock, and director Kenneth Shubin Stein bought 150,000 shares or $208,900 worth of stock. Both of these transactions occurred early last week with the stock trading around $1.39 to $1.46 a share.
>>Also:
20 Stocks With Large Insider Selling
The next significant area of significant resistance for MRV sits at $2 a share, and if the stock gets through that level I would set targets for $2.50 to $3.50 a share. I think this stock can trend up toward $3.50 as long as we don't see any big volume down days start showing up on the tape.
One final breakout candidate that market players should put on their radar is
Krispy Kreme Doughnuts
(KKD)
, which operates as a branded retailer and wholesaler of doughnuts and packaged sweets. This stock has been a huge winner so far in 2010, with shares up a remarkable 103%. Despite that huge run, Krispy Kreme could be about to move much higher if the stock can manage to break out.
If you take a look at the chart for Krispy Kreme, you'll see that shares are setting up to potentially form a major breakout if it can manage to take out $6 to $6.02 a share. This breakout would be significant because twice in the past two months the stock has failed and sold off after reaching those levels. What I like about the potential for the breakout in KKD here is that volume is tracking very bullish as I write this, with over 1.4 million shares traded so far vs. the three-month average trading volume of 517,000 shares.
>>Also:
Top-Rated Food Stocks Amid Rising Commodity Prices
That is very strong volume, so all we need now is for the stock to close above those key levels I mentioned above. It's very important that the stock close above the breakout point and soon since we do have confirmation of strong volume. I don't want to see the stock struggle up here near these overhead resistance levels and fail to break out.
Keep in mind that the company does report earnings after the closing bell on Wednesday, so what we might have here is traders jumping into the stock before the report expecting some bullish numbers. If the breakout in KKD does happen, and it sticks, I would look for this stock to trade up toward the next area of significant overhead resistance at around $6.80 a share. If it takes out that level, my next target would be $9 to $10 a share.
>>Also:
TheStreet Ratings' Top-Rated Food & Staples Stocks
As you can see here, this stock has a lot of upside potential if this breakout does materialize. This stock once traded above $40 a share, so you never know when a comeback story is about to kickoff.
To see more breakout action in stocks such as
Pacific Sunwear of California
undefined
,
Ion Geophysical
undefined
and
FedEx
(FDX) - Get FedEx Corporation Report
, check out the
portfolio on Stockpickr.
-- Written by Roberto Pedone in Winderemere, Fla.
RELATED LINKS:
>>How to Trade This Week's Earnings
>>Stocks to Benefit From Conflict in Korea
>>Stock Doppelgangers: Proceed With Caution
Follow Stockpickr on
and become a fan on
Facebook.
At the time of publication, author had no positions in stocks mentioned.
Roberto Pedone, based out of Windermere, Fla., is an independent trader who focuses on stocks, options, futures, commodities and currencies. He is also an outside contributor to Beconequity.com and maintains the website Maddmoney.net, which he sold to Blue Wave Advisors in 2008. Roberto studied International Business at The Milwaukee School of Engineering, and he spent a year overseas studying business in Lubeck, Germany.