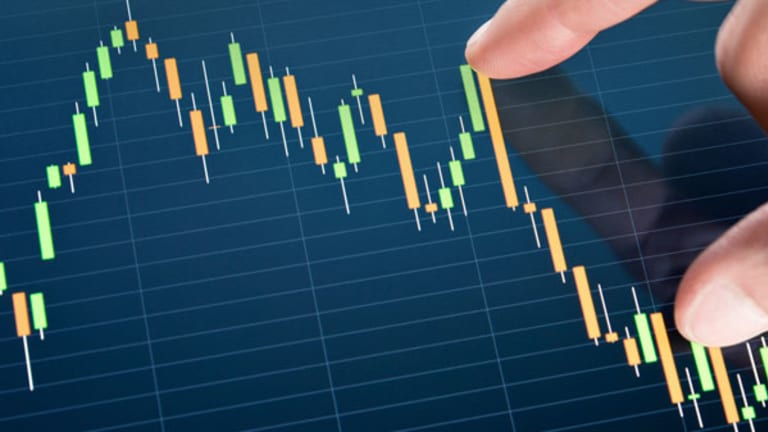 3 Stocks Poised to Break Out
These breakout stock candidates could have big upside potential from current levels
WINDERMERE, Fla. (Stockpickr) -- There's a lot of talk around Wall Street right now that the market might be setting up for a correction in the very near future.
Sure, it's a possibility, but we've been hearing that argument from the bears for the last 1,000 points on the
Dow Jones Industrial Average
. It seems to me that a far more productive approach than assume a correction is coming is to follow the price action in the markets.
As of right now, there are no signs that the market wants to go significantly lower. All of the major averages are still in solid uptrends, and all are trading above key technical levels such as their 20-day and 50-day moving averages. Part of being a trend trader means that you, as a trader, should believe that it's a fruitless endeavor to make predictions in the markets. It's a far better strategy to employ sound money management and just stay with the trend until you see some overwhelming evidence that the trend is over.
Related:
To be fair to the bears, some leading stocks, including
Coinstar
(CSTR) - Get CapStar Financial Holdings, Inc. Report
,
Rackspace
(RAX)
and
F5 Networks
, have taken a hit to the downside recently. However, market-leading names such as
Apple
(AAPL) - Get Apple Inc. Report
,
OpenTable
(OPEN)
and
Google
(GOOG) - Get Alphabet Inc. Class C Report
continue to act well. Until I see all of the market leaders start to roll over and act poorly, I am going to continue to look for stocks that are setting up to move higher and breakout.
Trading breakouts is not a new game on Wall Street. This strategy has been pioneered by legendary traders such as William O'Neal, Stan Weinstein and Nicolas Darvas.
A breakout occurs when a stock makes a move through a significant level of support or resistance, which is usually followed by heavy volume and increased volatility. Wall Street players love to see an upside breakout because it demonstrates strength in the underlying asset as the price breaks above a level of previous resistance. An upside breakout can also take a stock to new highs, which will generate a lot of interest as the stock shows up on sophisticated software that scans for this type of action.
Here's a look at a number of solid
that could have big upside potential from current levels.
First Solar
One stock that is already starting to breakout is solar giant
First Solar
(FSLR) - Get First Solar, Inc. Report
, which is engaged in the manufacture and sale of solar modules with an advanced thin film semiconductor technology and also designs, constructs and sells photovoltaic solar power systems. This stock is off to a monster start in 2011 with shares up around 20%, and the technicals are telling me it wants to go even higher.
If you take a look at the chart for First Solar, you'll see that this stock has started to break out above some past overhead resistance at around $152 to $153 a share. This breakout is being accompanied by very bullish volume, which bodes well for the chances that First Solar will continue its uptrend. On Monday the stock traded up on strong volume of 3.7 million shares, vs. the three-month average trading volume of 1.6 million shares.
With the stock now trading at around $157 a share, market players should watch for this stock to continue its uptrend and move towards the next significant overhead resistance levels. The levels market players should make note of are $163 and $176 a share. If First Solar can take out those two levels, then it should set up to make a move toward hitting $200 a share. That's around 40 points from its current price, so the upside here is very good if the trend higher does remain in place.
It's also worth noting that First Solar is one of the most heavily shorted stocks in the
S&P 500
, with 29.2% of the float sold short as of Dec. 31, 2010. These shorts are going to continue to get squeezed and help fuel the stock higher. We may have a situation here where the bears are just simply short the wrong stock at the worst time.
Michael Shulman of InvestorPlace recently included First Solar as one of
nine cult stock investors should drop
. TheStreet Ratings has a
.
Lam Research
Another stock that looks poised for a breakout soon is
Lam Research
(LRCX) - Get Lam Research Corporation Report
, a supplier of wafer fabrication equipment and services to the worldwide semiconductor industry. This stock isn't off to a huge start in 2011 with the shares up only around 1%. However, that could all be about to change now that Lam Research looks ready to break out and potentially start a new uptrend.
If you take a look at the chart for Lam Research, you'll see that the stock is quickly approaching a major breakout if it can manage to move above $53 a share. With the stock currently changing hands at around $52.50, that potential breakout is very close to coming to fruition. What market players should now watch for is big volume to move into the stock during the next couple of trading sessions.
I would suggest looking for volume on up days that comes in above the three-month average trading action of 2.1 million shares. During the last couple of trading sessions, where the stock has tended higher, only on one day did the volume exceed that amount by a noticeable margin. It's my opinion that the volume is going to need to get stronger to produce a lasting breakout for Lam Research.
However, price is king on Wall Street, so if the stock does break out here in the very near future, it will have give this name a great chance of trending much higher. Keep in mind that Lam Research is a great way to play a recovering in budget spending from chip giants such as
Intel
(INTC) - Get Intel Corporation Report
, and Intel recently said it pland to do just that. Lam Research also has a great balance sheet, with around $933 million of cash on the books and only $20 million of total debt.
TheStreet Ratings
.
Baker Hughes
Another stock that has started to break out is
Baker Hughes
(BHI)
, which is engaged in the oilfield services industry. The company and its subsidiaries supply wellbore-related products, and technology services and systems for drilling, formation evaluation and completion to the oil and natural gas sectors. This stock is off to nice start in 2011 with shares up around 6.8%.
If you take a look at the chart for Baker Hughes, you'll see that the stock has started to form a strong breakout now that the stock has started to move above $60 a share. What I love about this breakout in Baker Hughes is that it's coming on very strong volume today. Volume as of midday, is tracking in at a remarkable 9.2 million shares which is well above the three-month average trading volume of 4.1 million shares.
This breakout has now moved the stock into levels it hasn't traded at in almost three years. The fundamental reason for the move in Baker Hughes is due to the company's announcement that its net income tripled for the fourth quarter, boosted by demand for its drilling and pumping services.
I fully expect this stock to continue to rip higher and trade toward the next area of past overhead resistance at around $80 a share. With shares currently changing hands at around $61, that leaves plenty of room for potential profits if the uptrend continues for Baker Hughes. I think it's worth it to put this name on your trading radar and look to buy some shares on any pullback that doesn't violate the breakout price of $60 on heavy volume.
Baker Hughes is a holding of
T. Boone Pickens at BP Captial
, at 1.8% of the total portfolio, and
Robert Rodriguez at FPA Capital
. It was one of
several stocks recently upgraded by analysts
, and TheStreet Ratings has a
.
To see more breakout action in stocks such as
BlackRock
(BLK) - Get BlackRock, Inc. Report
,
Starbucks
(SBUX) - Get Starbucks Corporation Report
and
Magic Software Enterprises
(MGIC) - Get Magic Software Enterprises Ltd. Report
, check out the
portfolio on Stockpickr.
-- Written by Roberto Pedone in Winderemere, Fla.
RELATED LINKS:
>>Teen Retail Stocks: Buy, Sell or Hold?
>>3 Ways to Play the Economic Data
>>Technical Setups for the Week
Follow Stockpickr on
and become a fan on
Facebook.
At the time of publication, author had no positions in stocks mentioned.
Roberto Pedone, based out of Windermere, Fla., is an independent trader who focuses on stocks, options, futures, commodities and currencies. He is also an outside contributor to Beconequity.com and maintains the website Maddmoney.net, which he sold to Blue Wave Advisors in 2008. Roberto studied International Business at The Milwaukee School of Engineering, and he spent a year overseas studying business in Lubeck, Germany.