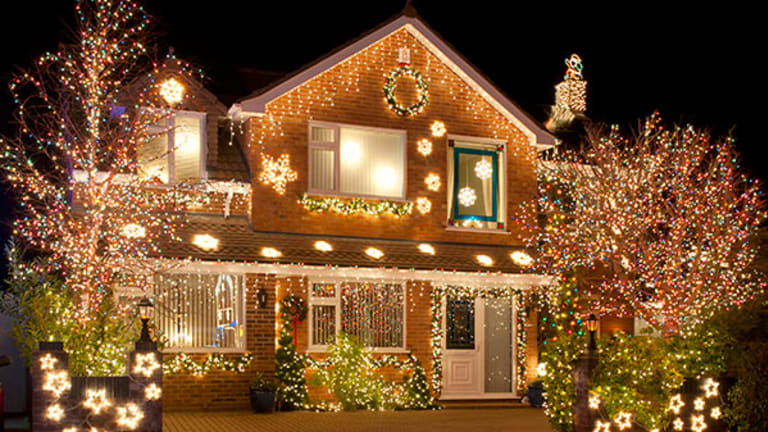 3 Stocks, Including Apple, to Go Long This Holiday Season
One investment strategist says Donald Trump could be better for the markets than most realize and he's recommending Apple, Amazon and Wynn to clients.
Editors' pick: Originally published Dec. 15.
Conventional wisdom said Hillary Clinton was going to win the U.S. presidential election and the policies of the past eight years would largely be continued. If Donald Trump won the election, markets would go into a tailspin and there would be all sorts of chaos.
Well, conventional wisdom was proven wrong -- Clinton didn't win and despite a brief, but sharp drop in the wee hours of November 9, the markets have done nothing but rally, with the S&P 500 tacking on nearly 5% since the start of November.
So how come?
"It's the election, the promise of corporate and individual tax cuts, $500 billion plus in infrastructure spending, a lighter regulatory environment -- those are all tailwinds for the economy and potentially the market," said Gullane Capital Partners managing member Trip Miller.
Gullane, which has $22 million in assets under management (its firm has $57 million in total assets), believes there's a "pretty good opportunity" for businesses to operate in a friendlier environment with Republicans taking over the Senate, House of Representatives and the White House.
"We may pay for all of this in five to ten years," Miller said, referring to the potential for longer-term negative consequences. "The economy will be juiced in the short run -- whether we pay for it in the long run, is yet to be seen."
With markets at or near all-time highs, issues like tax reform, and tax repatriation could help with another leg higher.
"If a company pays 33% in taxes and they earn $1 a year and taxes get cut by a third, theoretically, the stock should go up and that could be a tailwind, considering the same earnings multiple and bottom line earnings," Miller added. "The general rule of thumb is that businesses who make money this year will make more next year because of a lower corporate tax rate."
Then there's the issue of repatriating cash from U.S. multinational corporations, which some analysts say could be as much as $2 to $3 trillion held overseas. It could be bullish for the economy and markets, Miller said, noting that Democrats would want to add provisions into the bill. The cash would go not only towards buybacks and dividends, but capital expenditures and infrastructure spending as well, so that the U.S. worker benefits, not just the shareholders.
What follows below is a lightly edited Q&A with Miller on why he likes Apple (AAPL) - Get Report , Amazon (AMZN) - Get Report and Wynn Resorts (WYNN) - Get Report headed into 2017.
TheStreet: Your first pick is Wynn Resorts, a gaming company famous for its hotels and casinos on the Las Vegas Strip. CEO Steve Wynn has actively criticized government policies over the years, so what's so attractive about it?
Miller: Going into 2017, we're very bullish on Wynn, which has multiple catalysts. 
The U.S. consumer is strengthening and there's a strengthening in Macau. It's working on getting a second resort open there, it's working with the Macau and Chinese governments on regulatory issues, things like smoking bans, gifting restrictions and such. 
The tax cuts for the U.S. consumer and infrastructure spending should help people travel more. Las Vegas, which gets 43 million tourists per year, should benefit.
TheStreet:Your next pick is Amazon, which has had a contentious relationship with Trump, thanks to comments from CEO Jeff Bezos as well as threats from Trump on the campaign trail. What do you like about it?
Miller: We've been long Amazon for a long time. Sure, there are worries about restrictions and trade, but we've been encouraged by comments Wilbur Ross [who was recently nominated for Commerce Secretary] on trade. Everyone rattles the saber, but at the end of the day, the last thing you want to do is start a trade war. I think some of the sorriest that these tech and manufacturing companies are experiencing are a bit overblown.
TheStreet:What parts of the business are specifically attractive to you? Amazon seemingly has a lot of growth levers, be it cloud computing, e-commerce, artificial intelligence and more.
Miller: There's a lot of road ahead on AWS [Amazon Web Services], which we think is a nice complement to its retail business. We like what they're doing with the Echo. We think of Prime a lot like Costco (COST) - Get Report membership fees -- they're this massive free cash flow generator and a Prime customer is three to five times more likely to buy something.
They're working on cutting down their shipping costs, which is why you see them leasing rights to airplanes and trucks. Amazon needs FedEx (FDX) - Get Report more than FedEx needs Amazon, since it's only 3% of FedEx's business. Amazon is all about providing convenience.
TheStreet: Your last pick is Apple, which like Amazon, has had its run-ins with Trump, specifically over privacy and encryption laws. What's attractive about it now, especially that iPhone growth has slowed drastically?
Miller: Well, it's a little bit of a different company when we first invested in it, but it's still an incredibly value stock. It's a dominant player in many market places and it's a product [iPhone] that while not completely unaffected by price, it does have pricing power.
The new iPhone 7 seems to be well liked and they're in the right place in the product cycle. We also like the cash and cash flow, which has been used for buybacks and dividends. They've been good stewards of shareholder capital and there's a lot of cash that gets thrown off in the long run for a long-term investor.