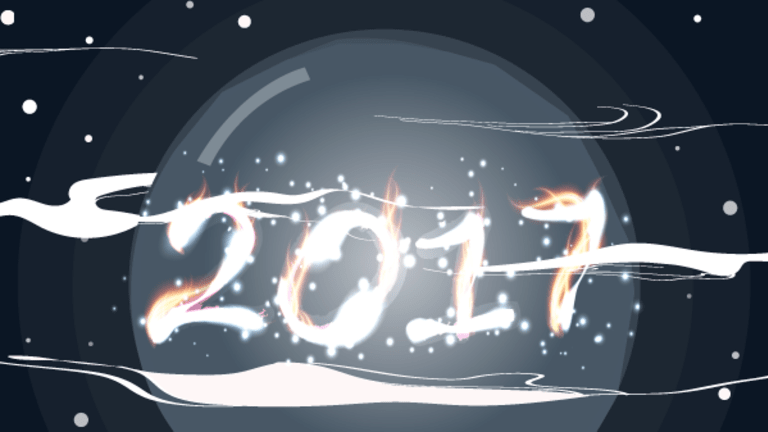 3 Small-Bank Buys: 2017 Trump-Proof Stocks
If we get a reduction in regulatory costs under Trump, expect banks with strong records of rewarding shareholders will continue sharing their extra profits with stockholders.
This commentary originally appeared on Real Money Tuesday, Dec. 27. Click here to learn more.
I spend a lot of time writing about community-bank stocks, which I see as the "Trade of the Decade." Well, I recently ran a screen in search for the most shareholder-friendly small banks of all over the past few years, and below are three that I found.
Now, investing in community banks has been a profitable endeavor ever since the post-2008 credit crisis ended. In fact, the past few weeks have been absolutely stunning as investors bid small banks up in expectation of a looser regulatory environment under President-elect Donald Trump.
If we see a rollback of some Dodd-Frank regulations under Trump, I think that community-bank earnings could jump by as much as 30%. I also believe that a lot of that money might find its way into shareholders' pockets over the next few years, as small banks are historically very investor-friendly. As conditions improve, they tend to reward stockholders with dividends and share buybacks.
It's reasonable to assume that those community banks with strong histories of being kind to their stockholders will continue to do so if they see any improvements to their bottom lines. We can also assume that such improvements could easily come in 2017 from a combination of a less-costly U.S. regulatory environment and the higher interest-rate spreads that many bankers anticipate.
So, here are three shareholder-friendly small banks that my screen suggests that we should consider owning in 2017:
Provident Financial Holdings (PROV)
This bank's 14 branches in and around Riverside, Calif., have about $1.2 billion in total assets. PROV cut its dividend down to just $0.04 a share at the height of the credit crisis, but aggressively got that back up to $0.52 as conditions improved.
In addition to raising the dividend 60% a year for the past five years, the bank has also been buying back stock at a rapid pace. Provident has retired about 8.5% of its shares outstanding each year in recent years, including more than 60,000 shares in the latest reported quarter.
The bank also has authorization to buy 365,114 additional shares under a buyback plan approved in May. Lastly, I like the fact that Provident's largest shareholder is activist investor Joseph Stilwell.
PROV trades at 1.2x book value, so you might wait for the stock to pull back a little bit before buying. But that issue aside, Provident looks like a rewarding long-term holding.
Charter Financial (CHFN)
Georgia-based CHFN has been a fantastic stock for me so far, and I expect that to continue largely because of management's shareholder-friendly attitude.
The stock currently offers a 1.48% dividend yield, but management has been growing CHFN's quarterly payout by about 8% a year. The bank also shines when it comes to buying back stock, purchasing about 12% of shares outstanding per year over the past three years.
Management has also done a fantastic job of expanding CHFN's business, increasing assets under management by about 40% in the past three years. Charter currently has 21 branches and about $1.4 billion in assets, but the bank plans to continue expanding into the nearby Atlanta marketplace. It's also worth noting that FJ Capital and Seizert Capital, two experienced and successful community-bank investors, both have strong positions in the stock.
Add it all up and CHFN should be an excellent long-term holding. But again, the sector's recent rally has driven the stock to about 1.4x tangible book value, so you might want to wait for a pullback before buying an initial position.
United Community Bank (UCBA)
This Lawrenceburg, Ind.-headquartered bank has just eight branches and $525 million in assets, but is still worth checking out.
While management has kept the dividend consistent over the past few years, it's been repurchasing stock at a rate of about 6.6% a year over the past three years. In fact, the bank bought more than 7% of shares outstanding in the past year alone. UCBA last month also announced another 5% buyback plan that expires next August, so it appears that the bank will continue to be aggressive with future share repurchases as well.
United Community also has some noted bank investors as shareholders, including FJ Capital, Maltese Capital and Michael Salzhauer. Best of all, the stock currently trades at about 92% of book value, so you can buy it right now at a bargain price.
The Bottom Line
Small banks have had a big run-up in recent weeks, but their long-term outlook remains very positive.
If we get a reduction in regulatory costs under the new Trump administration, there's every reason to expect that banks with strong records of rewarding shareholders will continue sharing their extra profits with stockholders.
At the time of publication, Melvin was long CHFN, PROV and UCBA, although positions may change at any time.