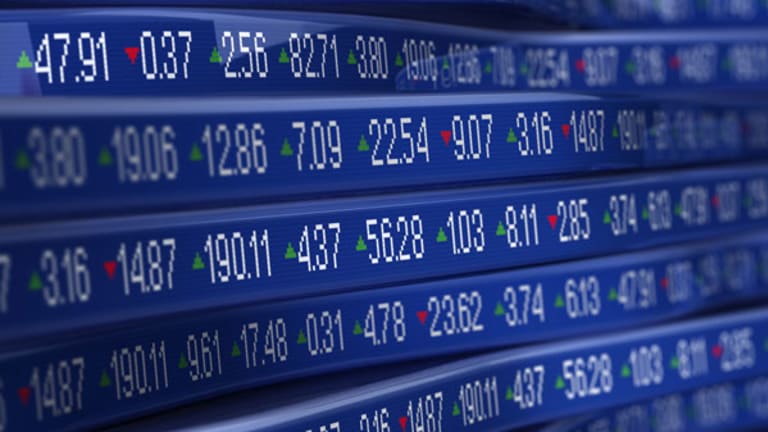 NEW YORK (
) -- Ask any short seller the most feared word in the English language and most will reply "squeeze."
To make a short squeeze you must have three essential ingredients. The first requirement is that the stock must be "unloved" and out of favor. Stocks can fall out of favor for a number of reasons, but missing earnings estimates more than once in a row will often do the trick. The second requirement is harder to come by. Short sellers are usually viewed as "smart money" and short sellers must also become convinced the same stock will fall in price.
Pitney Bowes, known for its iconic postage meters, could be the subject of big after-hours trading when it reports earnings after the close on Monday.
The first two requirements set the trap; the last requirement springs it. The last requirement is the company must announce a sentiment-changing press release, and the most common one is an earnings release.
I scanned for technology stocks reporting earnings next week. I filtered the list to include stocks with more than 10% short interest and high short interest in relation to the average trading volume.
Keep in mind these stocks represent a lot of money from the brightest people in the business betting the stocks will continue to fall in price. You can't invest haphazardly against the ultra-best and expect to come out on top. Be sure to do your homework and know what you are doing. It's well worth your time researching the companies, because when you put the odds in your favor, the profits can be substantial.
First, my favorite short squeeze candidate:
Pitney Bowes
(PBI) - Get Pitney Bowes Inc. Report
. Pitney Bowes is known for its iconic postage meters. The post office and Pitney Bowes are married at the wallet, and the U.S. Postal Service's troubles affect Pitney in a big way. The last time Pitney traded above $40 a share was in 2007.
Pitney reports earnings after the close on Monday. Expect big after-hours trading action if Pitney beats the estimate of 50 cents per share.
Pitney could become a short squeeze because of the combination of:
Almost 80% of the shares are owned by institutions.
Almost 30% of shares outstanding are shorted (the float is almost as large as the shares outstanding).
As of April 13 more than 50 million shares are shorted, the most in the past 12 months.
The company reported profits in the last four quarters and for the last three full years.
Forward Price-to-Earnings ratio is 8.5.
The stock trades ex-dividend on May 9, two days after earnings. The dividend yield is also 8.7%. It will cost short sellers 37.5 cents to hold their shares into the ex-dividend date, creating a strong incentive to exit before. Unless short sellers believe the share price will drop more than 37.5 cents in the next quarter, or the company will lower or eliminate the dividend, they will not want to maintain the position.
The dividend payout ratio is only about 50% of earnings, leading me to believe the dividend is not in immediate danger of getting cut.
Of course none of this matters much if Pitney doesn't blow the doors off when they report and provide higher guidance. Pitney recently renewed a credit line, and analysts are bound to bring up the debt load.
The once high-flying America Online, now
AOL
(AOL)
trades with a trailing 12 months of price-to-earnings ratio of over 200 and a forward ratio of 40. Institutions own nearly all the shares and could be the most influential additive to a short squeeze mixture.
AOL reports before the opening bell on Wednesday.
When institutions own enough shares, they may seriously affect the available float that makes it a lot easier for a squeeze to occur. More than 12 million shares from a float of 87.7 million shares are short.
AOL appears to be "so yesterday" in the online world, but making money never goes out of style. Estimates are for AOL to report about 0.08 cents.
Semiconductor maker
MEMC Electronic Materials
(WFR)
rounds out the last technology short squeeze candidate stock. MEMC reports after the close on Wednesday. Wall Street is expecting about -0.15 cents, with many experts predicting -0.18 cents or -0.19 cents.
Analysts are expecting MEMC to move from losing money to making money. The forward price-to-earnings ratio is only 5.7, but don't give this ratio too much weight before it stabilizes.
Almost 13% of the float is short for a record number of shares shorted at 26.3 million.
Even with more than 7 million shares a day traded, the short interest amounts to 3.7 days of volume.
Finding stocks that may move higher due to a short squeeze can be financially rewarding and also satisfying -- you know you outsmarted the "smart money." When you do find one, it's OK to brag a little about it. Don't worry, I won't tell anyone.
At the time of writing the author did not hold a position in any stocks mentioned but was considering creation a long position in PBI on Friday or Monday.