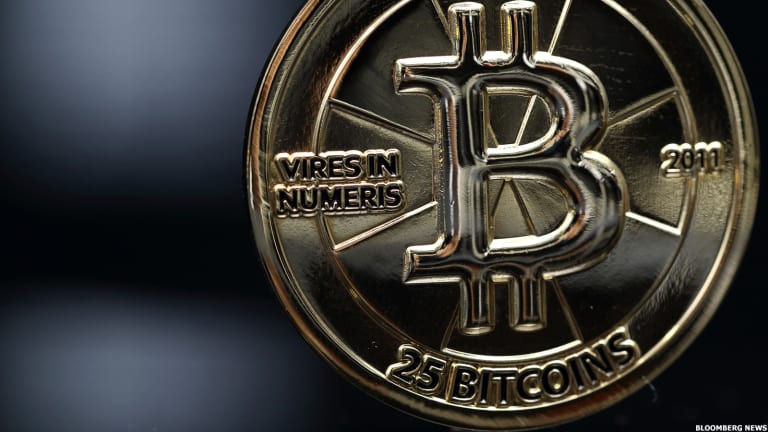 3 Reasons You Should Consider Investing in Bitcoin
Bitcoin is emerging as a viable alternative asset class. Here's why.
NEW YORK (TheStreet) -- Bitcoin may be a more attractive investment vehicle than you think.
Traditionally, most people have approached bitcoin as a digital currency. Although that is one of its principal uses -- and arguably the most mainstream -- it is far from its only application.
Despite its speculative nature, bitcoin is emerging as a viable alternative asset class for institutional and retail investors alike. It has an enormous amount of investment potential and is unlike any investment product in the world today.
On the fence on bitcoin? Here are three arguments that may push you to the investing side.
Game-Changing Technology
Investing in bitcoins offers exposure to a global technology used by thousands of companies across dozens of sectors worldwide, and the ecosystem is only growing.
At the heart of bitcoin is the blockchain, a technology that renders bitcoin a truly innovative product. The blockchain is a trustless, decentralized, public ledger of all transactions in the network whereby any transaction is verified within 10 minutes. Compare this to the lengthy verification times of credit card transactions or domestic and international wires. Further, the blockchain stands as immediate, incontestable proof of all transactions and creates a permanent, immutable database.
Blockchain's applications have the potential to stretch far beyond bitcoin, and companies and individuals are already leveraging the technology to modernize key products and services across a variety of industries. Remittances, payment processing, personal banking, auditing, secure data transmission, information hashing, securities settlement/clearing and traditional financial trading are just a handful of examples of its possible applications.
Some of the largest financial institutions in the world have already taken note.
In April, UBS (UBS) announced plans to launch a technology lab in London to explore the potential uses of blockchain technology in financial services. Citigroup (C) is said to be testing three blockchains and a cryptocurrency called "Citicoin."
Spain's Santander (SAN) coauthored a report this year that estimated the technology could reduce banks' infrastructure costs by $15 billion to $20 billion per year by 2022. Both Barclays (BCS) and Nasdaq OMXundefined are reportedly experimenting with it as well.
Global Reach
Bitcoin is age- and location-agnostic at its core as both a currency and as an investment.
Thanks to blockchain technology, it has no borders. Transactions are processed within minutes, and fees are incredibly low. The Santander report attributes its cost-cutting ability in large part to its impact on cross-border payments.
And whereas many investments require formal accreditations, have minimum trade sizes or are limited to qualified institutional buyers, no such qualifications exist in the bitcoin realm. In turn, bitcoin has a much larger addressable market than most traditional financial products, securities and investments. Both large institutions and retail investors are jumping onboard.
In 2013, Fortress Investment Groupundefined, a global asset manager with more than $60 billion in assets, became one of the first financial institutions to bet on Bitcoin with a $20 million investment.
The Bitcoin Investment Trust (GBTC) , created by Grayscale and traded on the over-the-counter markets, began trading this year. Investors can invest in it as they would any U.S. security and buy and sell shares through most traditional brokerage accounts worldwide.
And, of course, investors can add exposure to bitcoin by investing directly in the product itself. Through itBit, for example, investors can buy and sell bitcoin on a real-time digital exchange that also acts as custodian for these assets.
Next-Generation Alternative Asset
Alternative investments and products have been on the rise in both issuance, allocation and trading. Alternative mutual funds managed more than $300 billion at the end of 2014, a 31% increase since 2009. Venture capital investments have grown 22% year over year on average since 2010.
According to Bain & Company's Global Private Equity Report 2015, private equity capital raised reached $499 billion last year, up 130% from $216 billion in 2004. Moreover, private equity funds held a record amount of dry powder in 2014, totaling more than $1.2 trillion.
The takeaway: More and more investors are looking for unique opportunities outside the traditional arena. And as asset allocations become wider and risk tolerance strengthens, demand for high-risk, high-reward assets has risen steadily.
Bitcoin is one such alternative that can meet such a growing demand.
The beta profiles of alternative assets can be inherently risky -- similar to bitcoin. But unlike bitcoin, many alternative assets also have smaller targeted markets, defined liquidity provisions and lengthy maturity dates.
With bitcoin, that isn't the case.
Bitcoin's 24/7 liquid marketplace and lack of long-term maturities give it a substantial advantage. Bitcoin has been showing signs of correlation to different asset classes. However, more data is necessary to firmly establish these correlations as well as their sustainability over time. Modern portfolio theory proponents may look at bitcoin's historically noncorrelated behavior as a benefit to an overall investment portfolio.
This article is commentary by an independent contributor. At the time of publication, the author has long positions in bitcoin. itBit is a financial services company offering a suite of products leveraging traditional capital markets infrastructure and blockchain technology. itBit's global bitcoin exchange offers institutional and retail investors a powerful platform to buy and sell bitcoin. As a trust, itBit is the first and only regulated bitcoin exchange able to accept customers across the United States. itBit Legal Disclaimer