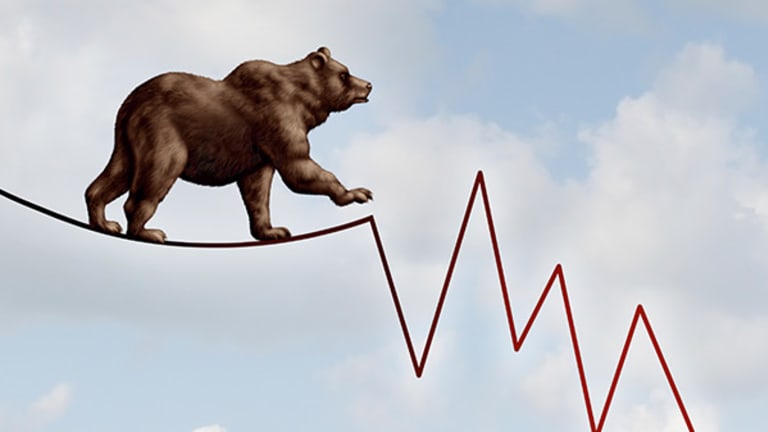 3 Reasons Why the Stock Market Is Now Dangerously Overvalued
Here's what's likely to happen entering earnings season.
As we exit the third week of July, investors are bracing for what can only be described as an onslaught of quarterly results. In total, more than 2,000 earnings reports will come at us this season at a time when economic data signal yet another slowdown in the domestic economy while inflation numbers continue to roll over. 
The key issue we see for the market is that the S&P 500 is trading at 18.6 times projected 2017 earnings that are still based on expectations set early in the year -- and the outlook today is much different than it was back in January.
Trump Bump Has Become the Trump Slump
Whenever a new president takes office, expectations for getting things done run rather high, and with President Trump it was no exception. Projections calling for dramatic year-over-year improvement in GDP growth and S&P 500 earnings factored in potential legislative successes such as the repeal of the Affordable Care Act, paring back of regulations, overhauling the tax code while reducing rates, and beginning to rebuild the nation's crumbling domestic infrastructure.
Flash forward to today, and Congress is still hip deep in healthcare reform discussions, with any resolution potentially getting pushed out until later in the quarter. Even Majority Leader Mitch McConnell is calling for a delay to Congress's summer recess until the third week of August so it can make progress on healthcare legislation.
At the same time, Treasury Secretary Steve Mnuchin shared that the Trump administration hopes to have its "full-blown" tax reform plan out in early September and signed into law by the end of the year. We are all for tax reform, but the timetable for this has now slipped from the original August target.
GDP Expectations Have Been Reduced
Throughout the second quarter and into July, GDP expectations have continued to tick lower. In particular, the Atlanta Fed's GDPNow forecast for the second quarter started off at 4.3%, bobbed and weaved during May, and has been on a declining slope since June. As of July 11, the forecast was 2.6%. This is several points above the New York Fed's GDP Nowcast reading of 2.0% for the second quarter.
Given the data we've been seeing, it comes as no surprise that the New York Fed views the current quarter (3Q) being a tad softer than the second at around 1.8%. By comparison, The Wall Street Journal's Economic Forecasting Survey for GDP in the second quarter sits at 2.7%, down from 3.0% over the last several weeks.
Second-Half Projections Are Lofty
We're at the mouth of second-quarter earnings season, and considering the shift to "Slump" from "Bump" and slowing economic data, odds are management teams will be adopting more conservative views for the back half of 2017. Here's the thing, though: Current expectations call for the S&P 500 group of companies to deliver EPS growth of 11% in the second half compared to the first. But over the last several years those companies have delivered EPS growth of 5.6% in the back half of the year vs. the first half.
As expectations are revised lower, we will see full-year 2017 EPS growth estimates trimmed. And depending on how much lower, historical market multiples would suggest we could see downside of 3%-9% in the S&P 500 from current index levels.
We'd note that if second-half earnings matched the historical average versus the first half of the year, it would mean EPS growth of 7%-8% for all of 2017, which is still solid, but likely means there is still some downside relative to the current view calling for more than 10% EPS growth for the S&P 500 for the year.
So what does this all mean?
In our view, there is a far greater probability of volatility returning as we enter the third quarter and the market looks to re-read the changing tea leaves. If we're right and EPS expectations for the S&P 500 are cut, we'll be faced with one of two things:
-- Either the market becomes that much more expensive than the 18.6x multiple on expected (but still yet to be revised lower) 2017 EPS it is currently trading at;
-- Or investors will reassess the market multiple, likely pushing it lower, as those EPS revisions are made.
It's a simple rule: investors will pay up for growth but aren't willing to pay up quite as much when growth is slower than expected.
(This article originally appeared Friday on Real Money, our premium site for active traders. Click here to get great columns like this from Chris Versace, Jim Cramer and other writers even earlier in the trading day.)
More of What's Trending on TheStreet:
Former Apple Exec: 'It's Sad to See Apple Slipping to the Position of Follower'
At the time of publication, Chris Versace had no positions in any securities mentioned.