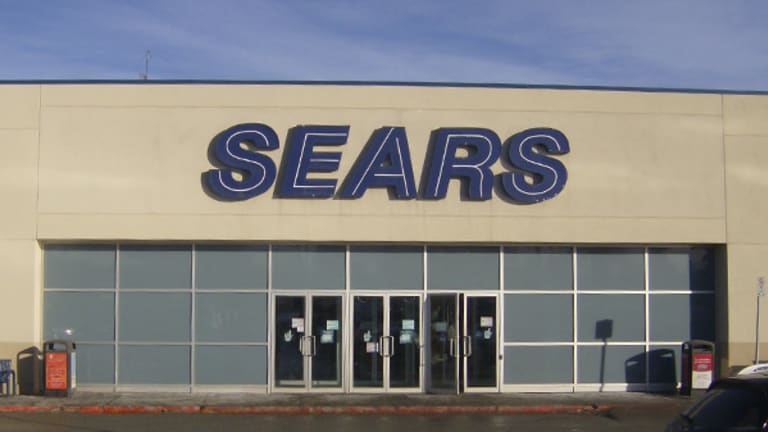 3 Reasons Why Sears' Latest Deals to Raise Money Still Won't Save It
Sears has formed a REIT and finalized another deal to raise about $2.6 billion in cash. But the company still remains in serious long-term peril.
NEW YORK ( TheStreet) -- Execs at Sears Holding Corporation (SHLD) may have bought the struggling retailer some time with their latest cash injection. But the long-term outlook for Sears and Kmart remains far from certain thanks to transformative initiatives under way at some of its top rivals.
On Wednesday, Sears announced two transactions that together will raise about $2.6 billion in cash by mid-year. The news temporarily alleviated concerns among investors that the troubled department store retailer would lose access to high-quality inventory for the holiday season as vendors feared delayed payment.
The second transaction comes through a tie-up with mall owner General Growth Properties (GGP) . Here, a joint venture will be formed between the two companies in which Sears contributes 12 stores that it owns on General Growth properties. The mall owner will then contribute $165 million to the joint venture fund. Sears will continue to run those stores as well, signing a a master lease agreement for a term of 10 years.
The insides of the 12 stores stand to look vastly different over the next 10 years than they do today, however. General Growth Properties is allowed to re-develop and re-lease 50% of the properties at each location. That effectively opens the door for established restaurants, upstart gyms or fast-fashion retailers to set up shop in a Sears store. By renting out the space to stronger retailers, more traffic could be driven to General Growth's malls, boosting the value of the joint venture fund.
And a crop of retailers could be lining up to rent out those Sears locations that General Growth is obtaining. Citing research from Green Street Advisors, General Growth Properties spokesman Kevin Berry pointed out of the 12 locations nine are in "A" rated malls and three are in "B" rated malls. Malls rated in those classifications usually indicate strong income and population demographics surrounding the locations. The fact Sears is exiting top malls further shows how the brand has fallen out of favor with consumers.
Berry said General Growth Properties will discuss redevelopment opportunities of the properties on its Apr. 28 earnings call.
The decision to raise cash less than three months into the new year could be pinned on the severely weakened financial state of Sears as it exited 2014, as retailers like Wal-Mart (WMT) - Get Walmart Inc. Report, Target (TGT) - Get Target Corporation Report and even J.C. Penney (JCP) - Get J. C. Penney Company, Inc. Report worked overtime to improve the quality of what they sell to consumers and how quickly their shelves are replenished. 
On the other hand, Sears' relentless focus on closing unprofitable stores in the U.S. and marking down inventory in key departments to raise cash has taken its collective toll on the business in the form of reduced market share. The devil is in the details, so to speak.
Sears' domestic business, which now totals 979 stores, has posted an alarming 10 consecutive years of declining same-store sales, according to Bloomberg data. Same-store sales at Kmart, which is now a 746-store fleet, have fallen in nine of the past 10 years. The company has not generated cash from its operations in four straight years. Total cash has virtually evaporated, hitting a mere $250 million last year, down from $4.4 billion in 2005.
TheStreet takes a look at the initiatives well under way at Sears' major retail rivals that call into question its long-term future.
1. Sears gets worse in the apparel business as others get much better.
For many of today's baby boomers, the first credit card in their wallet or purse was probably from Sears. Once approved, they were likely off to spend, spend and spend some more in the once-inviting apparel section of the department store.
Unfortunately, that is no longer the case as those boomers face a lack of selection and quality in the apparel racks at Sears, which has cut inventory and neglected to bolster its national brand presence. Instead, boomers and their millennial kids are getting enticed by easy-on-the-eye apparel shops popping up at Macy's (M) - Get Macy's Inc Report, a return of cheap-chic designs at a resurgent Target, or the reinvigorated atheletic wear, sneaker, and private-label businesses at J.C. Penney.
"Our revenue per square foot in our apparel business is about one-third of the industry average," Sears Chairman and CEO Edward S. Lampert noted on an Aug. 21 earnings call. Sears' domestic business logged a 7% same-store sales decline in the holiday quarter, in large part to a drop in its apparel business.
Sears has sought to halt its apparel sales declines by investing in proprietary brand products that are made by an in-house design team. To its credit, Sears says it has reduced the amount of time between design of its proprietary brand products and delivery to store shelves by 10 weeks.
Fellow mall rivals Macy's and J.C. Penney are each moving full-steam ahead in bolstering the visual appeal of their apparel and footwear departments, as well as the quality of items they showcase to consumers.
Macy's, for instance, piloted Nike Training Club shops in six of its stores in 2014. The shops highlight the best sneaker and apparel offerings from household name Nike, as opposed to the bland rows of sneakers from Fila and Craftsman that are typically found at a Sears store. 
By contrast, Sears has not been inclined to invest in store fixtures. The company's annual capital expenditures as a percentage of annual revenue, an important industry metric, is by far the lowest among its department store peers and its off-mall big box competitors such as Target.
2. The business of selling food is changing, and Kmart is not in the game.
Big box retailers such as Wal-Mart and Target are placing extra emphasis this year on expanding the amount of fresh and pre-packaged food they sell. Organics are also a focus as each retailer tries to better compete with grocery stores Kroger (KR) - Get Kroger Co. (KR) Report and Whole Foods (WFM) , which are dominating the health and wellness food business with expanded assortments and an array of more attainable price points.
The attempts by each retailer are born from food businesses that have underperformed executives' expectations.
Walmart U.S., under new CEO Greg Foran, is in the midst of implementing more competitive price points in food, and enhancing how such products are presented. Target's food business, which rakes in nearly $20 billion annually, has recently underwhelmed consumers seeking more fresh food options. That has sent execs at Target back to the drawing board to rethink the physical layout of its food sections.
The weakened state of Sears, however, has weighed on the performance of Kmart's food business more than that of its chief rivals. The business, which sells a range of items from soup to paper towels, has performed poorly for well over a year, by the admission of its own executives.
To preserve cash, Sears has underinvested in food inventory, pricing and presentation at its Kmart stores, a missed opportunity to drive more customers through the doors. "The consumer electronics and grocery & household businesses continued to negatively impact the Kmart format," Sears CFO Robert Schriesheim said on a Feb. 26 earnings call, explaining Kmart's 2% same-store sales decline in the fourth quarter.
Sears said it intends to address its poor performance in food by updating its offerings, introducing more private label items, and offering better prices when it needs to, such as during Easter, July 4 and Christmas.

3. Sears has lost its way in electronics.
Other than apparel and Craftsman tools, Sears was long known as a go-to destination for the latest electronic gadgets. But years of declining sales and evaporating cash have left Sears striving to reduce inventory in its electronic unit. Moving slow-selling inventory generated cash, but but it left stores poorly stocked in top electronics categories like big-screen TVs and tablets.
The neglect in the electronics department has also extended to the displays that present products and overall manpower to provide customer service.
Sears' 7% same-store sales drop in the fourth quarter was primarily a result of diminished demand for electronics. "Our consumer electronics business continues to negatively impact the Sears format on a comparable-store sales basis, but we are altering the business model as we drive profitability," said Schriesheim.
Lampert said that the retailer is "also looking to transform businesses like our consumer electronics business, which while an important category for our members, is a category where we have underperformed for too long."
According to Sears, it's transforming now to a business model that requires less working capital, less inventory, and lower operating expenses, by partnering with consumer electronics makers. The company believes this type of approach will potentially hurt its revenues in 2015, but start to pay off afterward.
Sears' new business model isn't likely to be as successful, however, as those already being pursued by competitors Best Buy and Target.
Best Buy has transformed its floor space into an adult theme park for electronics gadgets that range from connected home products to 3D printing stations.
With partnerships with companies such as Intel, Canon, Nikon, and Sony, Best Buy has created sizable stores-within-stores with plenty of products for consumers to try out firsthand. And Target's renovated electronics and entertainment area includes "discovery tables" that display featured items such as smart phones, Apple (AAPL) - Get Apple Inc. (AAPL) Report iPads and other tablets, and laptops. 
This article is commentary by an independent contributor. At the time of publication, the author held no positions in the stocks mentioned.