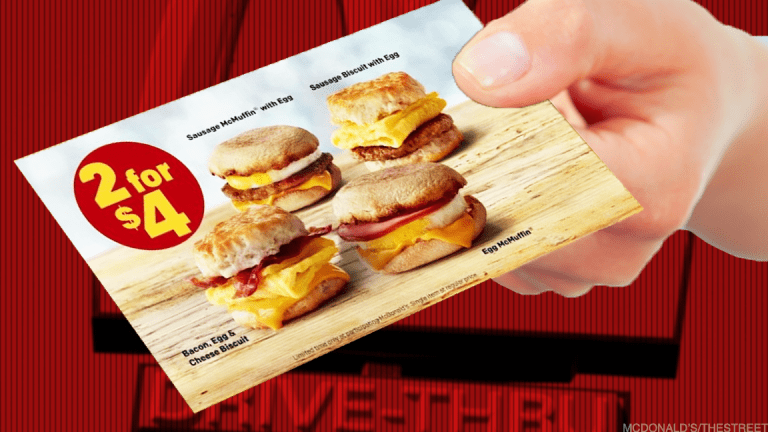 Investors Should See Some Progress With McDonald's Earnings, But Not Enough
When McDonald's Corp. reports first-quarter earnings on Monday, April 30, the premier fast food burger chain could show that while it's heading in the right direction, it's not there yet.
When McDonald's Corp. (MCD) - Get McDonald's Corporation Report reports first-quarter earnings on Monday, April 30, the premier fast food burger chain is hoping to show that it's heading in the right direction. Yet, analysts say, "heading" is the operative word, and it's not there yet.
Like others in the industry, McDonald's CEO Steve Easterbrook is trying to balance the challenges of rising wages for workers, customers' demand for better menu choices and razor-thin margins against the need to deliver solid returns. 
According to FactSet, McDonald's consensus for Q1 is: earnings per share, $1.67, up 13.9%; sales, $4.96 billion, down 3.9%; and same store sales up 3.7%, including gains of 2.9% for the U.S. and 4.5% for international.
"Although we remain constructive on the brand longer-term and have confidence in the management team's ability to sustain a low-single-digit comp trajectory, we are moving to the sidelines and see shares fairly valued at this point," wrote Stephens analyst Will Stabaugh in a note this month. "For 1st-quarter 2018, we are modeling single store sales and adjusted earnings per share of +2% and $1.65 versus consensus estimates of +3.2% and $1.67, respectively."
In trading on Friday, April 27, the stock closed slightly down at $158.30. Year over year, the stock is up 12.7%. 
Stabaugh added that headwinds for the company in the first quarter included a harsh winter in the South and Midwest as well less success from its fresh beef burger offering and a "disappointing result" from its $1/$2/$3 menu promotion, which gives customers choices to put together a meal for $3 by selecting foods from a fixed set of offerings. 
Wells Fargo analyst Jeff Farmer lowered his single-store sales estimate slightly in late January for the first quarter to 3.8% from 4%, due also to the tepid response to the $1/$2/$3 menu and an assumed 2% menu price increase, tempered with some success starting on March 12 with the "2 for $4 breakfast" promo.
Still, he sees a brighter future. "We expect MCD shares to deliver multiple expansion in coming quarters reflecting: 1) steady market share gains delivered by the combination of value, experience-of-the-future remodels and a first-mover advantage with digital and 2) margin and return on invested capital improvement," he wrote in a note on Wednesday, April 25.
Dean Small, CEO of consulting firm Synergy Restaurant Consultants, said that restaurant companies, including McDonald's, are dealing with multiple issues, while trying to keep traffic up and costs down. One is the trend to raise the minimum wage in many states and municipalities with the goal of hitting $15 an hour as the starting rate. Each year in key places like New York City, Washington, D.C., and Seattle as well as states, wages have been rising. 
In addition, restaurants tend to have lower margins than other businesses, said Small, which reduces profits while other costs, such as wages, are going up. Finally, he added, customers want diversity in the menu to include new flavors and healthier choices. 
Among McDonald's main rivals, identified by FactSet, are Starbucks Corp. (SBUX) - Get Starbucks Corporation Report , down almost 5.5%; Yum! Brands (YUM) - Get Yum! Brands Inc. Report , which owns KFC, Pizza Hut and Taco Bell, up 32%; and burger chain Sonic Corp. (SONC) , down about 2%. These are all year-over-year percentages.