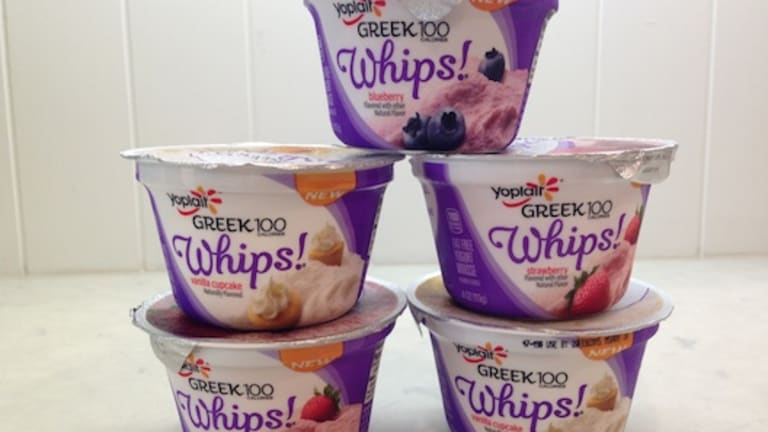 3 Reasons the Future Is Looking Brighter for General Mills
General Mills' latest earnings came in better than expected. The company's CEO and CFO discuss their plans to transform the food giant and hopefully, the stock price.
NEW YORK (TheStreet) --Shares of packaged food giant General Mills (GIS) - Get General Mills, Inc. Report haven't exactly been setting the world on fire, as growth slows at its mainstay cereal and frozen vegetables businesses. While the  S&P 500 has gained 8.6% over the past year, General Mills stock has only risen 1% over the same time frame. 
But brighter days may be ahead for the maker of Cheerios, Wheaties, and Yoplait, for these three reasons. 
1. Sales and pricing trends are headed in the right direction.
Sales and profit strength at the company's convenience and food service segment helped to deliver better-than-expected third quarter sales and earnings. On Wednesday, the food conglomerate reported adjusted earnings of 70 cents a share vs. 67 cents a share analysts' consensus. Sales were hit by 4% from volatile foreign currency conditions, namely the steady appreciation in the U.S. dollar, and declined 1% year-on-year to $4.35 billion. Wall Street was looking for $4.34 billion. On a constant currency basis, sales rose 3%.
The convenience and food service business, which sells snacks, cereals and pre-packaged yogurt to schools and hotels, logged a 6% sales increase year-over-year, as operating profit rose 11%. Frozen foods, cereal, and yogurt led the way, helping to balance out mixed performance in the firm's overall U.S. retail business.
In addition, General Mills' U.S. retail business improved sequentially in spite of it pulling back on what it calls "trade promotions", or discounts given to major retails to promote key products. Pricing in the U.S. retail business increased 3% in the third quarter compared to a 1% decline in the second quarter.
"As the year has unfolded, we have sought to rebalance the merchandise promotions we do in stores, and that has proved more impactful as the year has progressed," said General Mills CFO Don Mulligan. "We're looking at the inefficient trade that's not working, and are eliminating that."
2. The company is set to capitalize on its freshly acquired Annie's organic food business.
General Mills  announced the acquisition of the Annie's brand in September for $820 million. Now that it has been fully integrated, General Mills is readying to unleash the brand's evolution, aided by its strengths in manufacturing and marketing. "It goes without saying the Annie's brand is very extendible to many other categories," said General Mills Chairman and CEO Ken Powell. When General Mills bought Annie's, it was not only acquiring a health and wellness brand that had the stamp of approval from discerning moms, but one with a team already developing plans to introduce a range of new products destined for supermarket shelves.
The first new products from Annie's under the General Mills banner will appear mid-summer in the form of organic soups. They will take direct aim at Campbell's Soup's (CPB) - Get Campbell Soup Company Report long-running dominance in the overall soup business. General Mills declined to comment on what other new products were on the way from Annie's. But it did say it's working with the Annie's team, still led by CEO John Foraker, on formulating them, and will have more to share in early July when it details its latest full year operating plan.
The Annie's brand contributed 1% to General Mills' third quarter sales, and 2% to the U.S. Retail segment's top line. Success in Annie's snacks and meals, which range from gluten free cookies to kits designed to make a healthy dinner, persisted.

3. The company is shifting its product portfolio to higher-growth areas of the food business. 

"We will continue to pursue our strategy of adding to our portfolio in emerging markets, and in the U.S. in the wellness and natural areas," said Mulligan. General Mills, rumored to be readying a sale of its Green Giant frozen vegetable business, did not shy away from announcing a potential divesture. "We are constantly looking at our portfolio, and obviously we won't announce anything until we are ready to pull the trigger, but we continue to look on that side (divesture) as well," added Mulligan.
Green Giant, which has the Jolly Green Giant as its pitchman, makes more than 160 products. It has been estimated to pull in annual revenue of $700 million.
General Mills has also been on an innovation spurt of late, introducing products that play into the healthy eating movement sweeping across the country. Items have included 100-calorie whipped Greek yogurt (whose introduction helped to power a 43% increase in Greek yogurt sales in the quarter), reduced sugar Yoplait yogurt and Cheerios with quinoa. And, beginning in July, five Cheerios products will be gluten free: Original Cheerios, Honey Nut, Multi-Grain, Apple Cinnamon and Frosted.
This article is commentary by an independent contributor. At the time of publication, the author held no positions in the stocks mentioned.