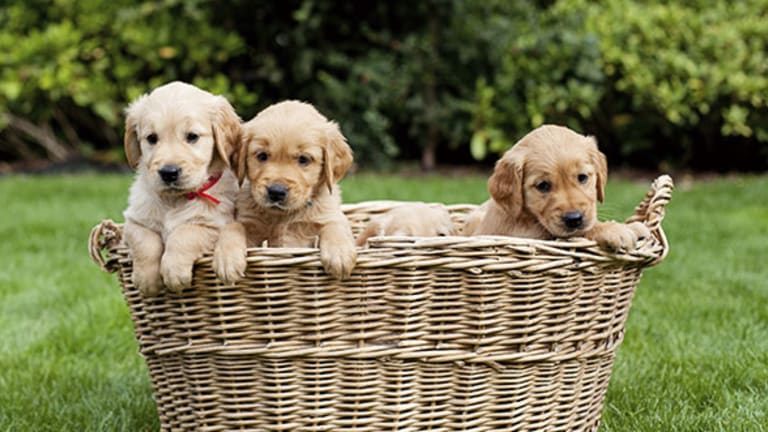 National Dog Day and 3 Other Reasons Petco's IPO Could Be an Investor's Best Friend
Pet supplies retailer Petco has filed papers to go public. Here are three reasons why investors should sit up and take notice.
Updated from Aug. 18 to include details on National Dog Day.
NEW YORK (TheStreet) -- As the frenzied interest in National Dog Day on Wednesday suggests, Petco's IPO may end up turning out to be an investor's best friend.
The day brought an outpouring of cuteness on social media as pet owners sought to show appreciation for their furry companions. Facebook's (FB) - Get Facebook, Inc. Class A Report Instagram was full of short, well thought-out videos of owners and their pups playing in the park on a sunny day. On Twitter (TWTR) - Get Twitter, Inc. Report, photo collages of dogs were the norm, many profiling the growth of their pets from birth to adulthood. Even popular burrito chain Chipotle (CMG) - Get Chipotle Mexican Grill, Inc. Report joined in the lovefest, posting a video on Instagram of a hairy brown dog jumping up to eat an overstuffed taco.
The abundance of affection underscores how pets are now viewed as family members by many people, a key trend supporting Petco's business.
On Aug. 17, the pet supplies retailer filed papers with the Securities and Exchange Commission for a prospective IPO, indicating it would seek to raise about $100 million, a figure that is often used as a placeholder to calculate filing fees. No details were shared on the timing of the planned IPO, the ticker, or the stock exchange on which it would be listed.
Petco was taken private in 2006 for about $1.68 billion, led by investor firms Texas Pacific and Leonard Green. Its return to public markets comes on the heels of the $8.7 billion acquisition of rival pet supplies retailer PetSmart by a group of private equity firms, a deal that closed in mid-March.
Petco is no stranger to conducting roadshows to get investors excited about its future prospects. The company went public in 1994 and, after going private in 2000, then went public again in 2002. The company's chairman and CEO Jim Myers has spent his entire 25-year retail career with Petco.
But Petco stands to reenter public markets a different company, operating in a different environment, than when it was public previously.
As of Aug. 1, the company operated 1,409 stores across all 50 states, nearly double its size back in 2006. Petco has two retail store formats: the large Petco store designed for rural American pet owners and a smaller format called Unleashed, which caters to free-spending urban consumers with a desire to serve their dogs or cats all-natural pet food.
The competitive environment has changed significantly in the nine years of Petco's private ownership. Supercenters such as Wal-Mart (WMT) - Get Walmart Inc. Report and Target (TGT) - Get Target Corporation Report are devoting more floor space to organic pet food and various supplies. Online juggernaut Amazon (AMZN) - Get Amazon.com, Inc. Report has a full complement of pet goodies, as do the Web sites of the major supercenters, a factor that is pressuring prices at Petco and PetSmart.
In spite of the tougher competition Petco faces nowadays, TheStreet found three reasons why investors may embrace the IPO.
1. Owners are increasingly willing to spend more money on their pets.
Back in the days of Lassie, a dog was simply a dog -- it likely slept outside, was not allowed on the bed, and ate table scraps.
Times have changed in what is being referred to as the "humanization" of pets. Dogs and cats are now looked at as family members, frequently being taken on vacations, pampered with lavish grooming procedures and organic food, and dressed up in coats and shoes. Oftentimes a pet's life is on full display on Twitter and Instagram.
It's a trend that is driving Petco's sales.
"We believe this humanization trend drives demand for premium products and services, leading to higher levels of spending per pet," points out Petco in its prospectus. Petco has achieved comparable-store sales growth for an impressive 21 straight consecutive quarters, and has averaged 3.5% comparable sales growth annually from fiscal 2005 to fiscal 2014. In the most recent quarter, ended Aug. 1, Petco's same-store sales rose 3.1%.
The trend is unlikely to end anytime soon, thanks to the improved financial standings of Millennials.
"This demographic shift [to Millennials from Baby Boomers] among pet owners has huge ramifications for the prospects of pet care in the U.S.," points out research firm Euromonitor.  The firm believes Millennials are driving stronger sales at the premium end of the pet care market.
2. Petco has a key advantage vs. online and supercenter rivals.
A key area of the pet industry that Wal-Mart, Target and Amazon are unlikely to delve into is services.
Petco's services include grooming and dog training, as well as low-cost vaccination and preventive wellness services. Services represented approximately 8% of Petco's total sales in fiscal 2014.  Petco complements these core services with its Vetco mobile vaccination in-store clinics, which support over 80% of its thousand-plus locations.
Petco has also managed to carve out a place online by selling exclusive products and ramping up same-day delivery. The company's various websites such as Petco.com, DrsFosterSmith.com, Liveaquaria.com and Unleashed.com collectively generated over $185 million in total net sales during the first two quarters of fiscal 2015. E-commerce sales have jumped to 8.5% of total sales from a mere 4% last year.
The company recently struck a partnership with delivery firm Instacart. The service currently offers 13,000 Petco items (as counted by stock-keeping units, or SKUs) to customers in over 50 cities, including New York, Boston, Chicago, San Francisco and Los Angeles.
3. Petco is addressing the migration of Millennials back into big cities.
In search of higher-paying jobs, Millennials are packing up their belongings and pets and heading back into major U.S. cities to live. Petco, which primarily operates in the suburbs, has sought to address the migration by developing its new store concept, Unleashed by Petco.
Unleashed is a smaller-format, urban lifestyle store that averages about 5,000 square feet, compared to a typical Petco of 14,000 square feet. As of Aug. 1, Petco operated 130 Unleashed stores in or around urban markets.
But the push to address Millennials in big cities doesn't mean Petco is done opening stores in suburbia. According to its prospectus, Petco believes there are 800 to 900 additional locations in the U.S. that fit its performance requirements for new stores.