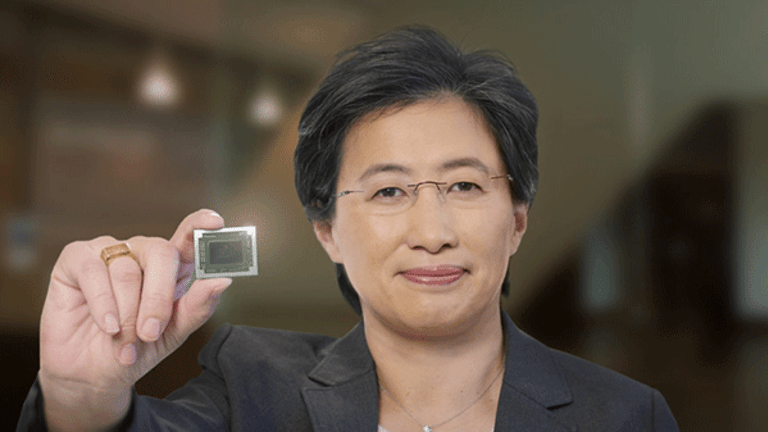 Publish date:
3 Reasons Investors Should Hold On to Advanced Micro Devices
The chipmaker has been on an amazing run, but will it drive earnings?
The chipmaker has been on an amazing run, but will it drive earnings?
It's been a fantastic 15 months for Advanced Micro Devices (AMD) - Get Report .
If you're among the investors who'd bought the then dead-beat chipmaker back in December 2015, you'd have made over 300% in this period--even as AMD beat quarterly earnings estimates, shrugged off balance sheet concerns and demonstrated liquidity improvement.
Is it then time to take profits off the table? We'd recommend staying with the company.
First, there is better visibility into Ryzen 7 and the imminent Ryzen 5 launch on April 11. While the Ryzen 7 series competes with Intel's (INTC) - Get Report workstation and professional applications, it has received mixed reviews. AMD said it plans to launch four mainstream Ryzen 5 CPUs on April 11, which are slated to be priced in competition with Intel's own mainstream offerings. In other words, Ryzen 5 could actually end up being more disruptive than the Ryzen 7.
Second, a major factor behind AMD's share price outperformance is its peerless leadership strategy. CEO Lisa Su's plan of matching product performance with Intel, at cheaper price points has worked. In fact, this is only the beginning.
While Intel has captured close to 95% market share in chips for desktops, laptops and servers, AMD's chance to recapture a piece of the pie is now.
This should have big implications on revenue and profitability. Analysts project AMD to post over 10% revenue growth next year, after a similar run-rate this year.
These are healthy numbers when considering the broader semiconductor space where NVIDIA (NVDA) - Get Report is poised to offer double-digit topline growth, while a major player like Qualcomm (QCOM) - Get Report must make-do with a low single-digit ascent.
Third, Advanced Micro Devices' ability to balance pricing and competitive performance has been fairly impressive. We believe AMD is still in the early stages of its multiyear turnaround. The ongoing GPU unit share recovery in lower-market segments, collaborations with Microsoft (MSFT) - Get Report , the potential to gain a stronger foothold in graphics and game development, as well as VR technologies via Radeon, are all positive signals.
There are challenges, nonetheless. Near-term revenues and gross margin upsides could be impacted by increasing operating expenses and smaller licensing gains for 2017.
Looking at the company's balance sheet, cash and liabilities are at manageable levels. If AMD manages to show profits, analysts will upgrade price targets, and the stock will move upward.
---
As we've just explained, Advanced Micro Devices is still an excellent growth opportunity. If you're looking for other growth opportunities, we've found a genius trader who turned $50,000 into $5 million by using his proprietary trading method. For a limited time, he's guaranteeing you $67,548 per year in profitable trades if you follow his simple step-by-step process.Click here now for details.
The author is an independent contributor who at the time of publication owned none of the stocks mentioned.