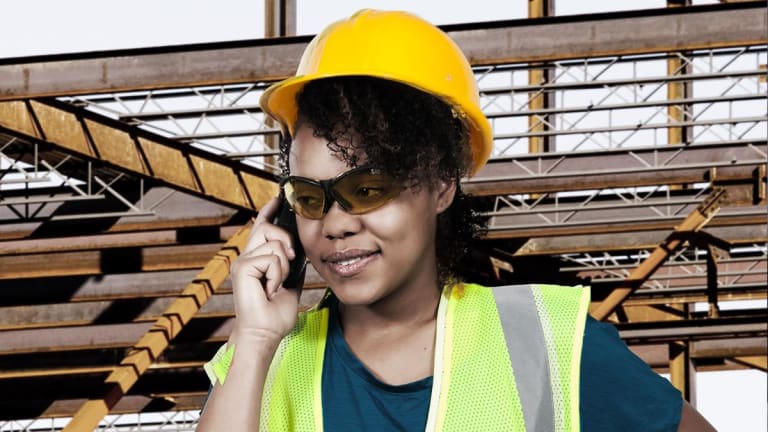 3 Plays to Ride the Housing and Labor Shortage Waves
If you need a new home, take a number.
Americans need more new houses, now. Yet many will have to wait. 
Why? There's a deficit of skilled construction workers, which makes the problem of housing shortages even trickier to solve.
Some 242,000 open construction worker positions exist nationwide now, according to the U.S. Bureau of Labor Statistics and National Association of Home Builders. In a recent survey, the NAHB reported that 72% of its members missed completion deadlines due to the scarcity of workers. In addition, some 35% of NAHB members have turned down projects, due to the labor shortage.
As for housing, between 2010 and this year, the home building industry is expected to fall short by nearly 4 million houses in that it's projected to build 8.8 million to the needed 12.7 million, Nomura Istinet's Michael Wood wrote in a note on Dec. 7, 2017.
"New construction must overshoot 'normalized' demand to counterbalance the underproduction that was caused during the credit crises," added Wood. "This will last roughly four years, between 2019-2022, yet the length of the overshoot period will ultimately depend on the growth rate."
Supply is expected to eventually catch up with demand. In the meantime, TheStreet suggests three stocks worth owning in the home-building sector: 
Lennar
The Miami, Fla.-based Lennar Corp. (LEN)  is top dog in the home-building sector for many analysts surveyed by TheStreet. On Tuesday, June 26, the company reported second-quarter 2018 financial results with earnings per share of 94 cents, well above Wall Street's estimate of 44 cents, and a lower-than-expected negative impact from purchase accounting, wrote Michael Rehaut, an analyst at J.P. Morgan in a note following the earnings release.
Shares rose 4.9% Tuesday.
"Lennar still has good exposure to entry-level demand and looks undervalued, in our view (even after today's [June 26] surge after a strong second-quarter earnings release)." Morningstar's Brian Bernard told TheStreet on Tuesday. "Lennar recently merged with CalAtlantic Group, Inc. [based in Arlington, Va.] and we don't think the market is giving the combined entity enough credit for potential synergies."
Bernard, who said the merger could make Lennar the country's largest home builder, touted company's strategy of targeting first-time, move-up and active adult home buyers and its financial services segment that provides mortgage financing and related services to home buyers and third parties. This year, he said, the company expects to deliver 45,765 new houses with an average price of $400,00 to $405,000 each. 
TopBuild 
"Tight labor conditions play right into BLD's largest competitive advantage, efficiently hiring and utilizing labor," wrote analyst Michael Wood of Nomura Instinet in a December 2017 note about TopBuild Inc., (BLD) , a Daytona Beach, Fla., company that installs home insulation.
Among its labor innovations are shortening the hiring time to 1 day from 5 and expanding its labor pool. Nomura believes that TopBuild can benefit from the labor shortage because it's streamlined hiring and zeroes in on top candidates.
Nomura sees large margin opportunities for the company to drive earnings before interest, taxes, depreciation and amortization conversion margins above the company's own 22% to 27% guidance. The bank also raised its target price by 13% to $78 on a 2019 7% EBITDA increase.
Shares rose 1.7% Tuesday.
Owens-Corning
Toledo, Ohio-based Owens-Corning Inc. (OC) has a hit on its hands with non-woven fiberglass insulation materials used in homes, say analysts.
In giving it a buy rating, Northcoast Research analyst Kevin Hocevar, wrote that all of OC's fiberglass "batts, rolls and blow-ins" are being sold at Home Depot Inc. (HD) with a price increase of 3% between January 2017 and May 2018. "Putting this is perspective for Owens-Corning," he wrote in a May note, "we believe the big box channel represents about 20% of OC's insulation sales (prior to the addition of Parco [owned also by Owens-Corning]), which equates to roughly $400 million of sales to this channel."
Analyst Susan Maklari of Credit Suisse noted that there's plenty of room for growth. "Non-wovens account for about 25% of composite revenues and is growing at 5+% a year," wrote the analyst on June 4, in which the bank gave Owens-Corning an outperform. Also, she added, that the presence of such non-woven materials is lower in the U.S. versus other markets, which suggests additional expansion for OC, and once such institutions as schools, hospitals and work places start buying these OC products, it's another bonanza.
Thompson Research Group gave Owens-Corning a buy rating and a price target of $110 on Tuesday.
Shares rose 0.2% Tuesday.