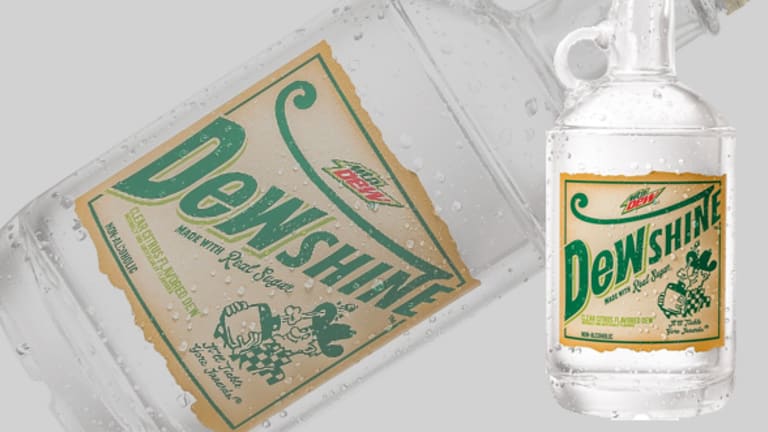 3 New Foods Companies Are Hoping You'll Try This Summer
Be on the lookout for several new products with a health or ingredient angle from the likes of PepsiCo and General Mills this summer.
NEW YORK ( TheStreet) -- For packaged-food giants such as PepsiCo (PEP) - Get PepsiCo, Inc. Report and General Mills (GIS) - Get General Mills, Inc. Report, introducing innovative and seemingly healthier snacks and drinks is the name of the game. As U.S. consumers seek out better eating options, an eye-catching new product with an ingredient or health angle can catch fire with consumers and help boost sales and profits.
PepsiCo's recent strength has been driven by distinctive new products in its soda group, including Caleb's Kola, a craft premium soda, and and DEWshine, a throwback clear version of Mountain Dew. Both use cane sugar, as opposed to artificial sweeteners or high-fructose corn syrup.
CEO Indra Nooyi pointed out in a July 9 earnings call that as a percentage of total revenue, sales from new products hit 9% in 2014, an increase of about 2 percentage points from two years ago, with a majority of those products built around the concept of healthier snacking.  
Meanwhile, General Mills has experienced sales growth with healthier cereals and breakfast foods.
"We have a very good understanding for the new preferences that consumers have for breakfast, such as products that are simpler, products that are more filling, products that taste good, and products that address very specific issues that consumers have like gluten and artificial colors," said General Mills CEO Ken Powell on a July 1 call with analysts. 
TheStreet takes a look at several new foods and drinks that big food companies are hoping consumers will open their wallets for this summer.
1. Gluten-Free Cheerios and Lucky Charms
Later this summer, General Mills will begin selling five of its largest Cheerios varieties, which collectively make up nearly 90% of the Cheerios franchise, as gluten-free. According to the company, it has developed a technology to remove other gluten-containing grains from Cheerios, while its oats are naturally gluten-free.
Later this year, another of General Mills' oat-based cereals, Lucky Charms, will go gluten-free. Once all of the new products are on store shelves, General Mills will be gluten-free in over half of its cereal business. 
The new formulations could provide a sales jolt to General Mills during the next twelve months, as it has been dealing with a trend of consumers foregoing pricey ready-to-eat cereals and instead buying nut-filled snack bars or Greek yogurt for breakfast.
As General Mills' chief rival Kellogg's (K) - Get Kellogg Company Report adds cereals with "traditional ingredients," the industry may sidestep some ugly future sales predictions. Research firm Euromonitor estimates that U.S. breakfast cereal sales will decline by 8% to $10.3 billion by 2018.
2. Diet Pepsi With New Sweeteners
Beginning in August, Diet Pepsi, Caffeine-Free Diet Pepsi and Wild Cherry Diet Pepsi in the U.S. will be sweetened with a blend of no-calorie artificial sweeteners sucralose and acesulfame potassium, rather than the long-used and controversial aspartame. Aspartame has been linked in some studies to cancer in lab mice, among other possible health risks.
Pepsi's new sweetener is a bid to ease the health concerns that have recently plagued sales. According to trade publicationBeverage Digest, Pepsi's diet cola volumes fell 8.5% in the second quarter this year, while those for Coca-Cola dropped by 5.2%. In 2014 as a whole, Diet Pepsi sales fell 5%, whereas Diet Coke dropped 6.6%.
The company will continue to make Diet Pepsi sweetened with aspartame for customers who want it. "For those consumers who still love Diet Pepsi with aspartame, we will figure out how to make it available online," said CEO Indra Nooyi in the July 9 earnings call.
3. Greek Yogurt Containing Grains and Seeds
General Mills has been on a roll lately with its Yoplait Greek yogurt brand. Sales of Yoplait Greek yogurt increased 39% in the fiscal year that ended May 31, according to the company, led by a new Yoplait Greek 100-calorie yogurt and another 100-calorie Greek yogurt called "Whips," which has a lighter texture.
Recently, the company launched Yoplait Plentí, a Greek yogurt that seeks to capitalize on the growing trend amongst Greek yogurt makers of adding grains and seeds to their tangy product in order to add some nutrients and texture, as well as to help make you feel fuller. Think of it as the modern-day equivalent to the bowl of cereal, except way healthier.
There are eight varieties of Yoplait Plenti, including ones with whole grain oats, flax and pumpkin seeds.
Yoplait Plenti will do battle on the supermarket shelves against similar introductions earlier in the year from Greek yogurt maker Chobani. The privately held Chobani's "Oats" line features gluten-free steel-cut oats and chia seeds in assorted flavors.
This article is commentary by an independent contributor. At the time of publication, the author held no positions in the stocks mentioned.