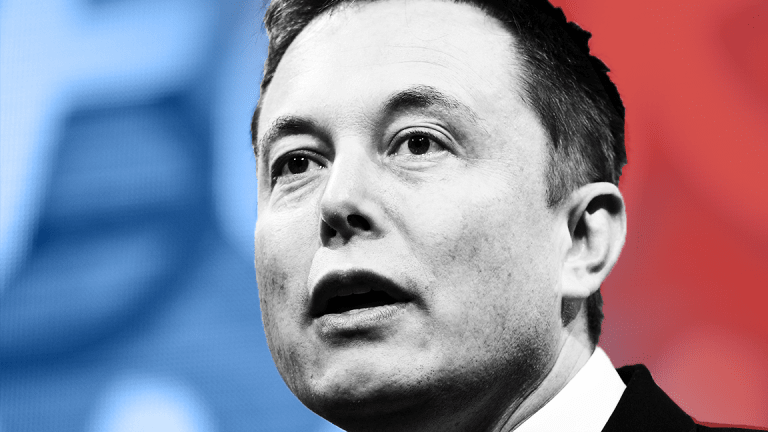 3 Laws That Could Change the Game for Tesla
Changing and expiring laws could alter how Tesla does business -- and impact its sales and bottom line.
Like the broader market, Tesla Inc.  (TSLA) - Get Tesla Inc. Report has seen an elevated level of volatility in its stock price this year.
Given concerns around its debt, Model 3 production and operations, this added volatility comes with little surprise and it's unlikely to change anytime soon. While we've examined various segments of its business, one thing many investors gloss over are regulations.
Specifically, what law changes could potentially impact Tesla stock price? Certain law changes can be good for Tesla, while others may not be so good. Let's take a closer look.
Tariffs With China
When the trade tensions between the U.S. and China started to intensify earlier this year, Tesla CEO Elon Musk voiced his concerns over the different import/export regulations in the auto industry.
Musk jumped on Twitter Inc.  (TWTR) - Get Twitter Inc. Report , saying: "For example, an American car going to China pays 25% import duty, but a Chinese car coming to the US only pays 2.5%, a tenfold difference...Also, no U.S. auto company is allowed to own even 50% of their own factory in China, but there are five 100% China-owned EV auto companies in the U.S."
All he's asking for is a level playing field, and to be fair, a follow-up Tweet by Musk said he expects China to be rational because of the country's willingness toward open markets.
Well, Musk got his wish.
Speaking at Boao 2018 forum, China President Xi Jinping said the country will lower import tariffs on vehicles, as well as several other products this year. This is a big deal, not only for companies like Tesla, but also Ford Motor Co.  (F) - Get Ford Motor Company Report and General Motors Co.  (GM) - Get General Motors Company Report .
Musk praised the action by China, a move he must certainly like given the potential he sees for Tesla in China. At one point, Musk even said China could be a larger market for the automaker than the U.S.
Federal Tax Credits
As Tesla continues to sell more and more Model S and X vehicles, buyers will eventually lose the lofty tax income credit of $7,500 they receive. Sometime in the second half of 2018, these credits will fade.
Goldman Sachs analyst David Tamberrino has a sell rating on Tesla, but earlier this week cut his price target to $195 from $205. One of his reasons? The fading impact of the U.S. EV tax credit on Model S and X units, along with increased competition.
The declining value of a $7,500 tax credit makes a big difference in affordability for some shoppers. It's not clear whether this will meaningfully deter buyers, but it's definitely one less incentive for new shoppers to get a Tesla.
Worth noting is that this $7,500 credit is at the federal. Some states have additional credits for electric- and hybrid-car buyers.
Dealerships
Speaking of state laws, not all have been in Tesla's best interest. Tesla does not operate under the same distribution model under which many other automakers operate.
Specifically, companies like Fiat Chrysler Automobiles (FCAU) - Get Stellantis N.V. Report , GM and Ford manufacturer the vehicles, but then franchised distributors (i.e., dealerships) are the ones who sell them to the consumer. These dealerships allow for test drives and services centers as well.
Tesla is setup in a different manner, relying on direct-to-consumer sales instead. While it still has service centers and mobile service teams, many states aren't sure whether to embrace this type of sales model.
In fact, 13 states have an outright ban on direct vehicle sales. Five of those states also bans the service centers. With Michigan housing the Big 3 -- Ford, GM and Chrysler -- it's no surprise it's among the states that ban both direct sales and service centers.
In many consumers' minds, this is an absurd position to take. Who are the states to limit what cars a shopper can buy? Tesla shares a similar view, obviously.
Along with those 13 states, an additional 8 states allow direct sales, but only on a limited basis. Finally, 9 other states allow for mostly unrestricted direct sales, but still have some sort of legislation in place regarding the matter.
In other words, 30 of the country's 50 states have some sort of direct-sales restriction in place. While one could turn dealership laws into a negative for Tesla, keeping up with demand already seems difficult enough.
As production issues are worked through, perhaps state legislations will become more lax with its direct sales laws. That could benefit Tesla at a time when production capacity is increased.
On the flip side, maybe there won't be any headway made in the more restrictive states. But it's hard to imagine the states that support direct-sales flipping on their current laws. Meaning that at the very least, Tesla will continue to operate in a similar environment to what it's in now. 
In other words, the dealership laws are likely to stay about the same or improve going forward, but should not worsen much from here. 
Before You Go
Get ready for the must-attend investing conference of 2018, hosted by none other than TheStreet's Jim Cramer. From an exclusive interview with PayPal CEO Dan Schulman to expert panels that touch on investing in the stock market to alternative investing, you won't want to miss the event TheStreet is hosting on May 5. Details are below.
How to Diversify Your Portfolio: A Boot Camp for Investors
Date: Saturday, May 5, 2018
Location: 117 West 46th Street, New York City
This article is commentary by an independent contributor. At the time of publication, the author had no positions in the stocks mentioned.